Urgent Delivery?
If you need next day delivery please phone or text before placing your order! Tel Catherine on 07780801102
Garters I always try to keep in stock are non-personalised Darcie, Meg, the Lucky Sixpence 'Something Blue', Ivory silk ruffle set, and Natalya. Click on the names for more information, all are popular designs with lovely reviews!
You will need to choose Special Delivery at checkout too.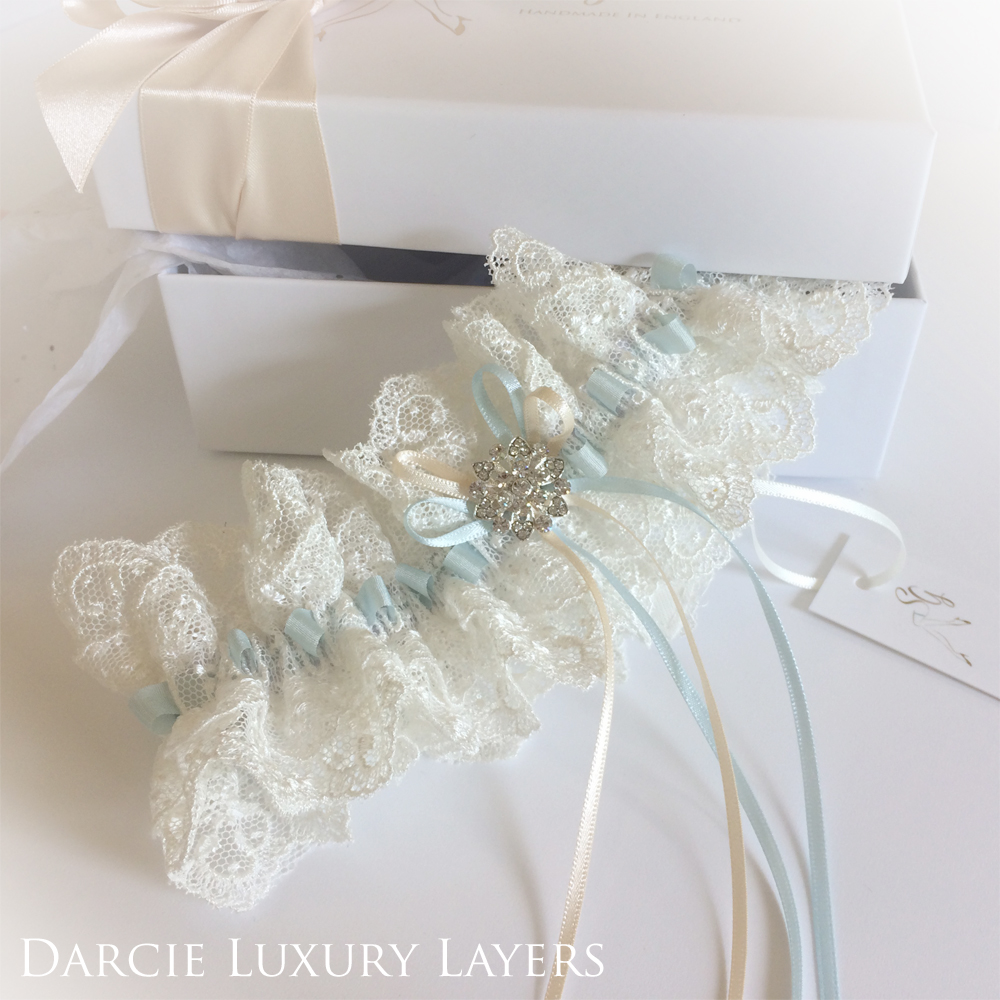 Above is the Darcie wedding garter, usually in stock if you choose the non personalised version. It's two luxury layers of our exclusive Nottingham lace!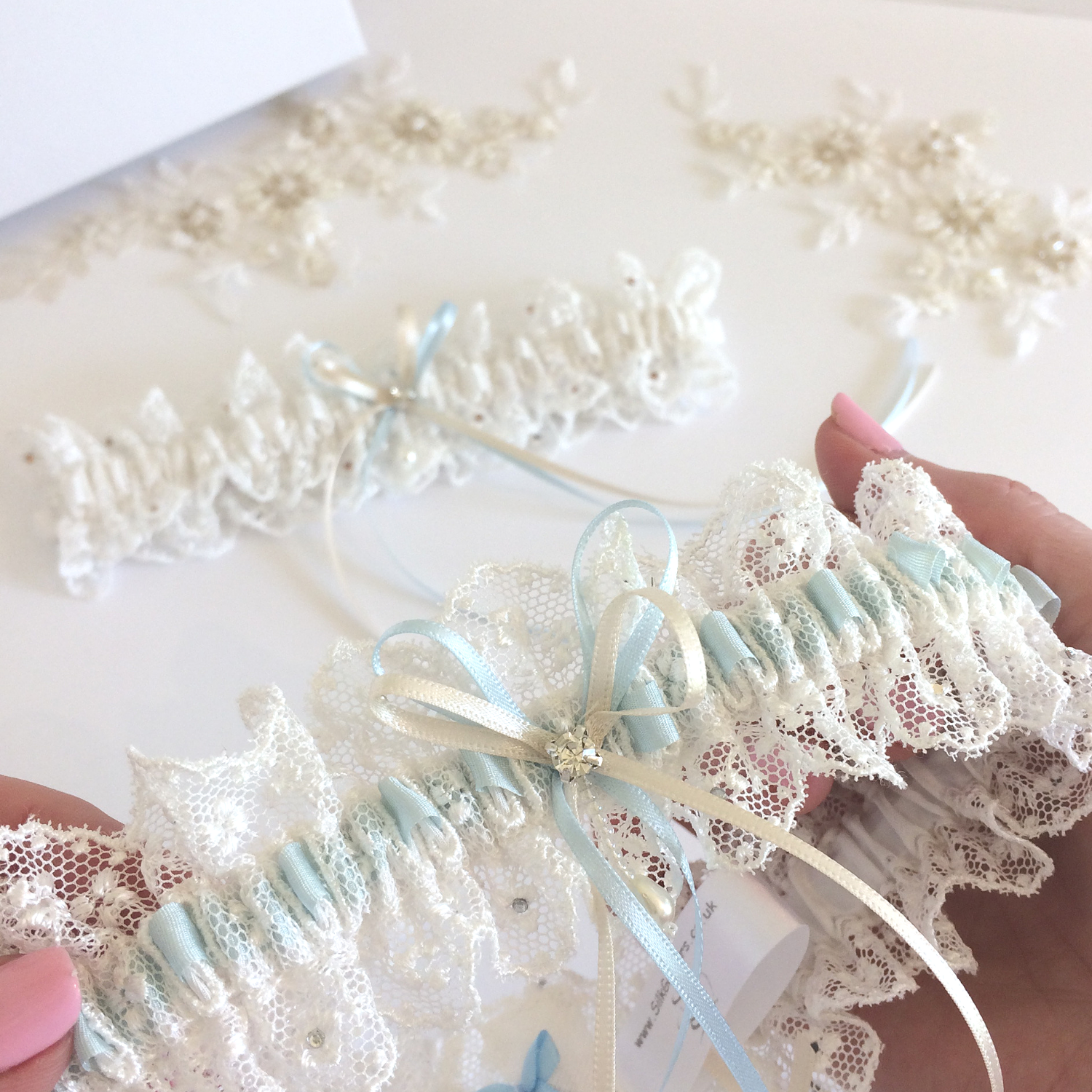 The gorgeous Meg! Our narrow Nottingham lace, slotted with silk ribbon then scattered with tiny crystals… Look at that gorgeous little pearl drop! Fast delivery if it's not personalised…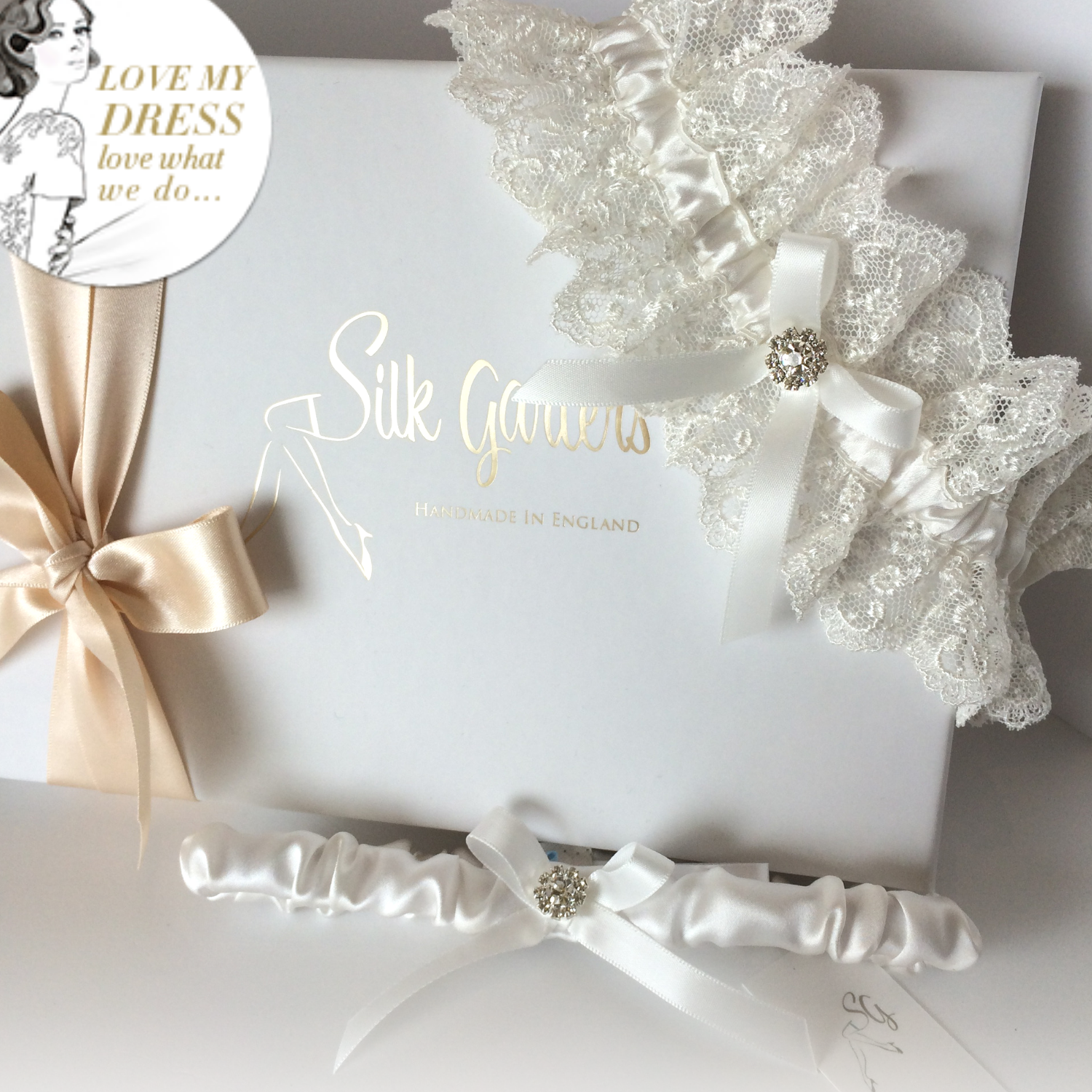 The classic 'Ivory Silk Ruffle' wedding garter set. Loved by the 'Love My Dress' Wedding blog and shared on their social media…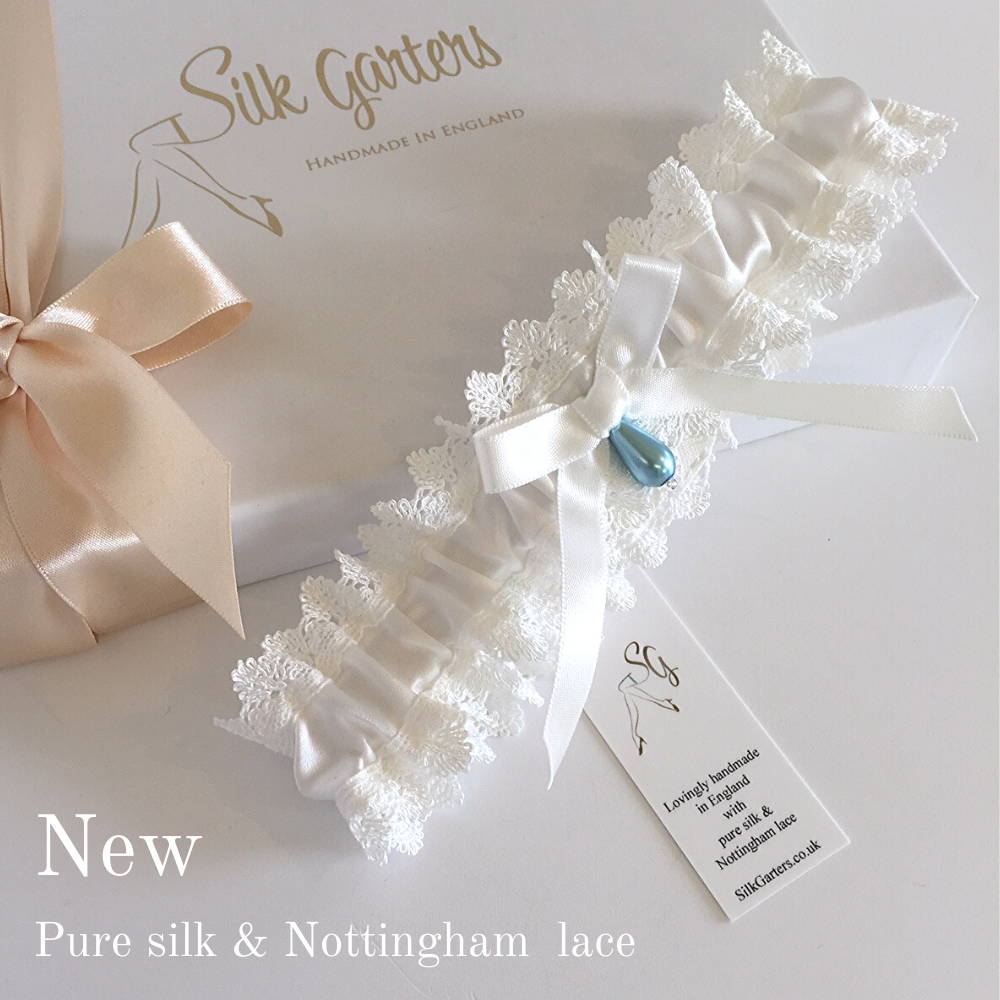 Natalya, pure silk satin with such a pretty Nottingham lace and a simple blue pearl drop…
This premium Nottingham lace wedding garter is the 'Something blue, lucky sixpence' brides garter'. Two gorgeous layers of our exclusive Nottingham lace, with such lovely details… Tiny sparkling crystals, blue ribbons and your 'Something Old', a genuine sixpence!
Any of the garters above can be sent quickly, by special delivery, if you choose not to personalise your garter with text.
Real Bride Story…
Theresa was getting married at the weekend and called me, to see if we could deliver a wedding garter next day delivery. She was hoping to have one of our vintage garter set's, which included a matching garter to toss, in time for her wedding on the Saturday…
I know with so much to remember for your wedding, sometimes things can be missed. Or you think a friend is ordering one and it also slips their mind, it's easily done 😉
(I ask you to call if your order is urgent +44 (0)77 8080 1102, if you need a garter or horseshoe in a hurry, I'll always try to help!)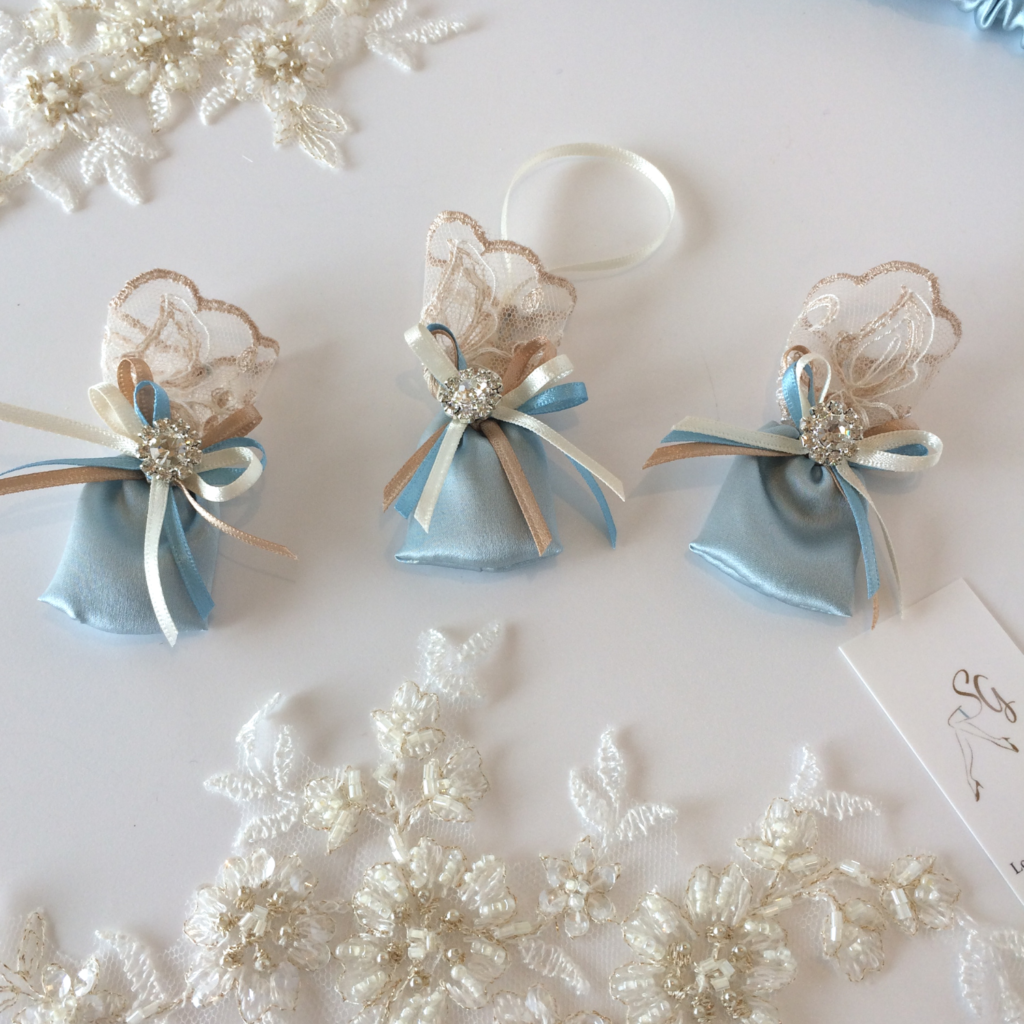 Tiny sixpence bags to match the Ayana garter set
"The pictures on the web site really do not do this beautiful set the justice it deserves it's just so perfect and very comfortable to wear – Big day is this weekend can't wait to wear it. Thank you so much! "
After calling me and discussing her order, Theresa decided to also add the lucky sixpence bag. A cute little add-on.
The garter set is beautiful, in an ivory silk with Nottingham lace. With pale aqua and peach flowers scattered over the ribbons, it's undoubtedly one of my favorite pieces. The ribbon flowers are unusual and I make each one by hand. They are something you would only find on truly vintage pieces.
These garters wouldn't look out of place being worn by the ladies of Downton Abbey! Theresa is right, our photos didn't do it justice, I asked Kirsten of Shutterbugme Photography to take this gorgeous photo.
(I have more fabulous photos from Kirsten to add in another blog. I can't wait to show you!)
Wedding Garter Next Day Delivery
I was lucky that I could fit Theresa's order into my busy order book, it's not always possible, however I do also carry a small amount of stock. If you would like  a stock garter please contact me. Stock garters can be sent out next day by special delivery, if you need your order urgently too.
Oh, I almost forgot to tell you… Every garter can be beautifully gift boxed making the perfect treasured heirloom piece.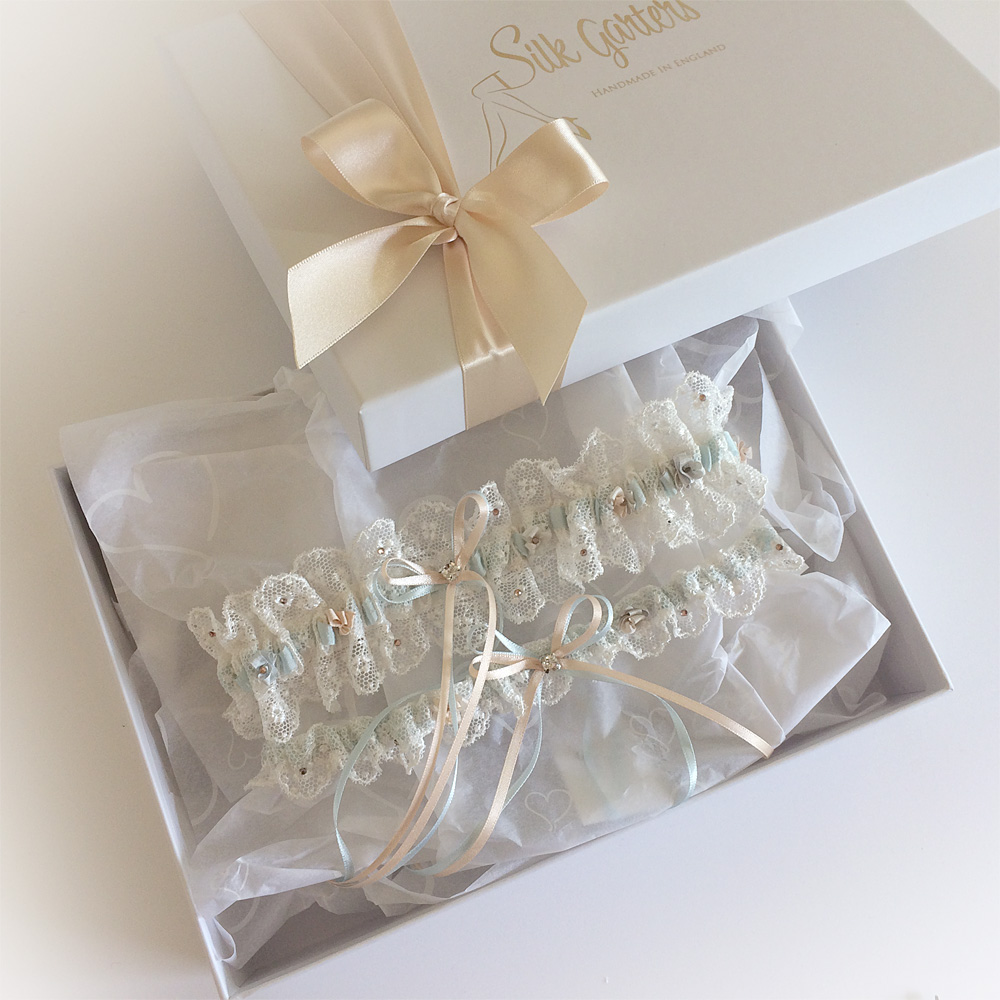 If you would like a garter asap, then please contact me and we can discuss your requirements 🙂
Catherine
077 8080 1102