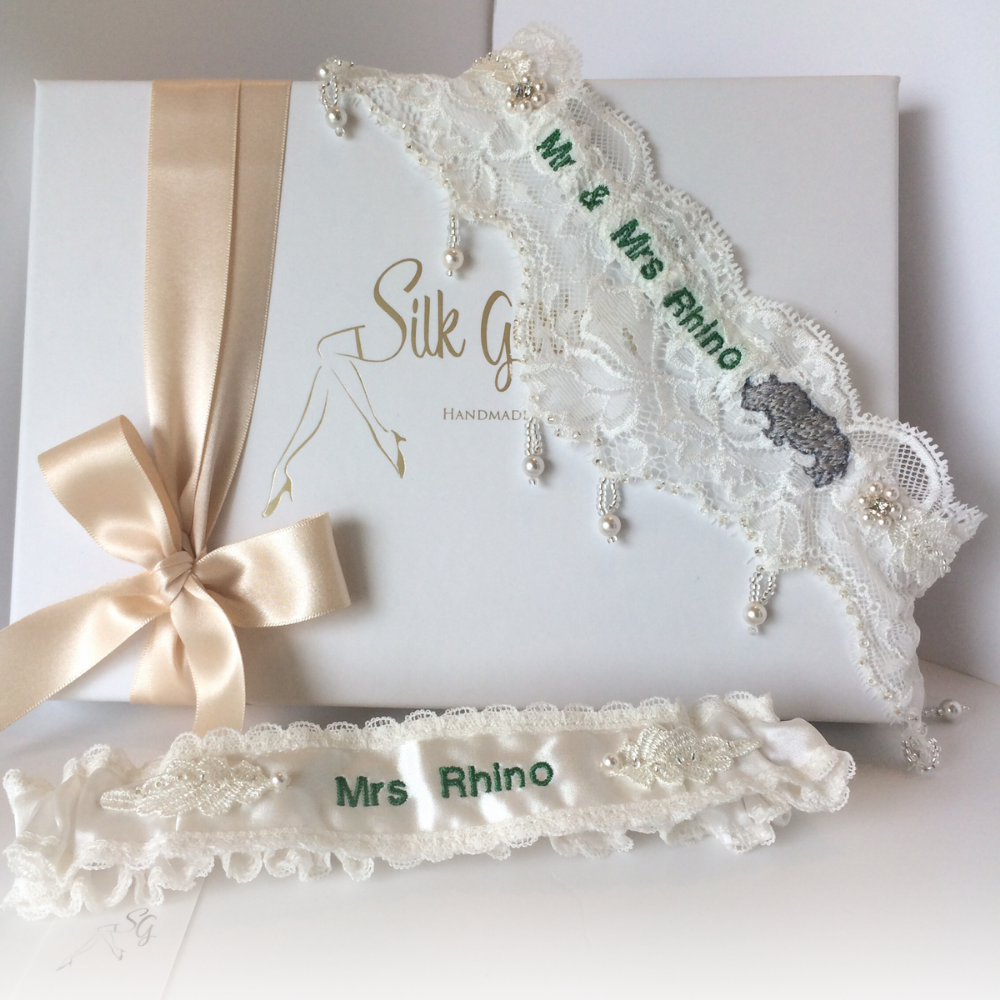 Bespoke Wedding Garter…
When you find your (almost) perfect wedding garter, but you know if you could add something unique to you, it would be just amazing!
That's when you contact me…
Let me show you what I can do for you!
Catherine
The soon to be 'Mrs Rhino' was browsing the website and fell in love with the gorgeous Leila garter…
The Leila Bridal Garter
A soft delicate French lace, lined with pure silk and beaded around the hem entirely by hand with tiny seed beads and Swarovski pearls…
I wish this was a video and you could see how the tiny pearls 'dance' with the movement of the garter maybe you can imagine it? It's really special!
The bride-to-be, asked if a small rhino could be embroidered onto her garter…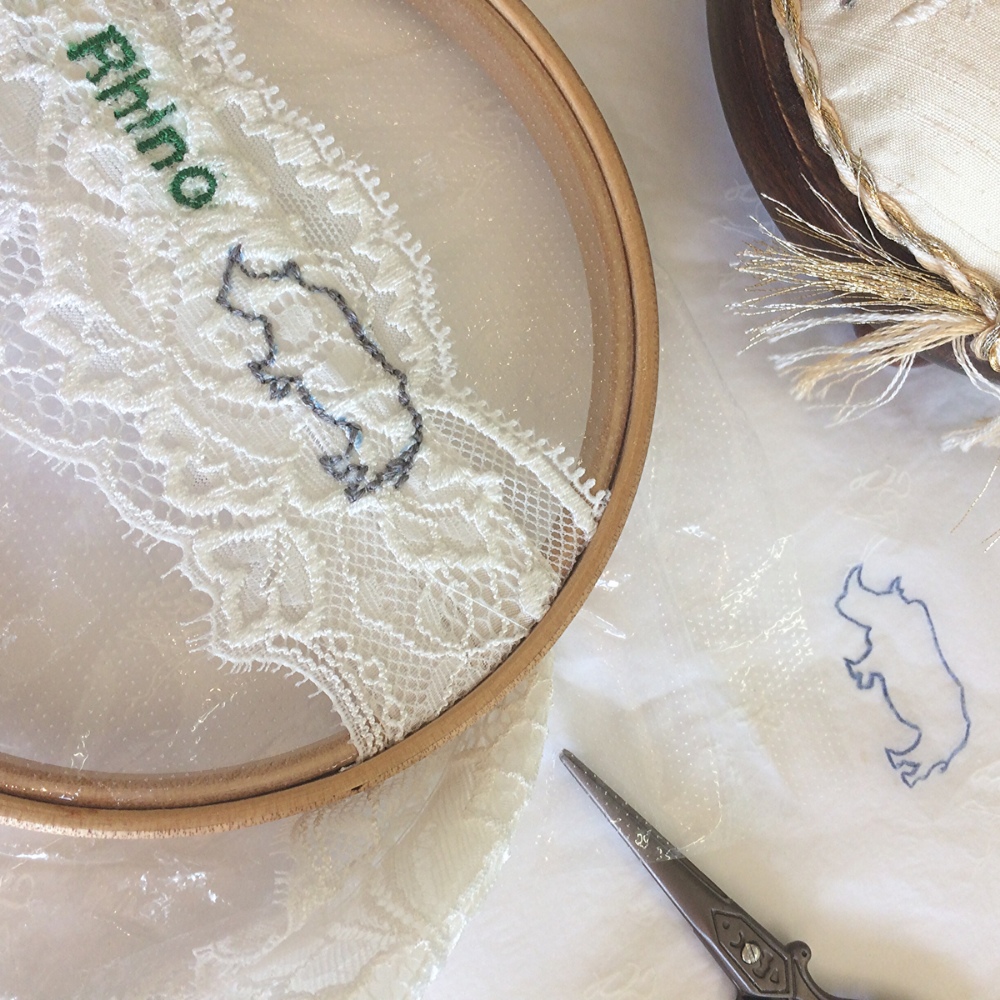 Bespoke Wedding Garter With Hand Embroidery…
I thought embroidering a tiny rhino by hand and making sure he looked like a rhino and not a grey blob was quite a challenge!
I started with a sketch… Which I transfered to the lace, embroidering with a tiny backstitch outline in grey smoke embroidery thread. As a result each stitch is around 2mm.
This is the little rhino half made…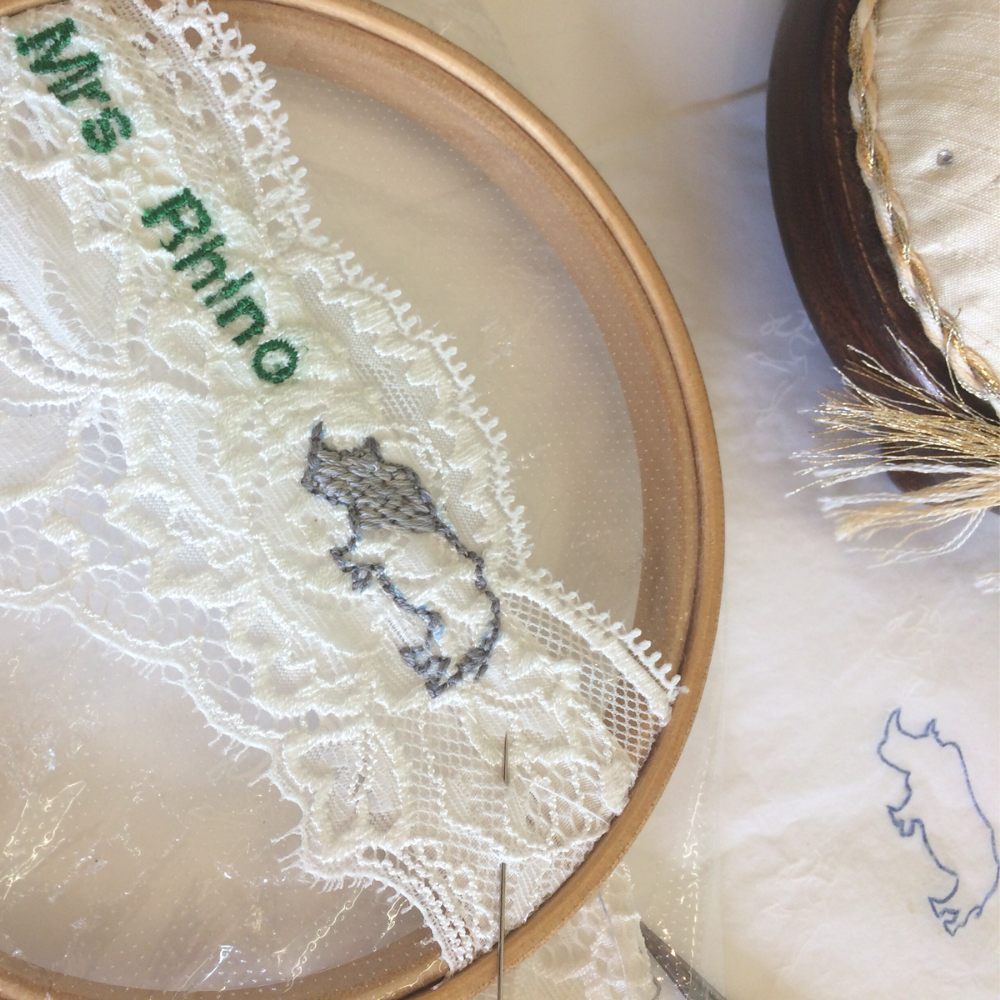 With his outline in grey smoke, I embroidered his body with a tiny silver satin stitch, hiding the back of the embroidery inside the pure silk lining, quite a fiddly process!
The bride also asked for 'Mr & Mrs Rhino' to be embroidered on the garter in green, to go with their wedding theme, and this was done by machine.
Then all the shimmering pearls and seed beads were added, all stitched by hand.
I've always loved hand sewing and was so pleased to be asked to make this gorgeous bespoke wedding garter…
Here is the set finished!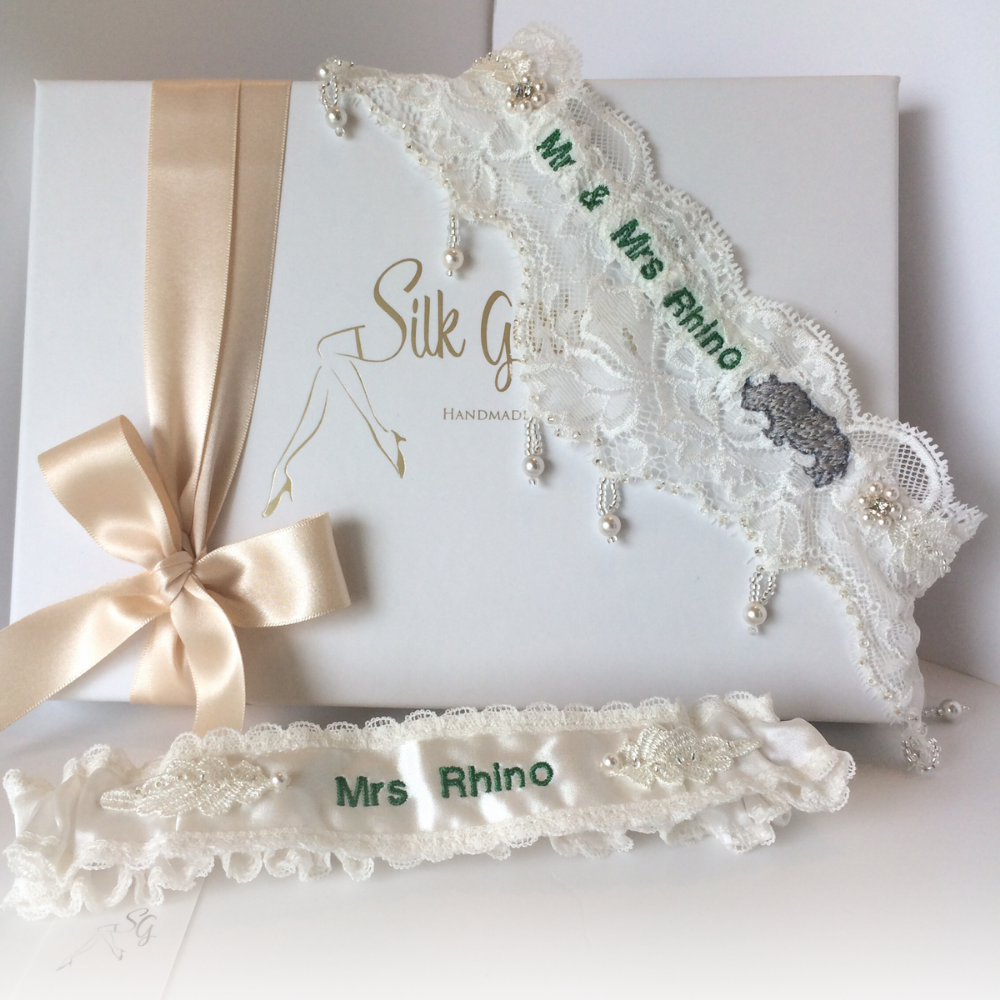 Unique Bespoke Wedding Garter Set
A matching toss garter, of pure silk satin, edged with a tiny cotton Nottingham lace.
Both garters have ivory guipure leaves, stitched with clear crystals, Swarovski pearl flowers, with crystal centres… Tiny sparkles that catch the light!
The set was beautifully boxed, a lovely keepsake for the bride to treasure long after her wedding day!
If you would like a bridal garter of Swarovski pearls, crystals and seed beads, or any kind of embroidery please contact me.
 I do hope you love my work! I'd love to hear your own ideas too… Catherine x