Why do 85% * of Brides wear a wedding garter?
It's one of the bridal industries best-kept secrets, you can search a bridal magazine from cover to cover and not find one pictured, wedding planners and organisers 'forget' to remind you when you need to start looking for yours. Even Sarah Haywood of the 'Wedding Bible' gives it a cursory one-liner under accessories, yet 85% of UK brides wear a wedding garter!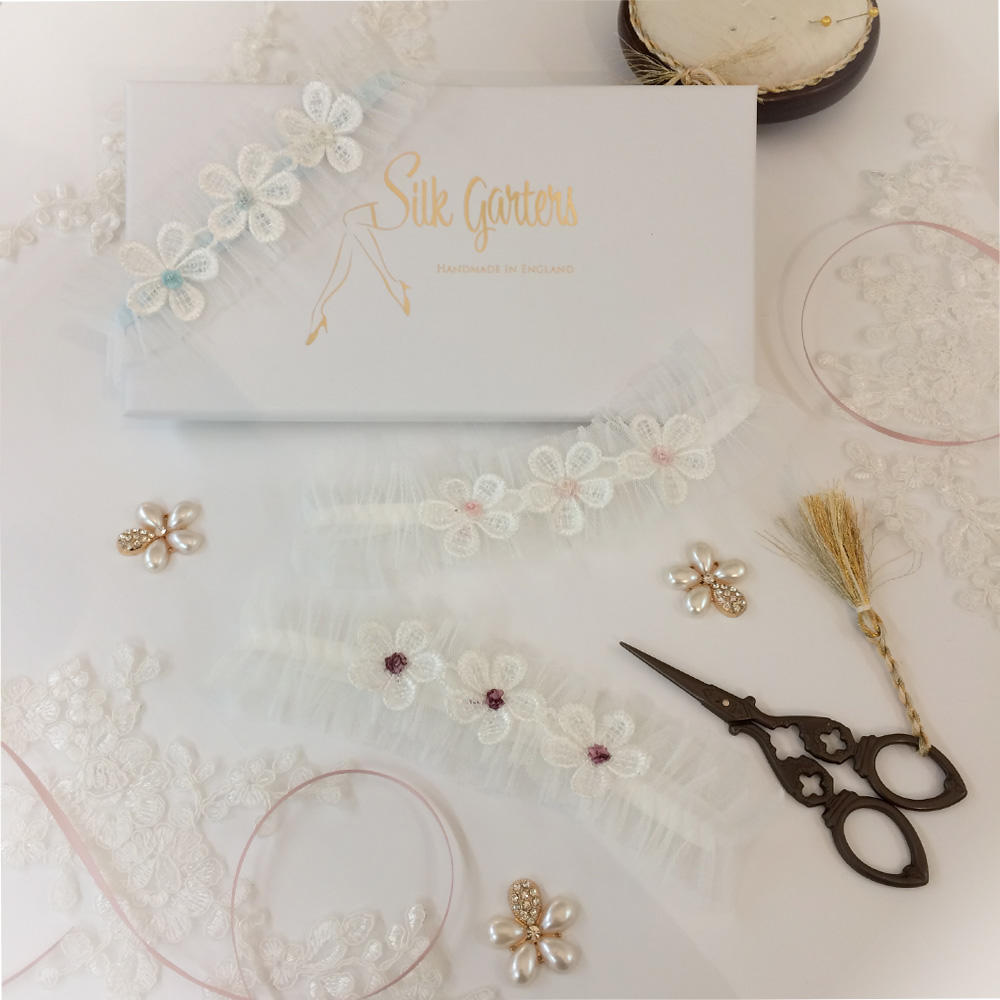 You see it's tradition, we may be modern women, but wrap the tiniest piece of silk and lace in romance, that's been part of our culture for hundreds of years and we're not about to forget about it. After all, we are getting married for the enchantment of happily ever after…
I found this beautiful quote…
"And I'd choose you; in a hundred lifetimes, in a hundred worlds, in any version of reality, I'd find you and I'd choose you."
Taken from The Chaos of Stars, by Kiersten White
'A 'Silk Garter' is silk and lace stitched with love and wrapped in tradition and romance'
They have been used to convey messages of love for hundreds of years. I wrote a post about a beautiful pair of Marie Antoinette's garters, embroidered with poetry, which are now held by the National Trust.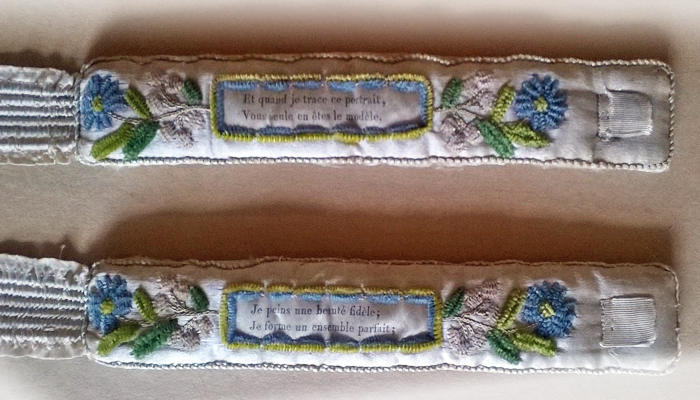 Mothers choose a garter as a gift for their daughter

Mothers choose a bridal garter for their precious daughter, when she is about to embark on her new life; because it's what her own mother did for her. Love and beautiful memories are intertwined with the gift.
'This is the second bridal garter I've purchased from 'SilkGarters' I have three daughters. My mother gave me a beautiful garter on my own wedding day and I'm doing the same for each of my daughters. This one will be perfect for Chloe, I'm sure she will love it and I'll be back soon, as my youngest is getting married next year'
(From Mary)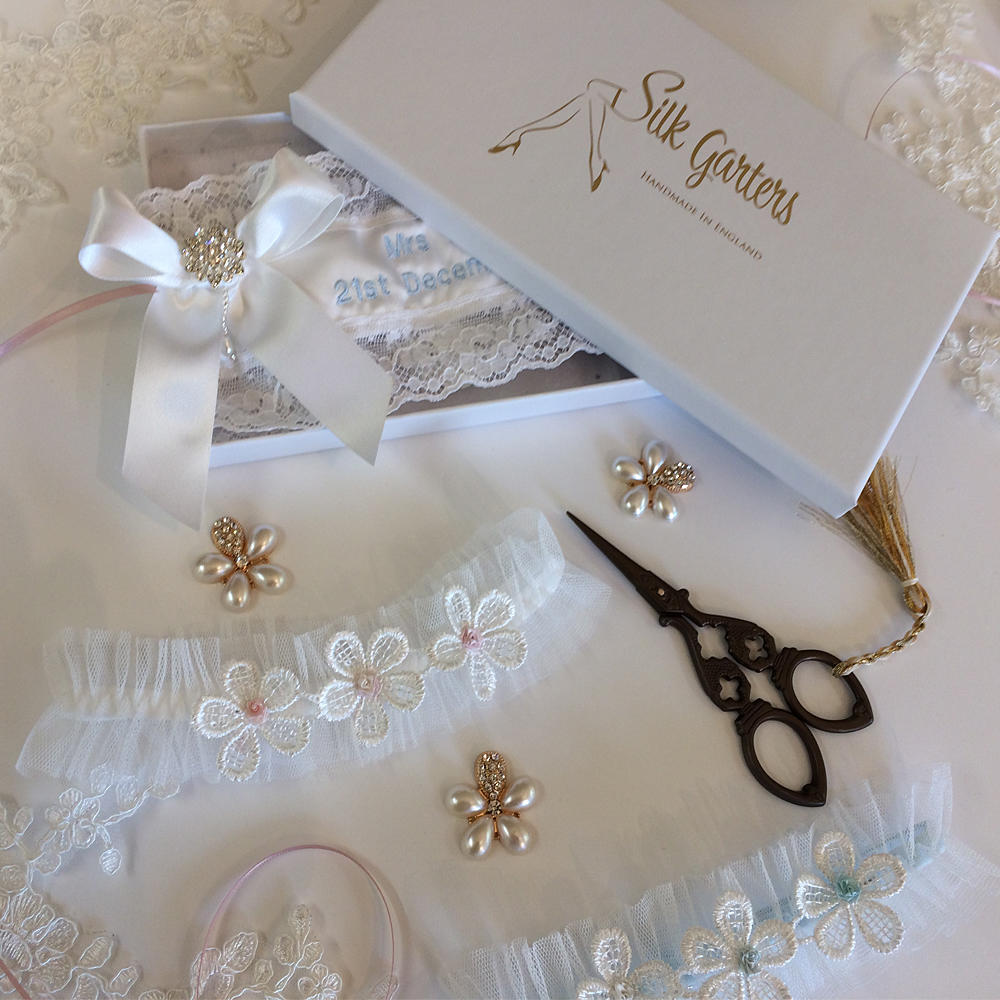 Grooms choose a garter
Grooms choose a garter for their beautiful bride, a small token of his love, for her to treasure long after their wedding day.
'Just wanted to let you know that the garter arrived over the weekend, looks ineradicable! Thank you for making my wedding special.
You have been a star.'
(From Wayne)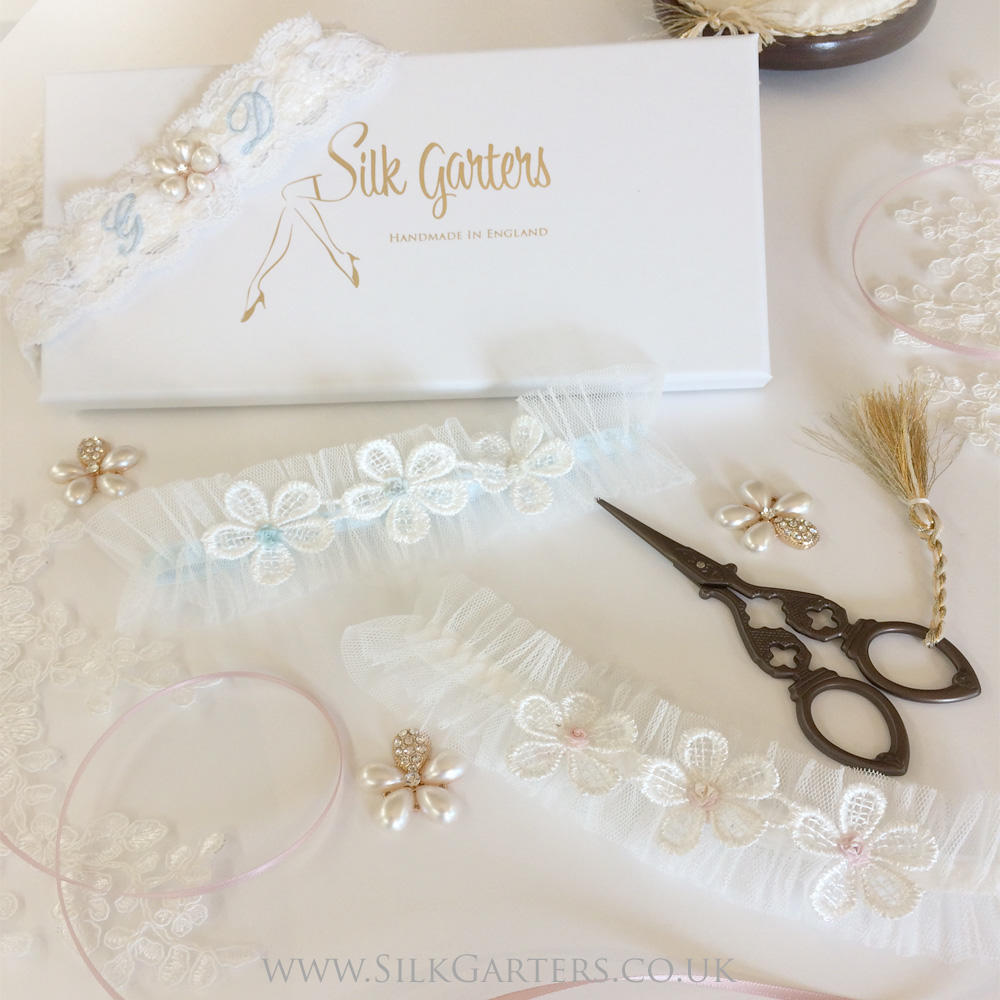 The Mother of the Groom
The grooms mother will choose a garter for her future Daughter-in-Law, often personalised with the brides new married name, to show they're all welcoming her into her new family.
'I ordered a silk and lace garter for my daughter in law to be.
It was gorgeous and arrived very quickly in a beautiful presentation box
The embroidery was exactly as I wanted.
It was perfect and facilitated a lovely moment for the two of us
Thank you'
(From Caroline)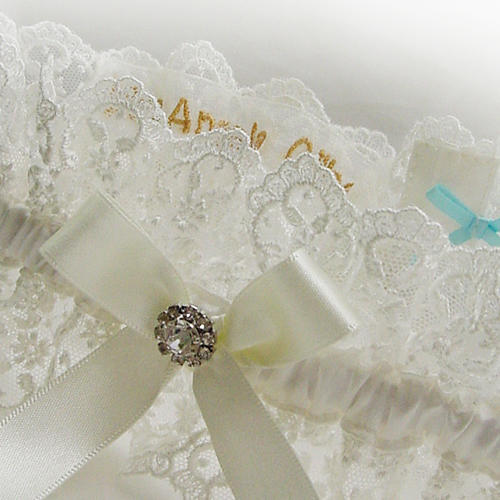 The Bride
Brides choose their own garter, sometimes to match their wedding dress, sometimes to tie in with an idea, job or favourite pastime, precious to her new husband (I make unique military garters too ;-). A wonderful surprise for her groom that shows how much she cares.
'My garter has arrived, thank you so so much its absolutely perfect, I'm really happy and I know a certain soldier that will be too! Thank you for all your hard work, communication and a really pleasant service.
I will send you a picture of the big day!
Kindest regards
Emma'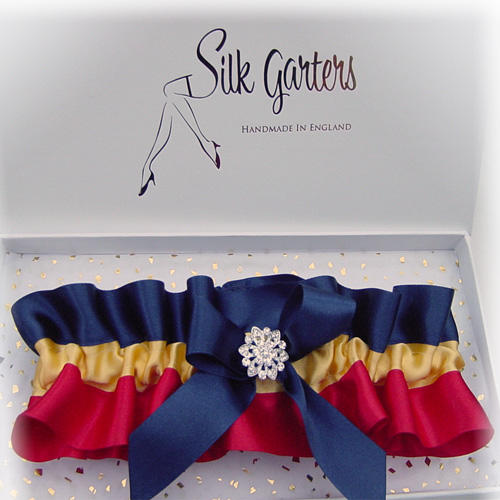 Often it's the 'Something Blue', but it doesn't have to be, every one of my garters has a tiny blue bow hidden inside.
I hope you found this little post interesting 🙂 I'll be writing about how to choose the best wedding garter style for your wedding dress, how to wear your garter and lots of hints and tips in later posts.
Please don't hesitate to ask if you have any of your own questions.
Catherine x