Hidden beneath her lavish pannier skirts, were the the finest silk stockings…held up, just above the knee by tantalising, beribboned messages of love….
With her sumptuous lifestyle and much publicised extravagances, Marie Antoinette will always be a romantic figure, although little is really known about her…She was admired for her beauty, grace and elegance and was said to be an exquisite dancer. She loved clothes and was extravagant with her purchases… what she wore set the fashion for Europe.
These Garters would probably have been a gift. They have been made with such attention to detail, and with unusual components that it's unlikely that they would have been home-made, but more probably came from a luxury French Ateliers.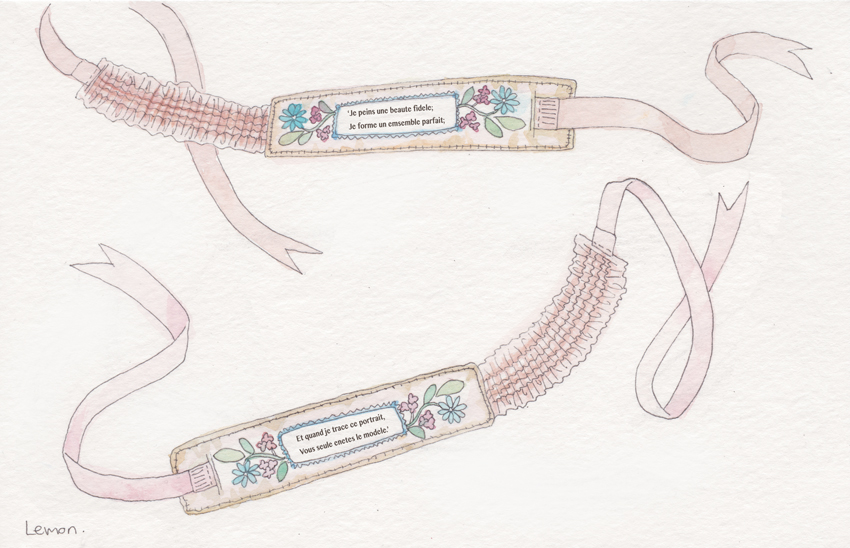 This is a sketch of the pair of Marie Antoinette's embroidered cream silk satin garters, c1790 with their ribbon ties intact.
These garters are just amazing…they're held by the National Trust in England. I have asked them if we can include their garter photos on this post and they have very kindly agreed (they actually took the photos for me, which I think is wonderful!)…
The garters are so beautifully crafted, I just had to share them with you! Remember, this was before sewing machines and you can see the tiny hand stitching between the springs.
Garter construction

Cream silk satin is padded with cotton wool for the length of the embroidered fabric, the padding would have stopped them from digging in. They're edged with a delicate couched cord and lined with silk tabby…
Then amazingly 6 fine brass springs are encased with silk satin, to give the garters stretch and comfort when being worn. They were tied with cream silk corded ribbons…you can still see the little stubbs attached, but the lengths of ribbon have been torn and are missing, hence our sketch, to help you visualise what they may have looked like. Others were fastened with metal clips (see the Christie's reference below) And the stress on the silk ribbons, running through the metal clips, may explain why they perished.
The embroidery
Each garter is embroidered with chenille silk, blue daisy flowers with yellow centers and each petal is one stitch. The stems are a silk perle chain stitch and tiny pink silk chenille buds nestle in the variegated green leaves…
A printed verse is on each garter
Because in 1790 garters had the practical function of holding up stockings, they were made in pairs. Although these aren't right and left handed in their construction, they do have little plaques printed with a love poem.
The printed poem is stitched to the center of each garter, half the poem is on the right garter and the second line is stitched to the left garter. The plaque is framed with a row each of blue and gold chenille thread in long stitch.
The printed text is different on each garter and reads…
1st garter ) 'Je peins une beaute fidele; Je forme un emsemble parfait;
2nd garter ) Et quand je trace ce portrait, Vous seule en etes le modele.'
Putting this into Google translate, must be a bit like asking it to understand 'Old English' so this roughly translates to…
'I paint a faithful beauty; I form a perfect emsemble;
And when I draw this portrait, you're the only one in the model. '
If anyone can help with a closer translation it would be really helpful 🙂
It's believed that they were brought back to England by Frances Bulwer around the time of the Terror. Frances Bulwer was Lady in Waiting to the Princesse de Lamballe who in turn was 'Superintendent to the Queens Household' the highest position for a 'Lady in Waiting'.
The Marie Antionette garters are held by the National Trust, Inventory Number 1350074.1 in the Snowshill Collection. Charles Wade may have bought the garters at auction… These photos were all taken specially for this blog post. And I would like to say a huge thank you to the National trust for allowing me to share them with you.
If you have found this interesting you will also love Waddesdon Manor who have a fine vintage button collection and Claydon House
I have found some more French garters using tiny springs for stretch, in Christie's Auction House archives, they sold in 2008 for £750, without the Marie Antoinette connection. They are a printed silk design of lovers and cherubs…Some of the silk has worn away and you can see the strings, they were fastened with metal clips.
So… personalised garters aren't a new idea at all!
If you have some antique garters, we would love to take a look and share them with our brides…