What Our Customers Say...
---
Thank you for our 5* reviews!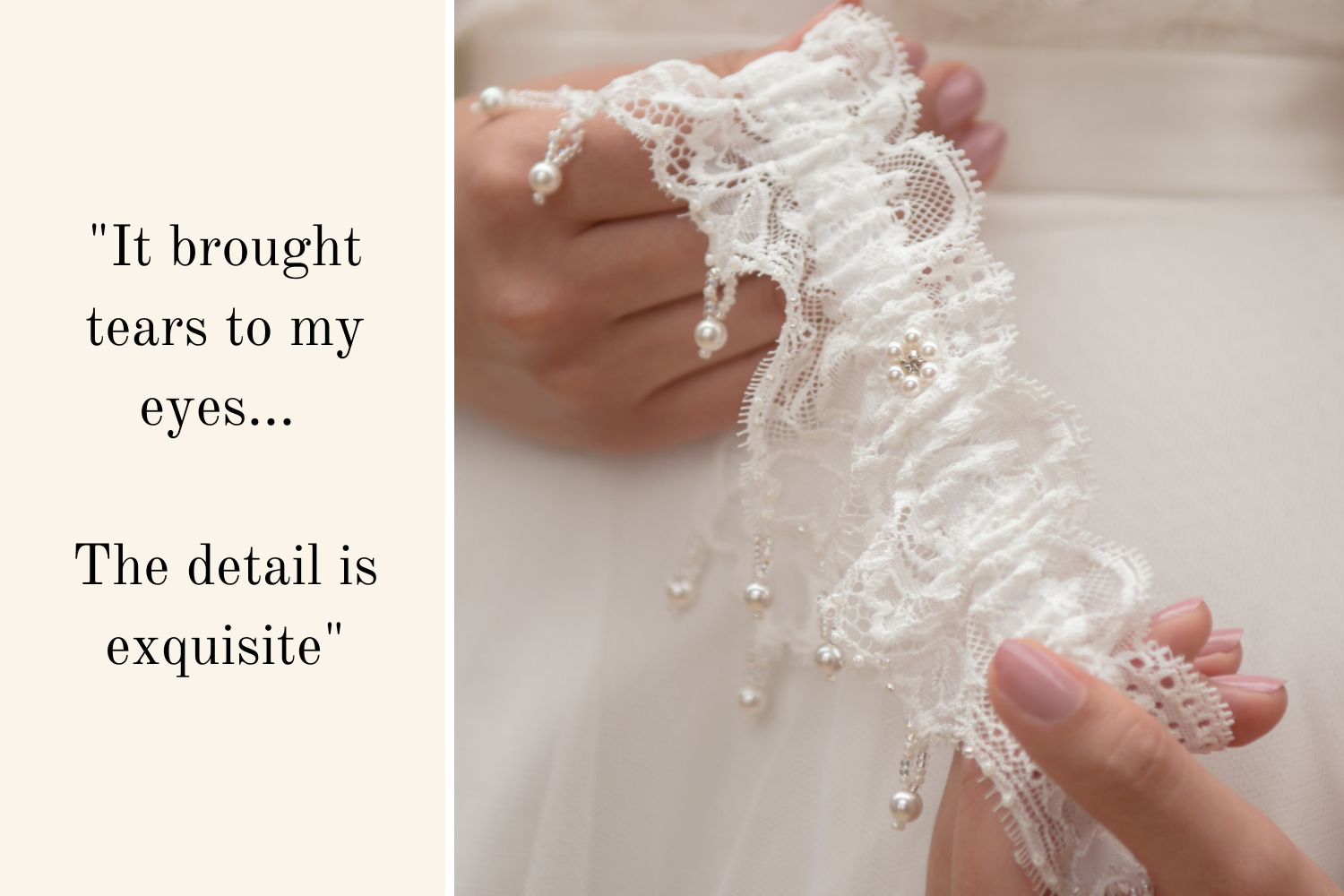 I phoned on Friday but i just wanted to express my feelings in writing.
I have received the handmade 'Dream Wedding' garter i ordered for my friend and it brought tears to my eyes. The detail is exquisite and I am delighted with the quality and design of the garter.
Thank you so very much for making me the perfect gift for my best friend.
I cannot wait for her big day when i will present her with the most beautiful silk and lace garter.
Many thanks from the bottom of my heart
Stacey xx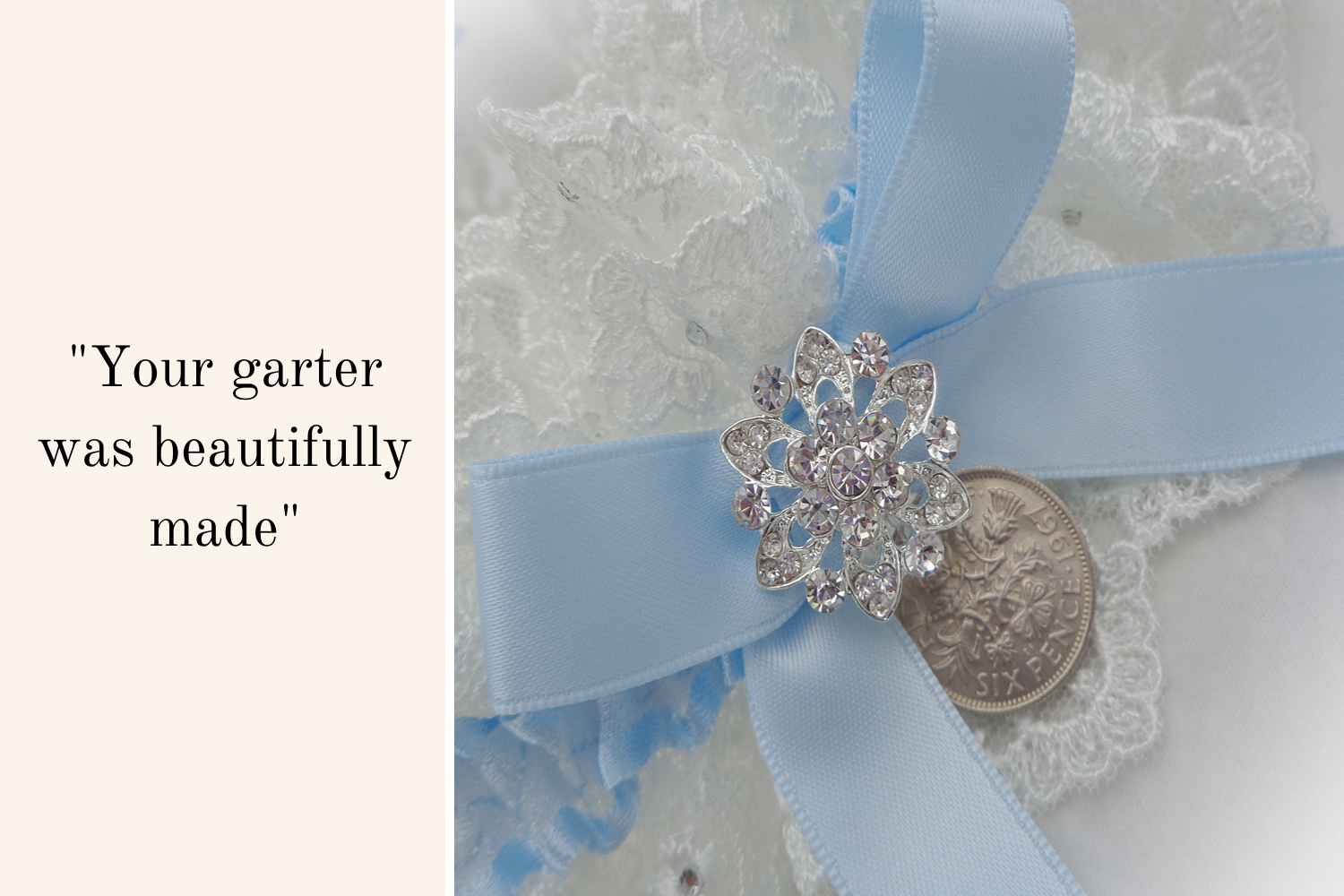 I love the thought of the 'old' ways, keeping it to something old, something new, something borrowed and something blue'....
I also like unique and bespoke items, something personal to me, I am a very personal person. Your garter was beautifully made and one day, I hope that one of my little nieces (currently aged 13 and 2 and a half) will be able to keep the 'tradition' in the family of wearing my garter. Absolutely gorgeous.
Thanks
Amanda Davies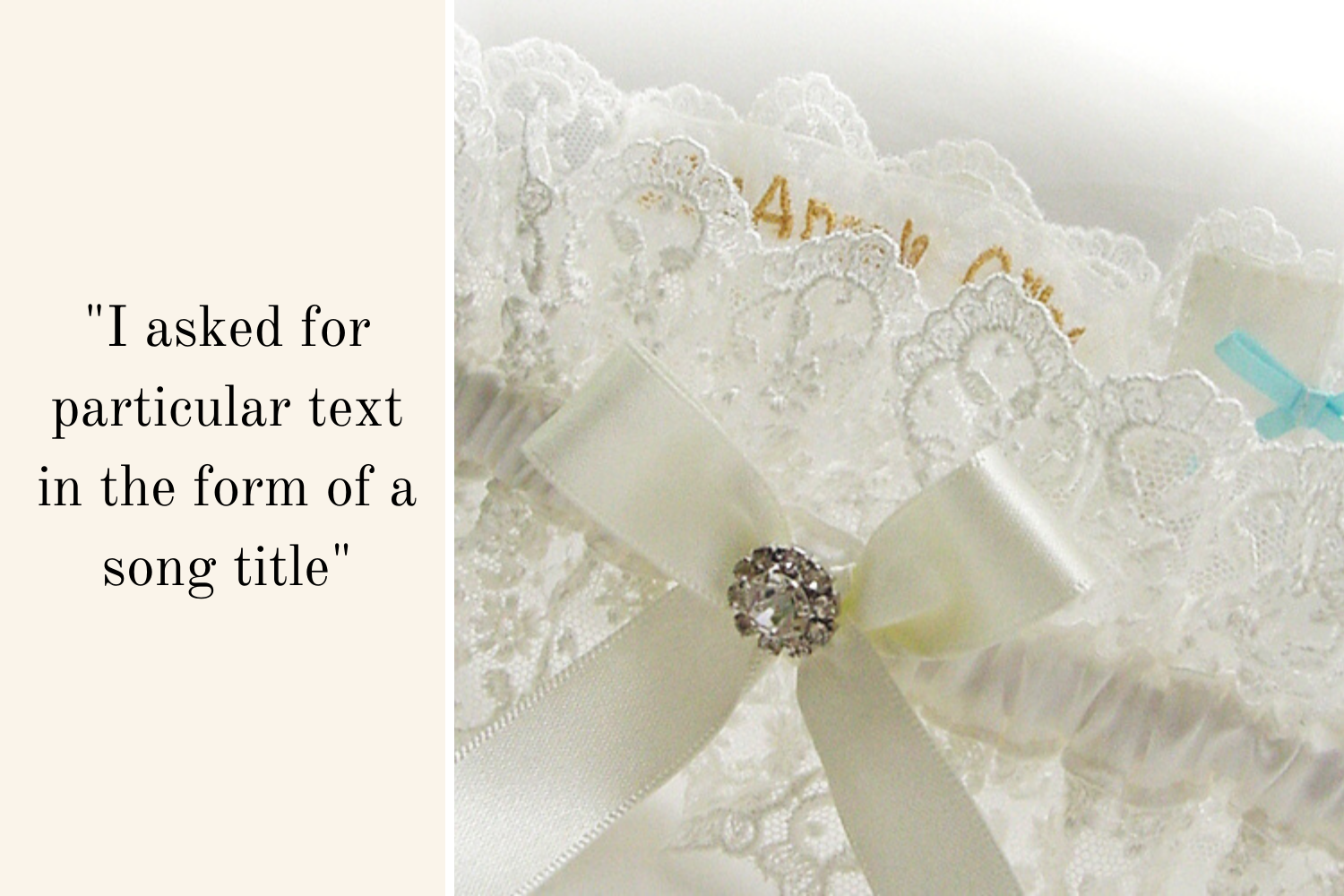 Dear Silk Garters

I received my daughters garter this morning, and I have to say it's absolutely beautiful.
I asked for particular text in the form of a song title and you kindly telephoned me to confirm, which takes Customer Service to another level.
My daughter's wedding takes place in Australia and I can guarantee that Silk Garters contact details will be given gladly, so be prepared for an Ozzie invasion !!
Again thank you so much, the bride will have no issues in raising her hemline to show off this "something blue".
Kind regards
Lynne Russell.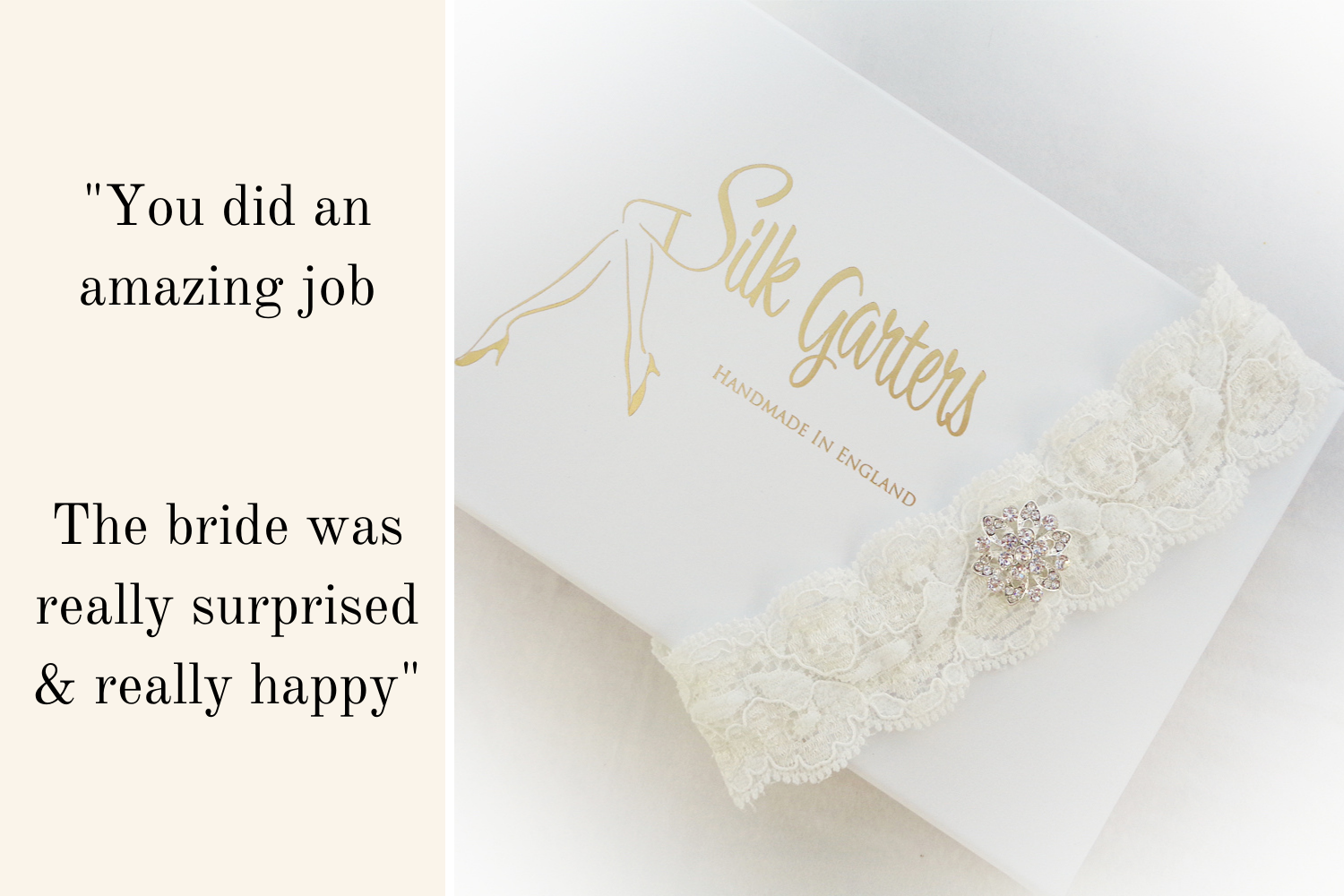 Thanks so much for this, I know it was all really short notice, but the garter was absolutely perfect, you did an amazing job - the bride was really surprised & really happy!
Thanks again, Victoria. from Surbiton, Surrey
You made a garter with an orange ribbon for my sister; it was to go with
her orange wedding outfit! It was perfect and she absolutely loved it.
So thank you for your personal help and good wishes.
You provide a great service!
Alison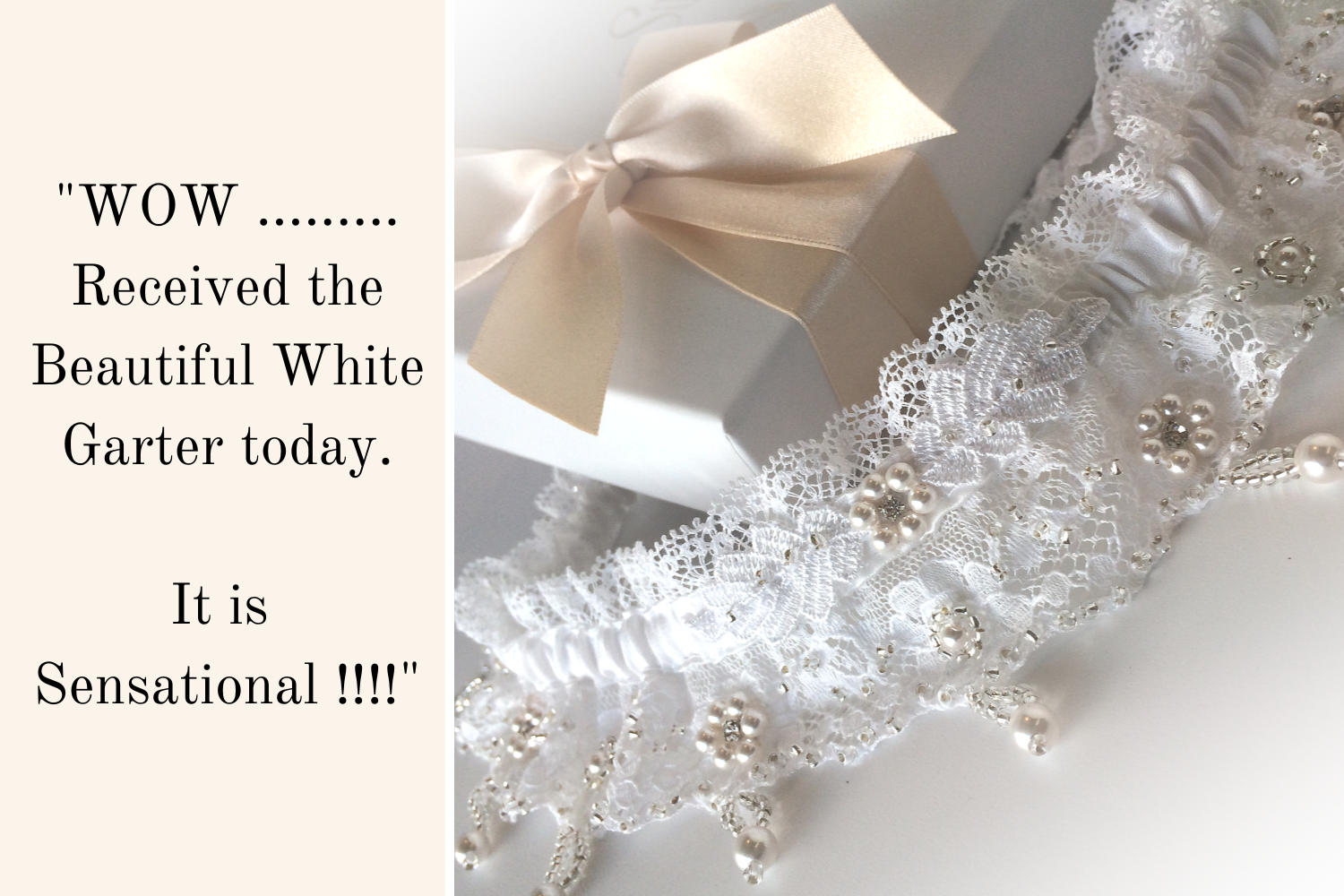 WOW ......... Received the Beautiful Whit Garter today. It is
Sensational !!!! Thank you soooo much. My hairdresser will be receiving
the Garter on 7th Nov. B/Day gift from me. Wedding is 18th July.
Will be in touch after her B/Day to tell you what she thinks. Thank you
I chose Silk Garters because your garters were well made and a lot more unique than a standard marital garter that you buy in an online shop or in a standard shop. It was classy and original and also I did want an element of blue in there. I did a lot of searching and your website was by far the most professional and classy looking garters. A higher end product I believe!

Thanks
Alex
Just a little note to say thank you! thank you! thank you! for my garter...
I L-O-V-E I-T and am so excited about wearing it on my wedding day. If anyone asks me for advice on where they should get their garter I'll know exactly what to tell them :-) Thanks again, Sinead Fitzpatrick. From Ireland
Thank you. Garter received very promptly and presented lovely. V good service. Regards Emma. from Bangor, Northern Ireland
I am absolutely delighted! I love it, Your workmanship is fabulous, I really can't thank you enough . I need not worry about my 'something blue' anymore. I'll certainly recommend your services and site to my friends.
Hi Catherine, THANK YOU, it came half an hour ago, and my bride to be (Jan) is over the moon. thank you for being so prompt and its lovely. The next time she gets married she will come to you again LOL.. Regards Jim&Jan.
Just a little message to say that i recieved my parcel this morning, an WOW!!!! what beautiful items, an packaged so beautifully.The personalised garter was so FAB!!!, well worth the money!! I can't wait to wear the garter at my wedding an my husband- to- be will love
it.
I will DEFINATELY be ordering from you in the future, and the little "Silk Garters" cards attatched to the garments with your email address on will be passed on to my mum an my friends as i,m sure they will want to buy some things when they have seen mine!
Once again thank you so, so much for the beautiful items, and the little gift bag inside the parcel was a lovely idea thank you.
You have made my internet shopping a wonderful experience.
Vickie
xxxxxxxxxxxxxxxxxxxx
Today I received the garter from you and I am so pleased with it - just what I wanted and beautiful. I am sure my daughter will love it. Many thanks for your excellent service and genuine interest in my requirements. I will certainly come back to you should I need anything else and will recommend you to my friends.


You can review any product and tell us what you think of your purchase, we would love to hear from you...