Where can I buy good quality reusable face masks?
If you've been searching for good quality washable face masks, you've come to the right place!
In July @RosieLondoner purchased our Large navy blue face mask and shared herself wearing it on her Instagram page, to her 340K followers.
It looked smart and elegant, the ear loops, looped around her bun. Rosie said the quality and fit were perfect and our website went crazy with orders!
You can choose from pure silk, fine cotton Lawn Liberty prints, plains and quirky cottons like this gold and black clocks fabric…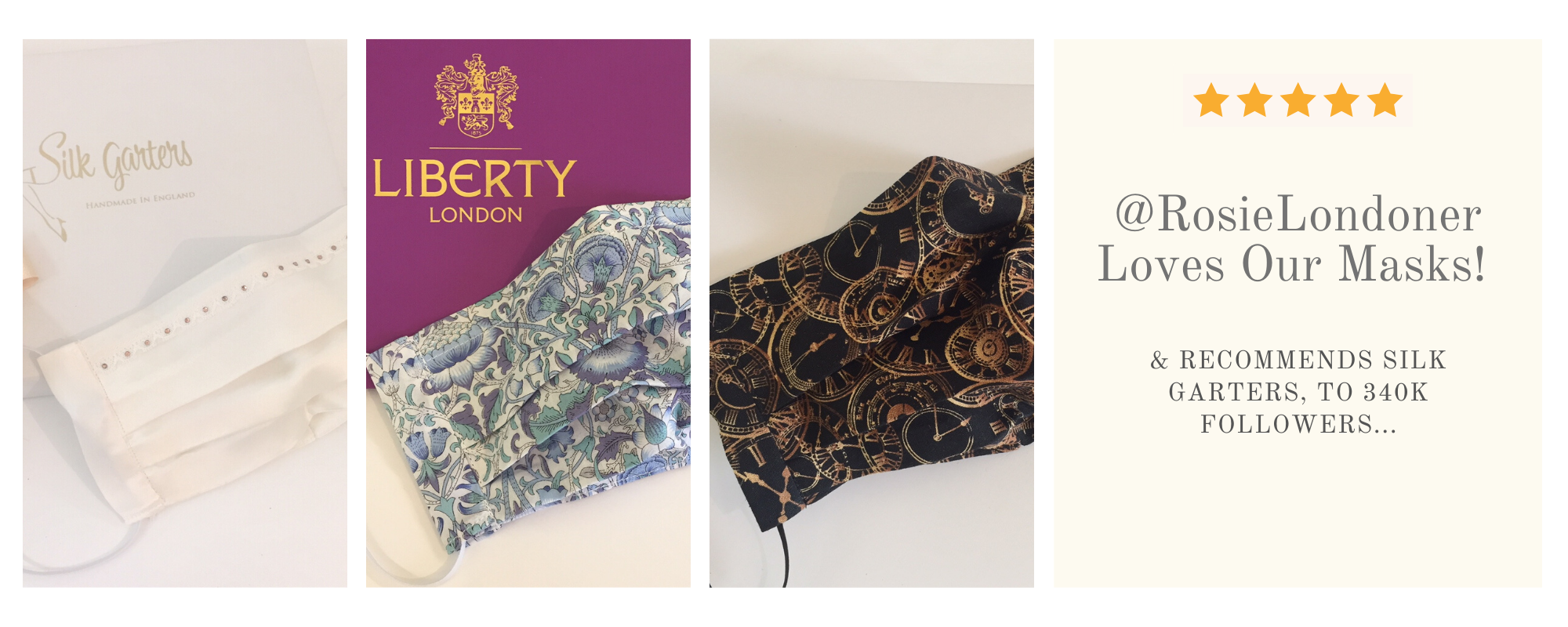 Double or triple layer face masks?
All our face masks are made of quality, tightly woven cotton fabric. They include a filter pocket, so you don't need to choose between a double layer mask or triple layer mask. If you'd like a triple layer, just add your own filter… Slip it into the pocket… Filters are made of non-woven fabric, Melt-Blown fabric, Tissue or Kitchen roll are all made by compressing fibres and can be used as an extra barrier in a woven cotton face mask.
They say, the more layers, the more protection, but air flow is also more restricted and some people may find this a challenge.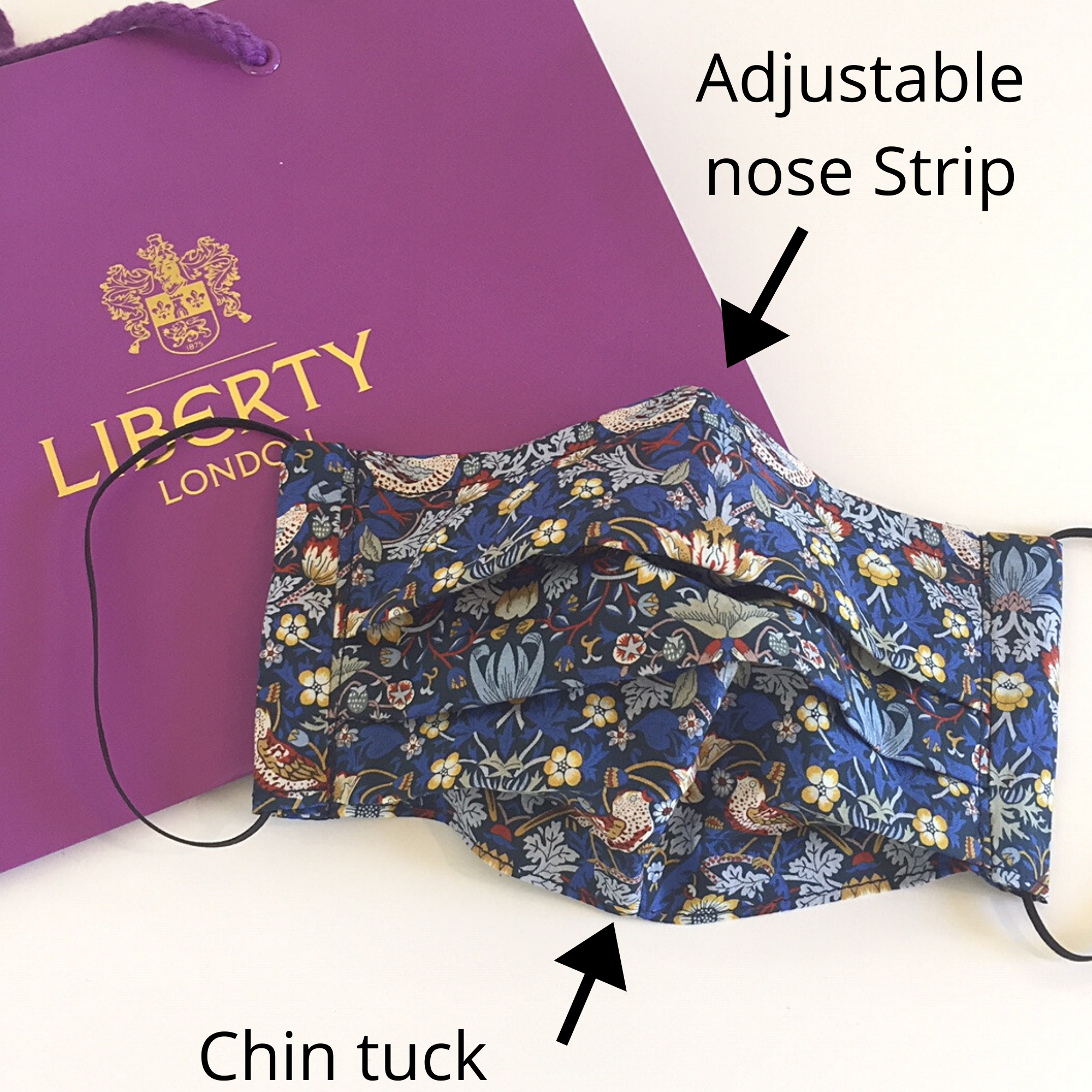 Comfortable face masks and sizing

Comfort is important with face masks and wearing the right size will stop you feeling the need to fidget and adjust your mask. Our masks come in Small, Medium and Large.
Small fits a teenager or small adult face
Medium fits an average adult face
Large fits a larger adult face, or gives a very full coverage as @RosieLondoner wore it looped around her bun.
Face masks with a nose wire
All our face masks have a flat aluminium nose wire, this helps your mask fit well around your nose, which in turn stops your glasses steaming up, a common problem if you're a glasses wearer.
Face masks with a chin tuck
This is something I think is really important and something a lot of mask makers don't bother with! All our masks have a chin tuck… A chin tuck anchors your mask under your chin and stops it riding up your face.
How many times have you seen people being interviewed on TV and as they're talking their mask is riding up their face?
Top tip : If you have a mask that's too big, try adding your own chin tuck 🙂
Lovely prints for spring, include a kingfisher bird and this lovely pansy print face mask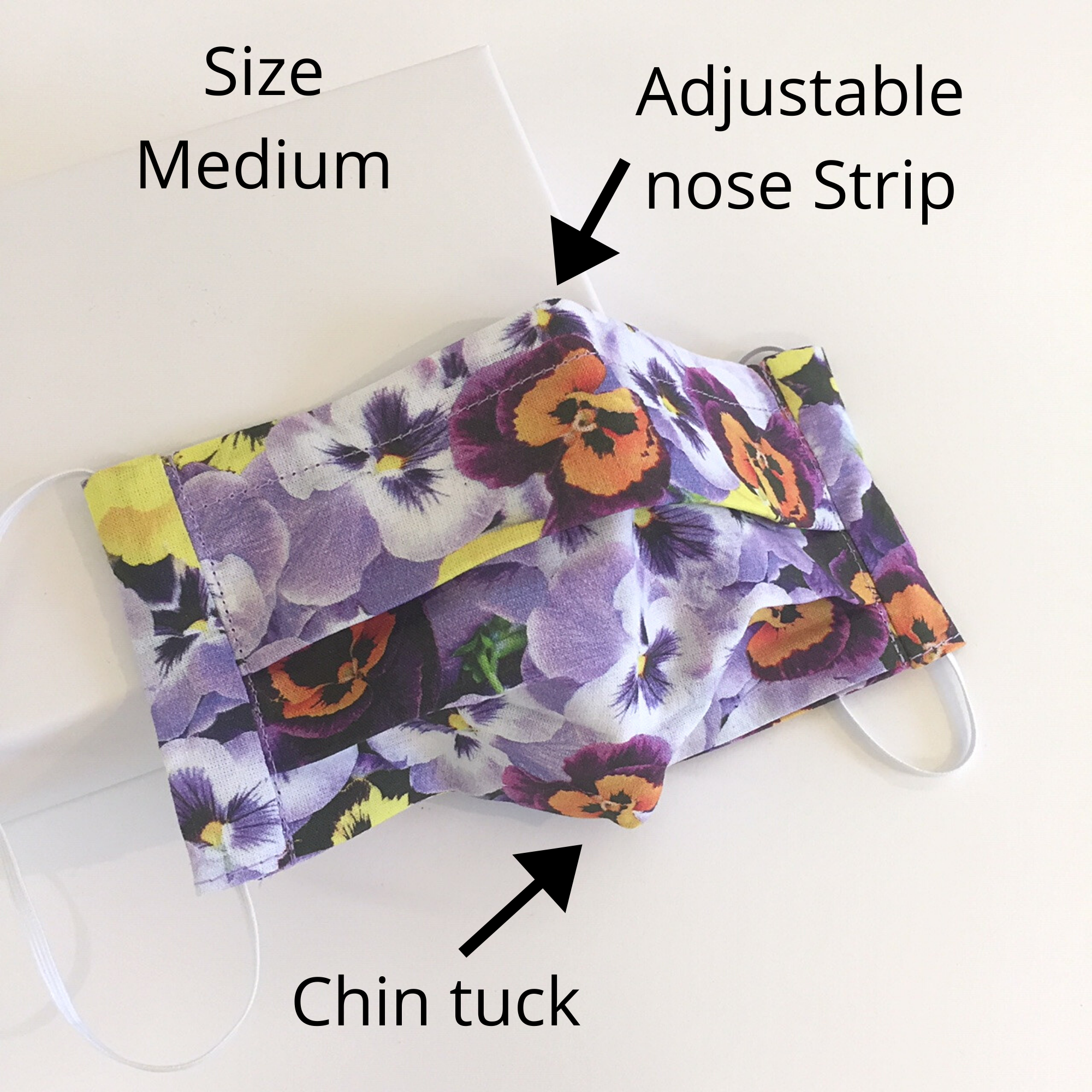 **Please note, the face masks are not medically checked. They are not intended to prevent or cure any disease. Use at your own discretion.