Dubai, synonymous with luxury and a paradise for visitors! So, when you've chosen Dubai for your wedding, we know it will be truly special and that's where I can help… You see, I've been privileged to be asked to make some amazing Dubai wedding gifts for the bride. Hearing that I use the same Nottingham lace suppliers as Arab Princes and British Royals, my clients know they will be receiving beautiful quality garters.
Dubai Wedding Gifts For The Bride
With Dubai weddings often taking place over several days, garters are chosen to suit different gowns. Special keepsakes, often with love notes and personalised embroidered text, golden threads, opulent hand-beading and the softest pure silk.
Recently I posted a special parcel containing these two beautiful gift boxed garters. The gorgeous Leila garter, dripping with Swarovski pearls and Constance, extravagantly embellished by hand with freshwater pearl flowers and tiny sparkling crystals…
The first wedding day in Dubai…
On her wedding day the bride chose to wear the most beautiful ivory lace gown with pearls, the Leila garter was chosen to enhance the brides dress. The garter above is Leila, dripping with Swarovski pearls with the most beautiful lustre. I hand sew the lower edge with hundreds of tiny seed beads, some silver lined, some a pearlised finish, lending a soft elegance to the piece. This lace is French, with a tiny eyelash effect on the lower edge which undulates with flowers and leaves, woven into the lace.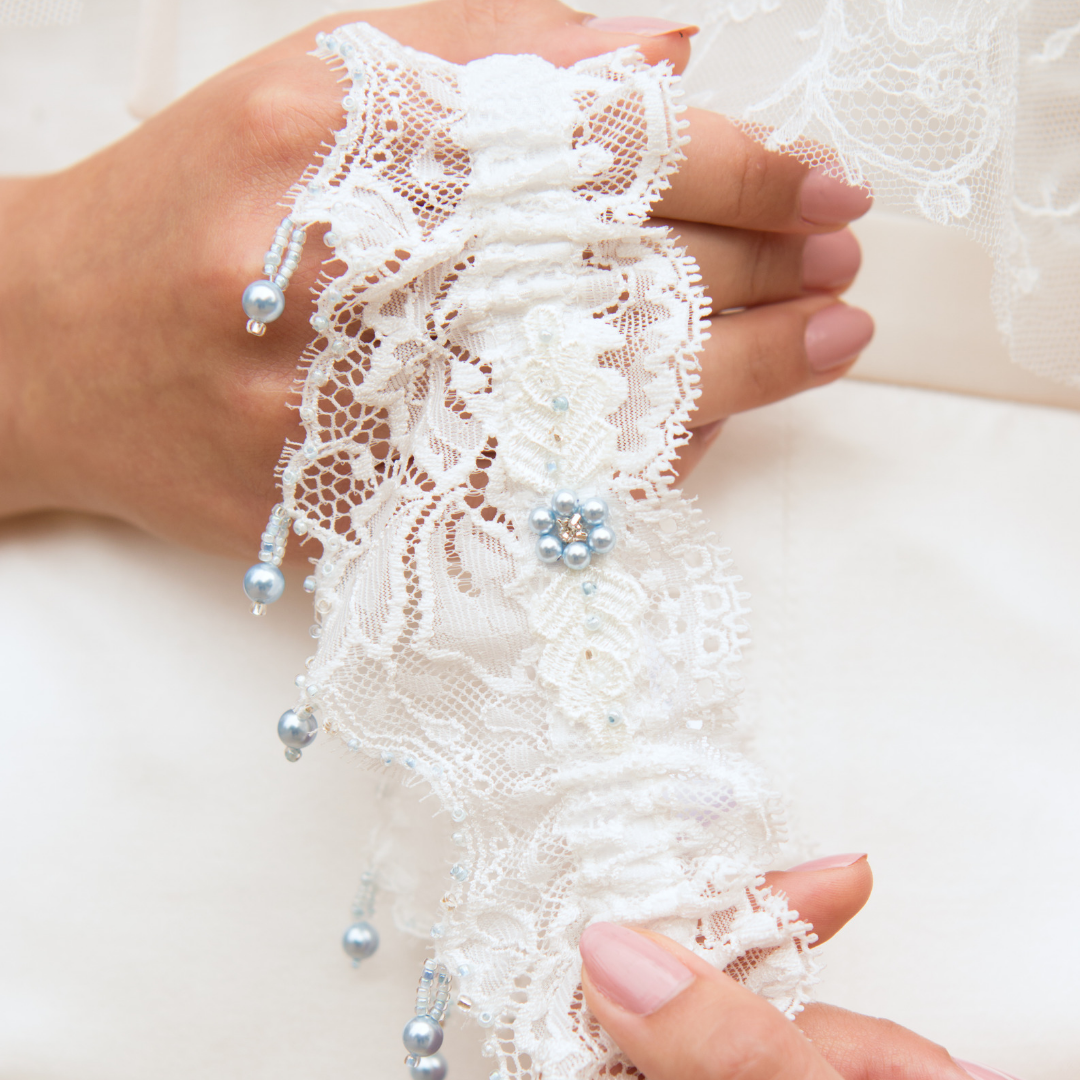 This is the Luna garter, the Leila design with pale blue pearls. Here you can see the front of the garter is appliqued with guipure leaves, seed beads and a Swarovski pearl flower. Hidden inside is a message of love, embroidered text creating an heirloom piece, a special keepsake for the bride.
The second day of celebration in Dubai
On the second day of celebrations, the bride wore a peach colour gown and the Constance garter toned with her dress beautifully. For the Constance garter I chose a rare Nottingham lace, made by the old Fewkes factory. Their machines embroidered delicate floral designs on fine tulle and were chosen to make the lace for Princess Diana's wedding accessories. The lace on Princess Diana's iconic wedding dress, was antique lace from Queen Anne.
The silk band on the Constance garter is just 7mm deep, I embroider the pearl flowers alternately, one peach and one ivory, following the leaves with seed beads that extend into the silk band, blending the edge between silk and lace.
The silk band is tiny and I've handstitched the special keepsake message inside 🤍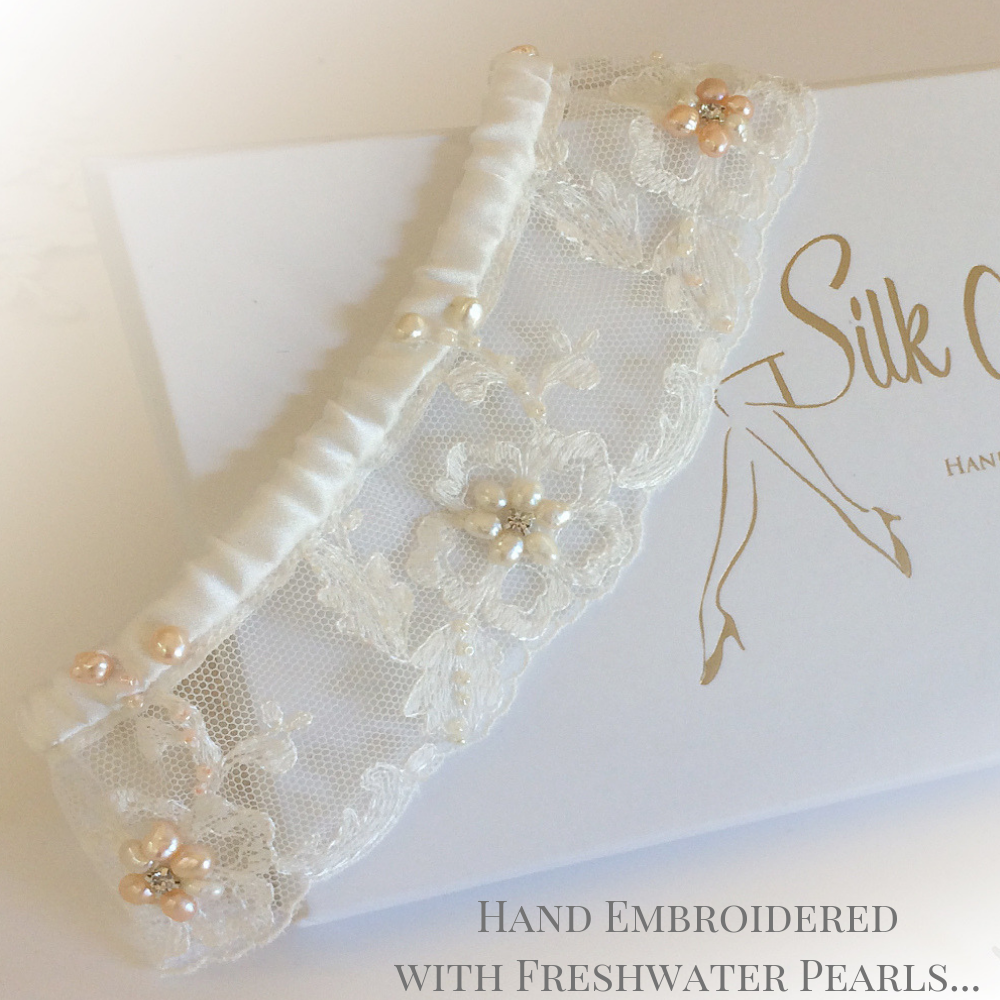 Golden Garters For A Dubai Wedding Over Two Days…
I was contacted by a groom in Dubai, asking me to make personalised garters for his lovely bride to be. He was looking for two different garters for their wedding over two days. Making Dubai wedding gifts for the bride to be makes me heart sing! Knowing these pieces will be treasured around the world is magical. Thank you!
The first garter was pure white, softest pure silk satin, edged with white cotton Nottingham lace, embroidered with golden thread, their first names and wedding date. The second garter was made for the following day. Golden silk satin, edged with black cotton Nottingham lace and embroidered with black text, 'Now we are one', and the second date. A beautiful pair of keepsake garters, chosen with such love and thoughtfullness by the groom 🤍 Just so romantic…
'Now we are one'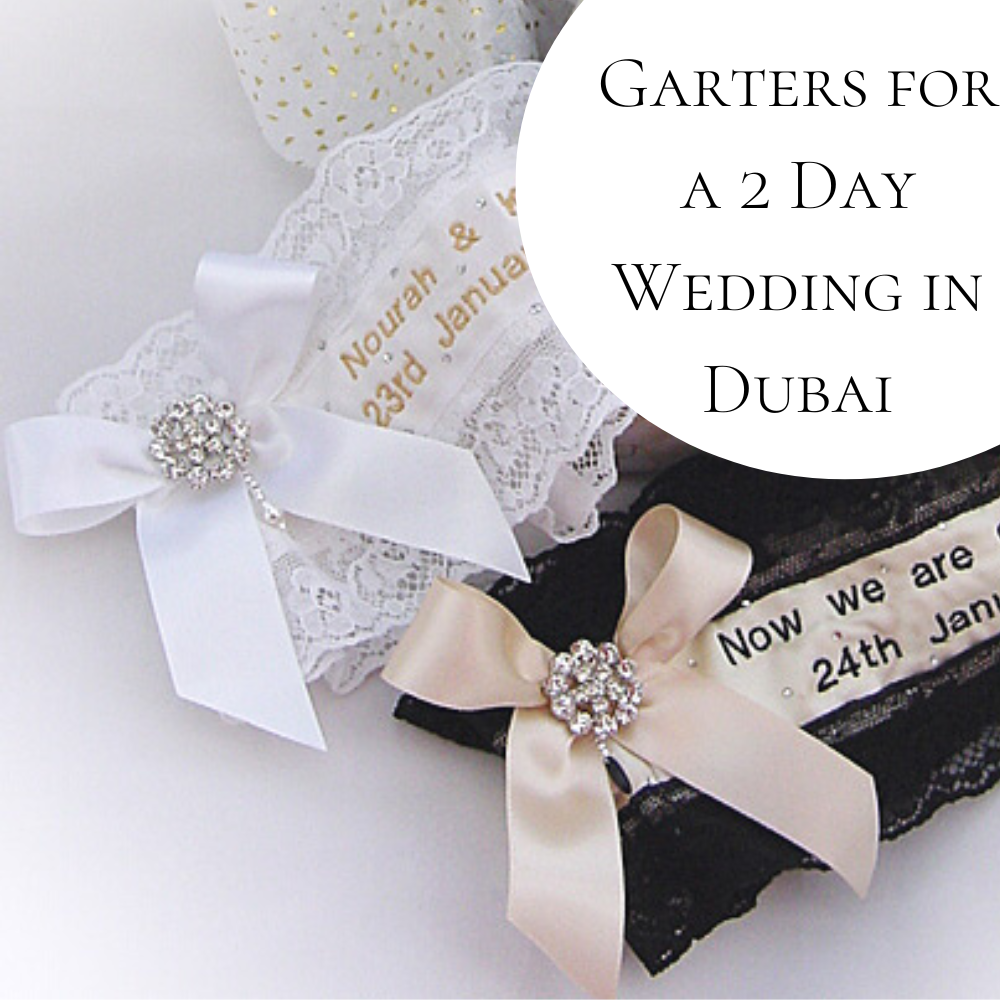 Making personalised garters for a two day wedding…
Here I'm part way through making two garters for a July wedding, with another reception a month later. Each garter is embroidered inside with their initials and the date it was made for. Both Nottingham lace, the top is soft ivory cotton lace, lined with ivory silk. The second, a delicate filigree lace, lined with peach silk ribbon, that shows through the dainty design, highlighting the embroidered scrolls.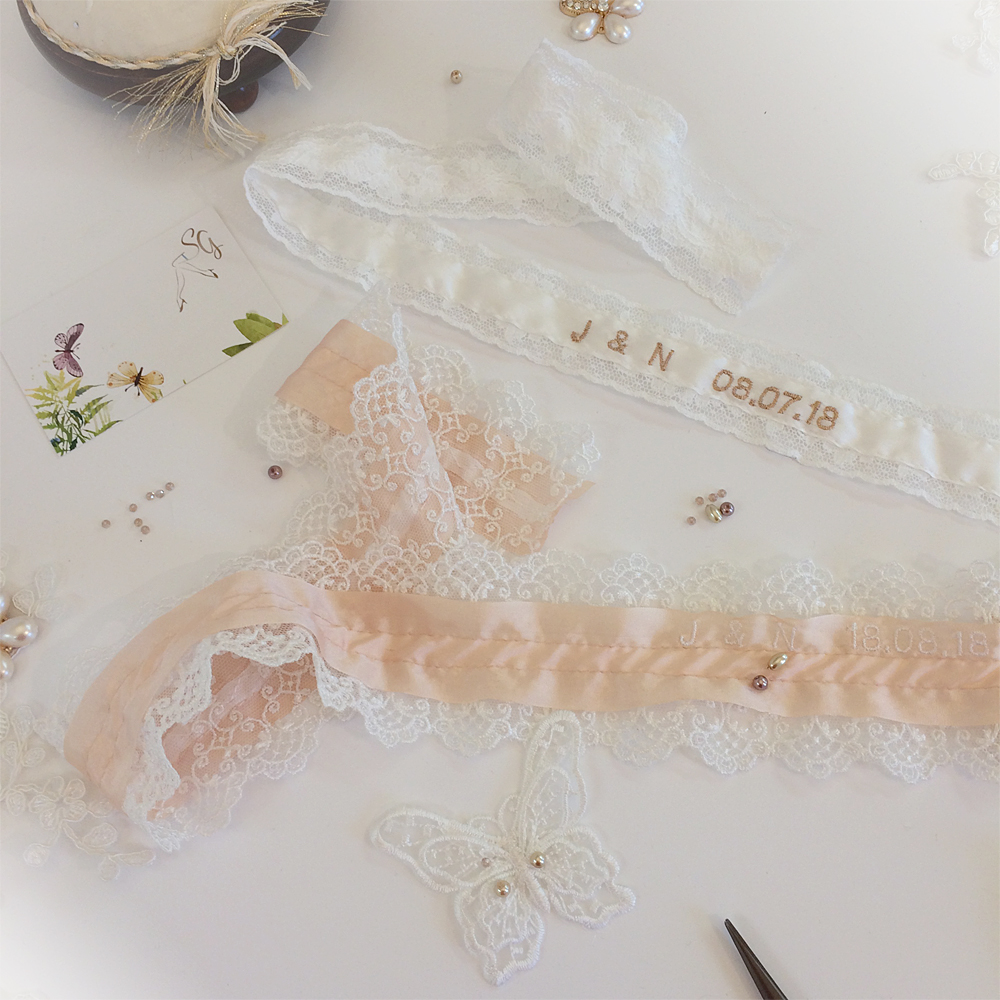 The two garters complete, Filigree lace and Butterfly pearls. I'm now making the butterfly with a little crystal body Butterfly Kisses.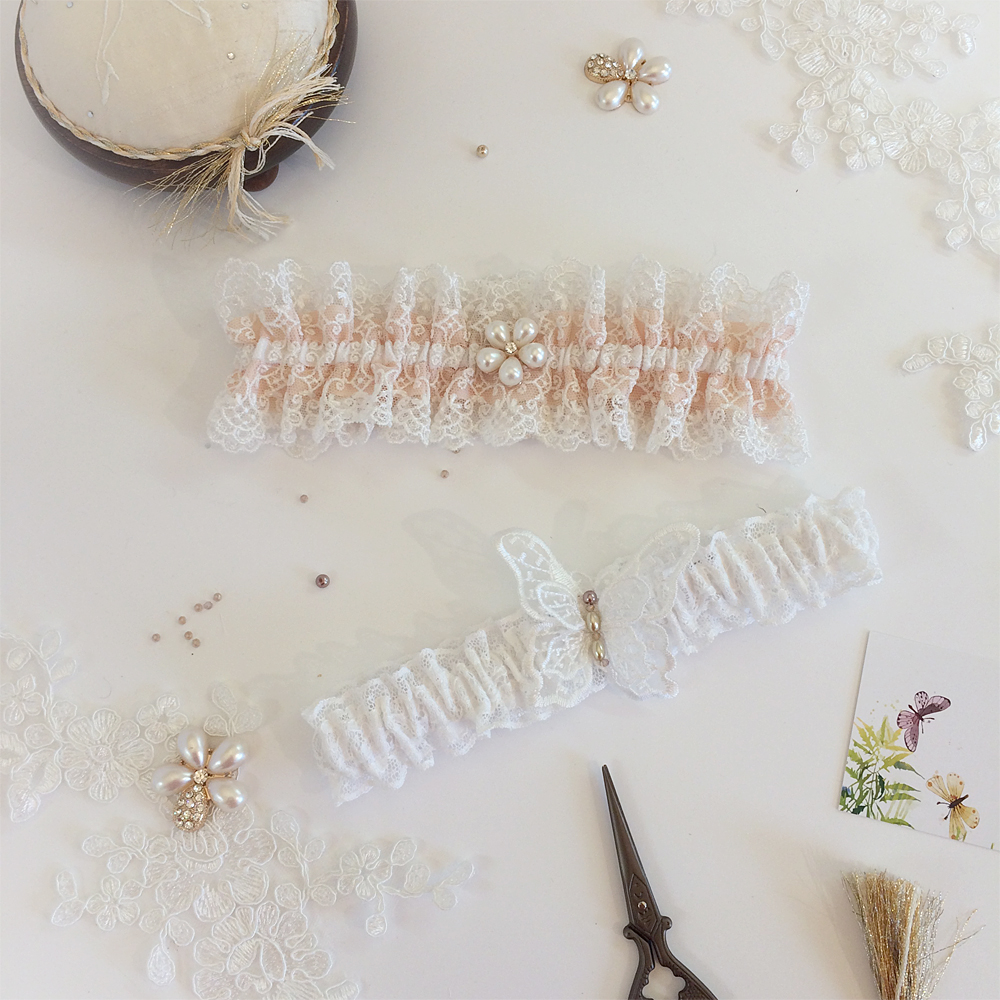 A matching garter to toss was ordered, just for fun! One side has the crystal of Filigree lace, the other the butterfly. You can just see the tiny blue bow peeping through from inside.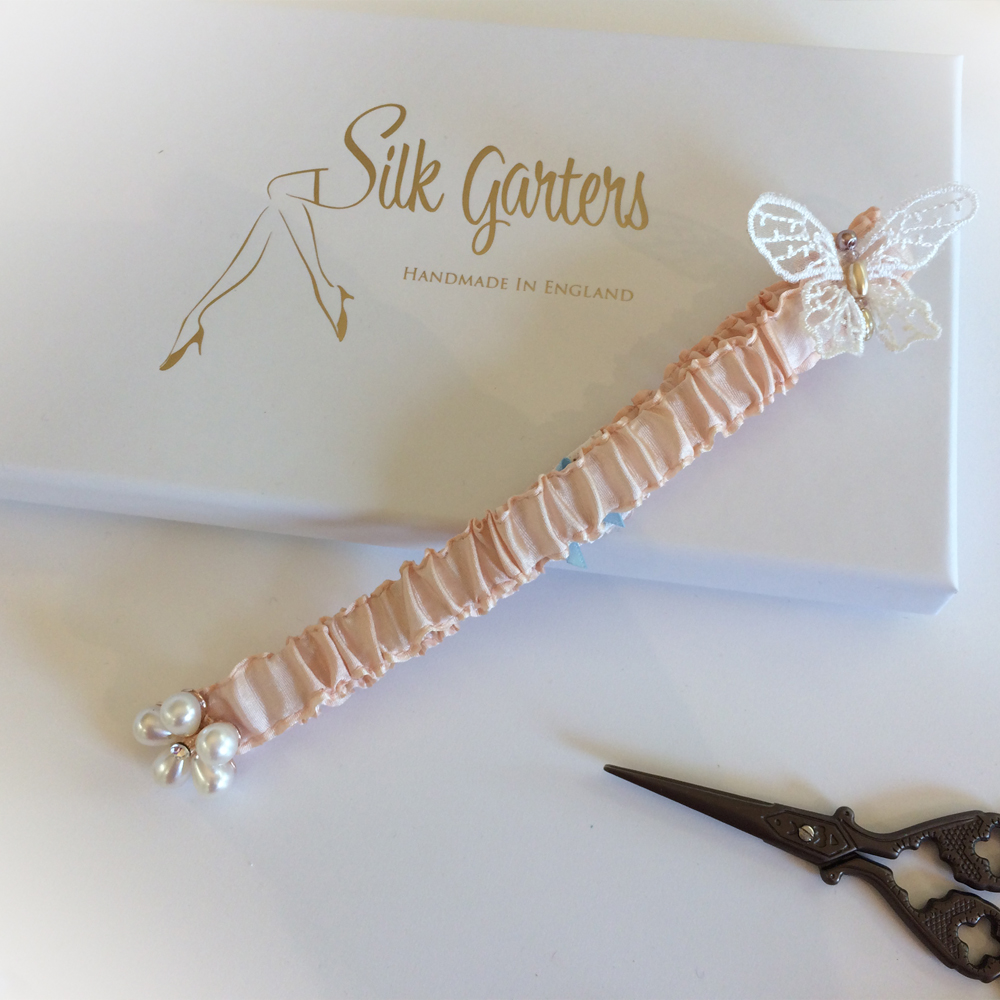 Dubai Wedding Garter Set
I do love making these pure silk daisy flowers! Each one I stitch by hand, pretty delicate petals in an opulent purple, pure silk chiffon. Each one has a sparkling crystal centre and sits on fine bows. The main garter is edged with cotton Nottingham lace, I've sprinkled with crystals. The Garter to toss is a simple pure silk band, with the same matching flower. Wearing the toss garter above the main garter, the silk flowers sit beautifully together, slightly off set. A beautiful posy!
I've thoroughly enjoyed making these gorgeous garters! Thinking of the happy couple as I'm making and crafting love into every stitch. They are all made to order and by clicking on the image you will be taken to the order page. Please order as soon as possible, it allows me to select your pearls and craft your items, with the care they deserve.
I'd love to sew something special for your Dubai wedding too! I love embellishing precious lace and I hope you're inspired by my designs 🤍
If you have any questions, just ask, I'd love to help
Catherine