The Ayana Silk Daisy set, seen in British Vogue!
When you're looking for an extra special gift for your daughters wedding, or want something unique as a gift for your Bride, these beautiful sets are some of the bespoke gifts I have been asked to make in the past…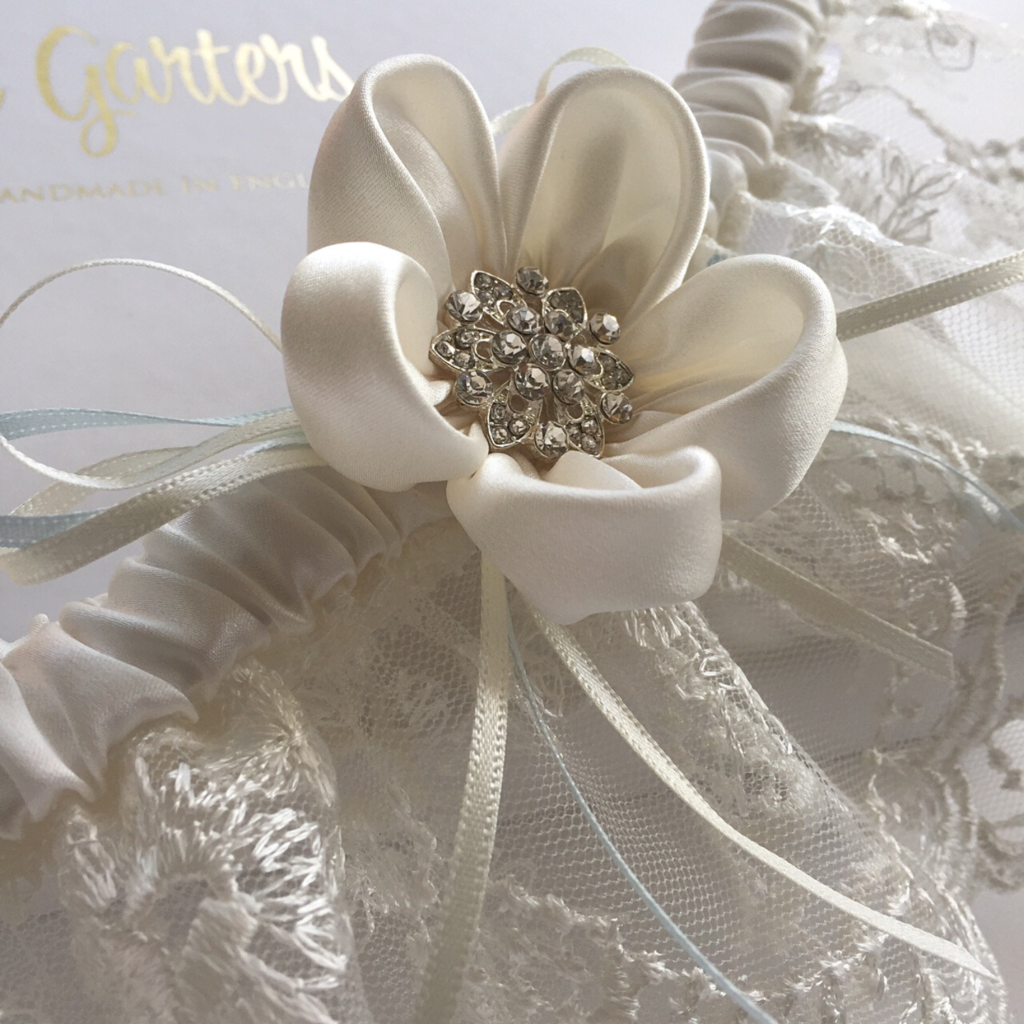 Ayana Wedding Garter Set… Meaning Beautiful Flower.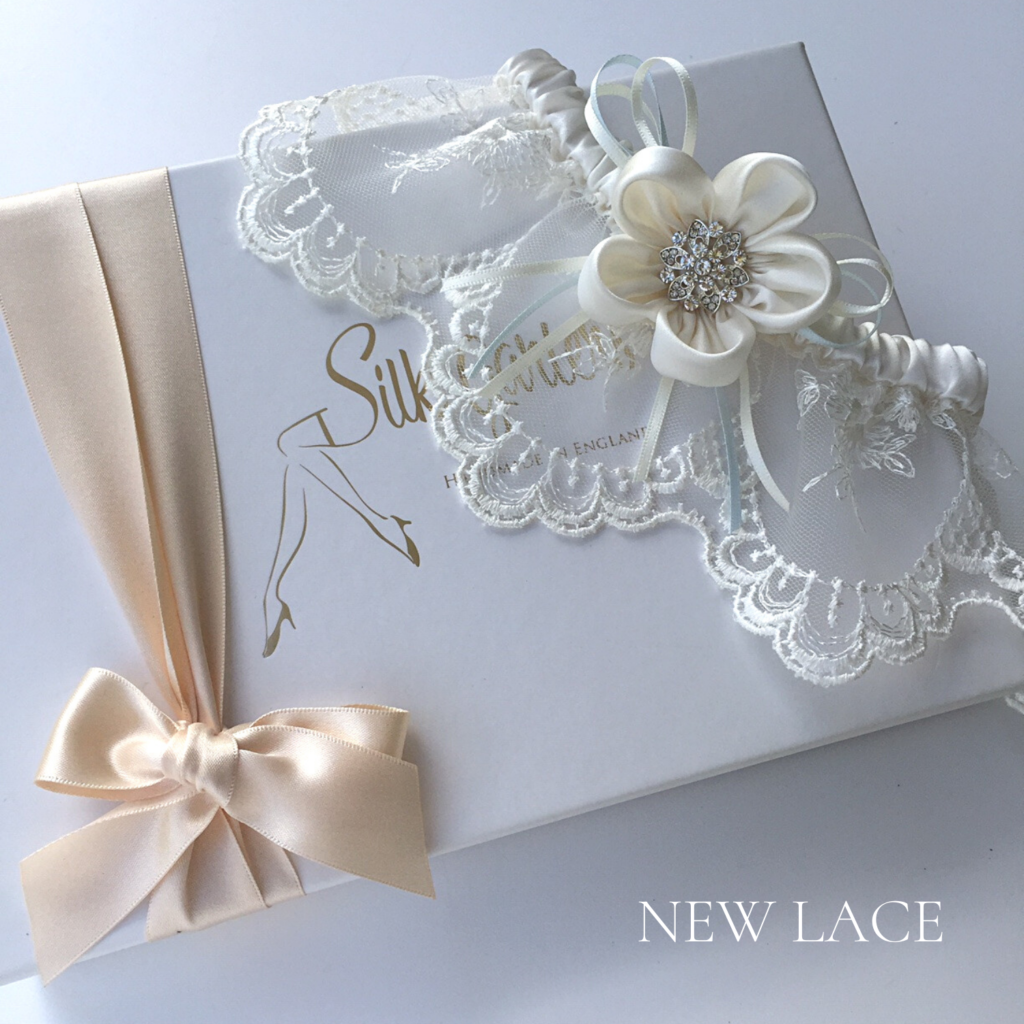 The beautiful new ivory tulle above is now being used…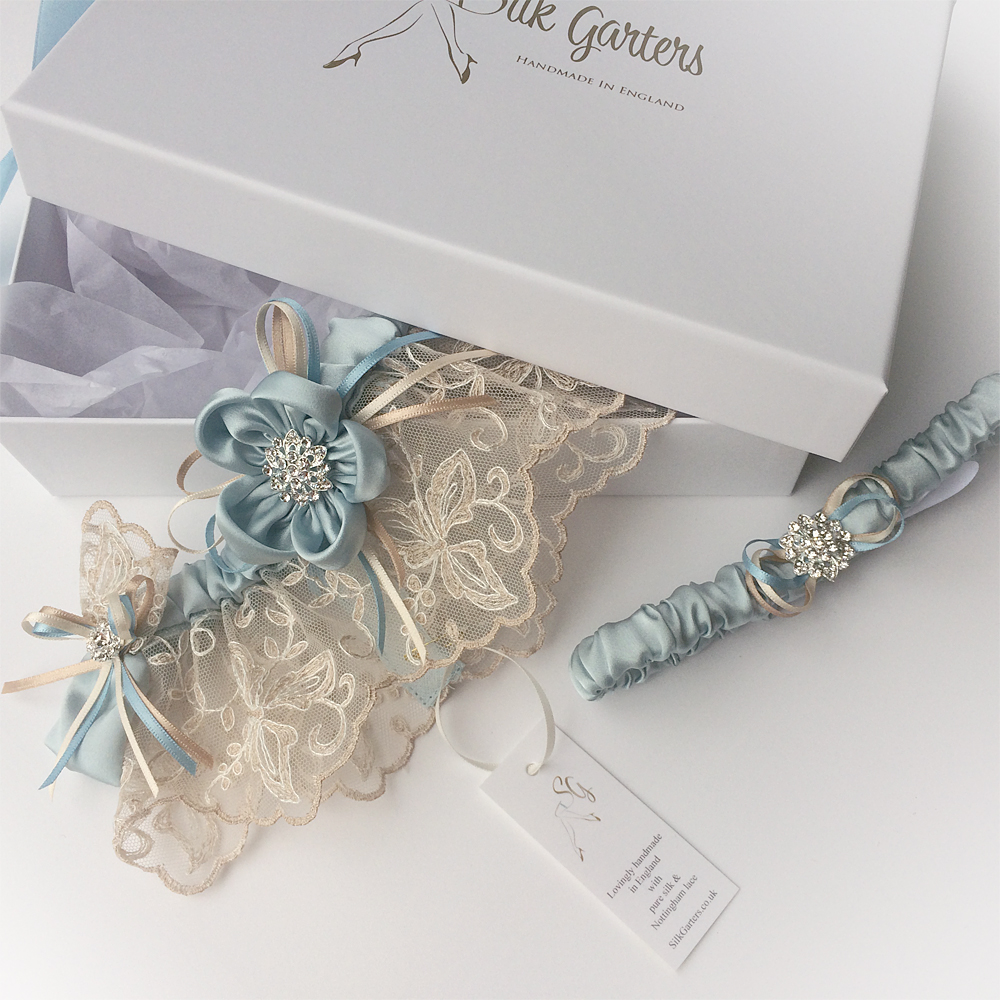 First designed for a mother to give to her daughter on her wedding day, we can make a silk daisy set for you too…This garter was a pure silk, blue band gathered and edged with a luxuriously embroidered tulle. The tulle is embroidered with elaborate leaves in champagne and ivory threads and pretty dainty leaves and buds…
It's name 'Ayana' came from the hand made silk flower, laid over fine, old gold and blue bows, it's central disc of carpel and stamen, a sparkling clear glass crystal. I made a matching sixpence bag and garter to toss with this set, they're so pretty!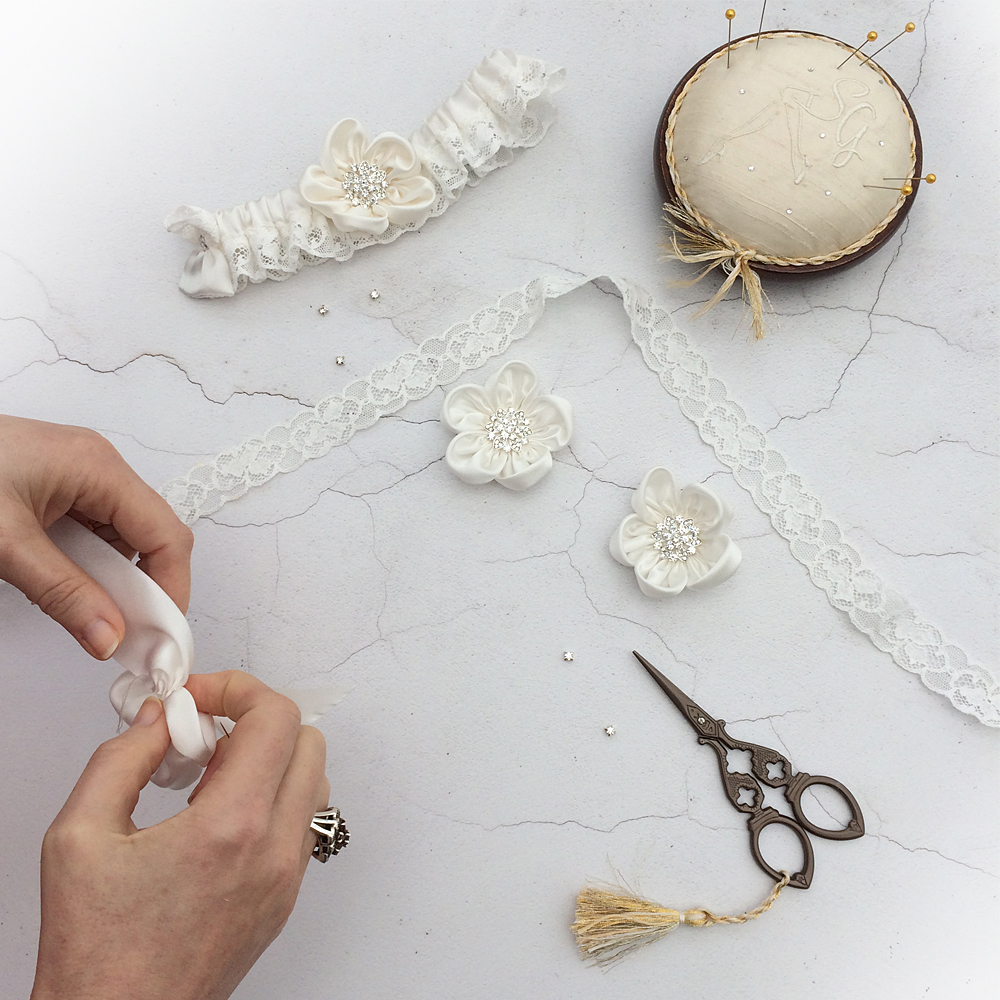 Here I'm carefully stitching the the pure silk satin, into perfect petals… Totally handmade every flower is unique. If you prefer a narrower garter, this lovely cotton Nottingham lace is still available. (I'm a collector of beautiful lace and do have more choices if you'd like to go bespoke, please message me)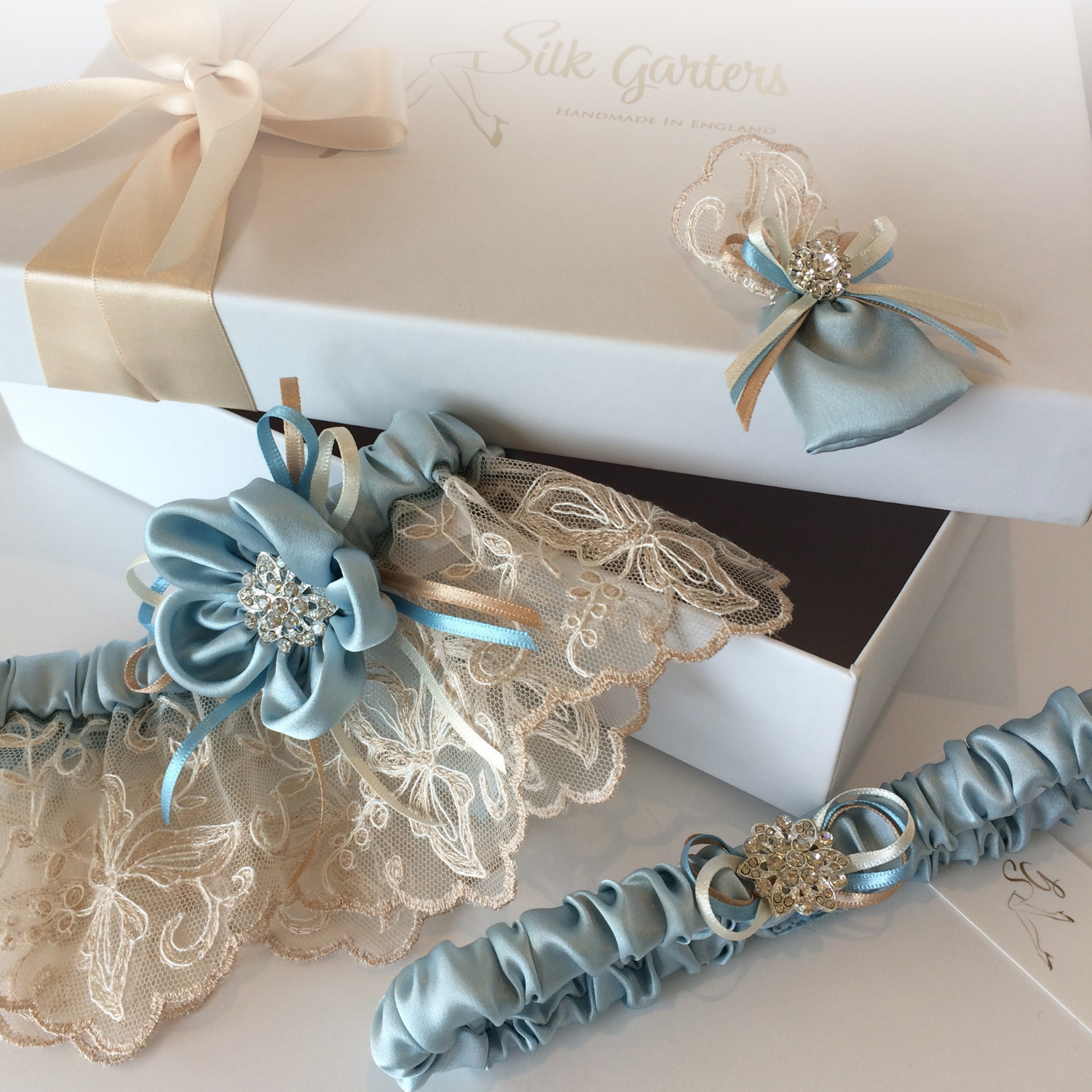 This Nottingham embroidered tulle was made by the old 'Fewkes' Company who also made lace for Princess Diana's wedding… I have one piece of this lace left…Please message me if you'd like me to create your set with this.
Brides have loved the gorgeous Ayana set and I was so excited when we had a lovely version in British Vogue! I think I had the image as the home page banner for a full six months!
I'm now using the delicately embroidered ivory tulle below. Scallops of rayon embroidered threads on a sheer French tulle, with airy leaves and flowers, they match beautifully with the veils so fashionable at the moment.
You can have a lucky sixpence bag with a genuine vintage silver sixpence, in a tiny matching bag. I can stitch it to your garter as seen above, have it with a little loop to tie into your bouquet or give it to your groom to put in his breast pocket and carry over his heart! How romantic is that 🙂
A sixpence was traditionally given to the bride as part of her dowry, but now it's just for luck, a custom thought to bring good fortune to the happy couple.
The separate bag in the image above is for your special treasures. There is always something with special meaning that you'd like to carry on your wedding day and this small keepsake bag is the perfect size to carry photos of grandparents or other precious momentoes, just tie it into your bouquet.
The matching lucky horseshoe is a silver-tone, lightweight metal, bound with toning ribbon and also embellished with the matching flower.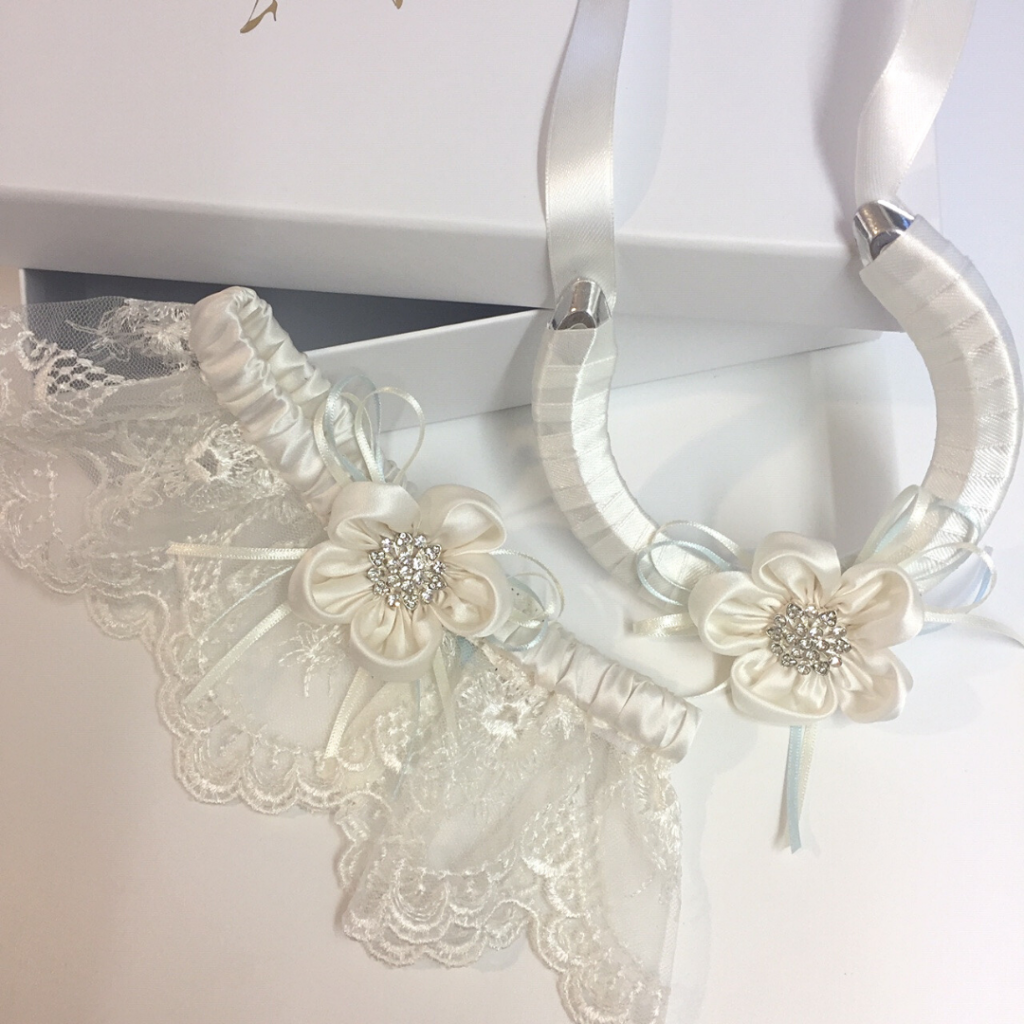 Your Wedding Garter Can Be Personalised Inside, choose your text colour.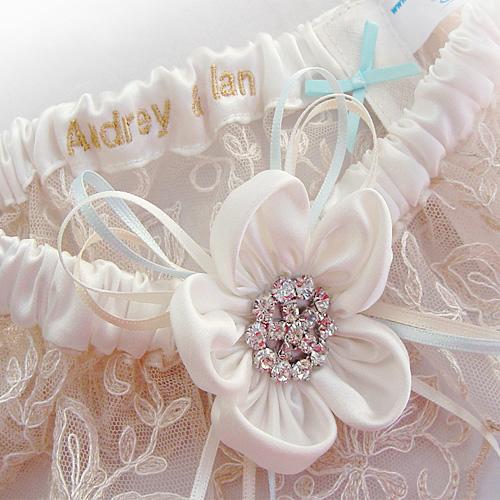 These silk garters are handmade to order…To make the garter extra special, you can choose the have the inside of the wedding garter embroidered with the couples names and their wedding date or a special message.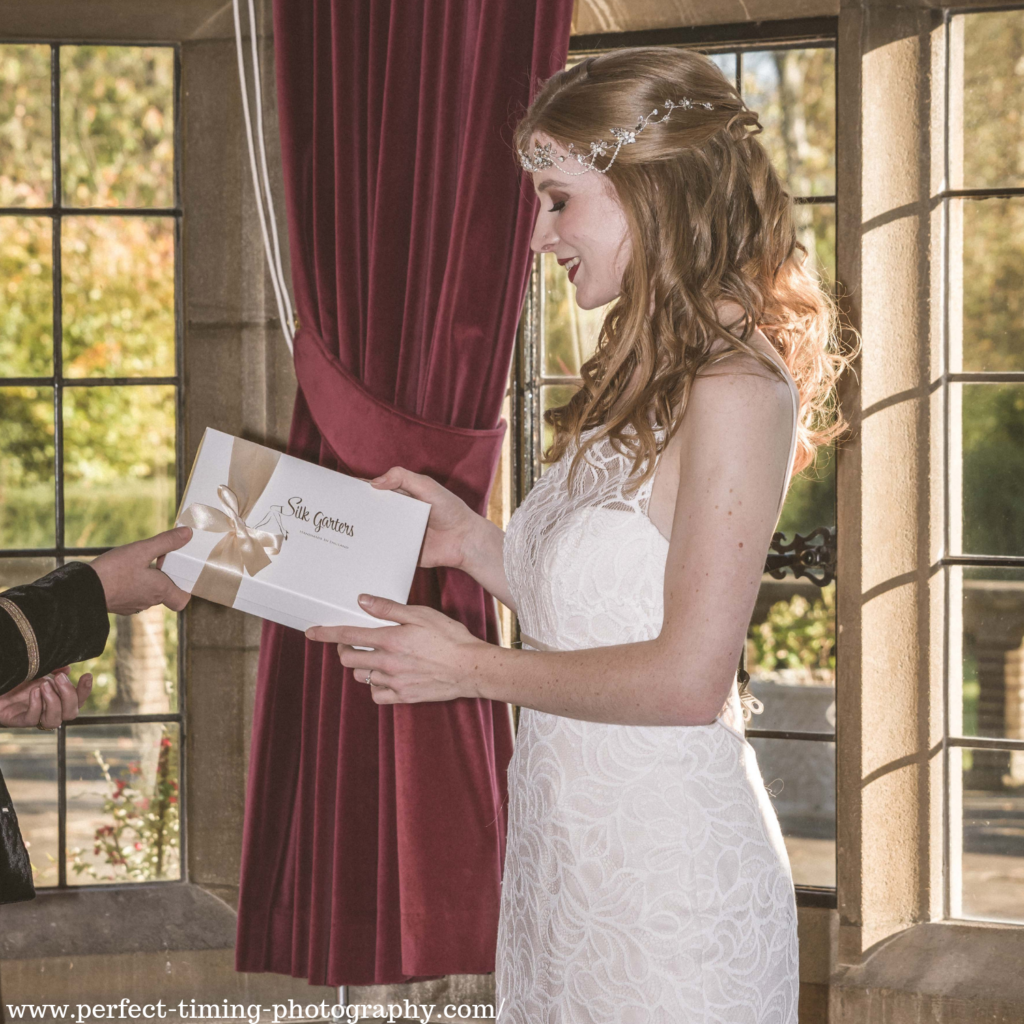 Your wedding garter set comes in a luxurious gift box with the 'Silk Garters' logo, just choose your pieces… A toss garter, sixpence bag, keepsake bag and lucky horseshoe can all be made to match!
If you would like a custom made wedding garter please give me a call or send an email
3 Flares Twitter 0 Facebook 3 Filament.io Made with Flare More Info