Silk Garters custom made football garters
If you've been reading my page, you'll know I origionally made lingerie but was asked by a groom in 2005 to custom make a 'Liverpool garter' for his bride-to-be, they were so pleased they showed it off at their wedding and told everyone about it! In no time I was inundated with orders for football garters and in 2006 'Silk Garters' was born 🙂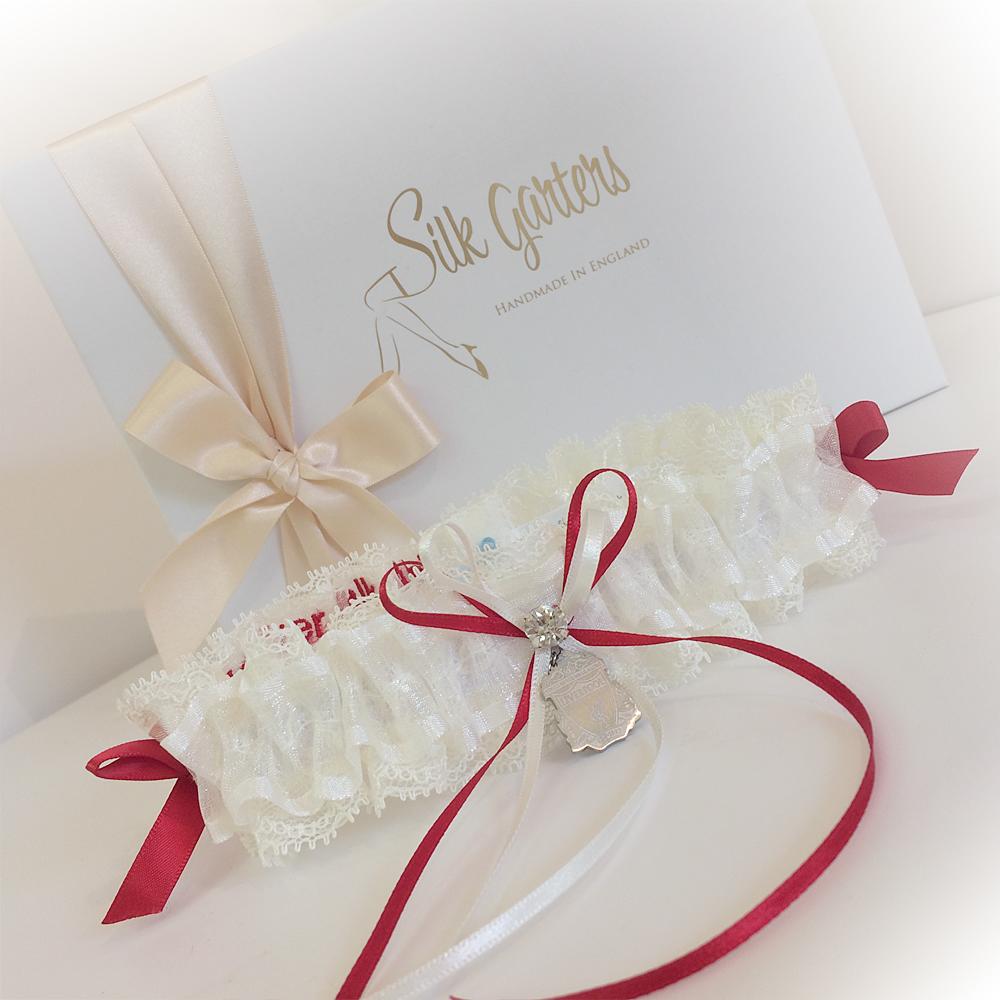 Making a Liverpool garter for Cassie
Roll on to 2019 and this is the making of Cassies Liverpool garter…
"Hello, I noticed you do personalised garters… this may be impossible but I'm looking to incorporate Liverpool Football Club into the wedding day and thought the Garter may be a way. I just don't want it to luck tacky and I know football could easily do that. Would you have any ideas?"
I sent images of football garters I'd made previously to give Cassie football garter ideas and asked her to choose the ellements she liked the best 🙂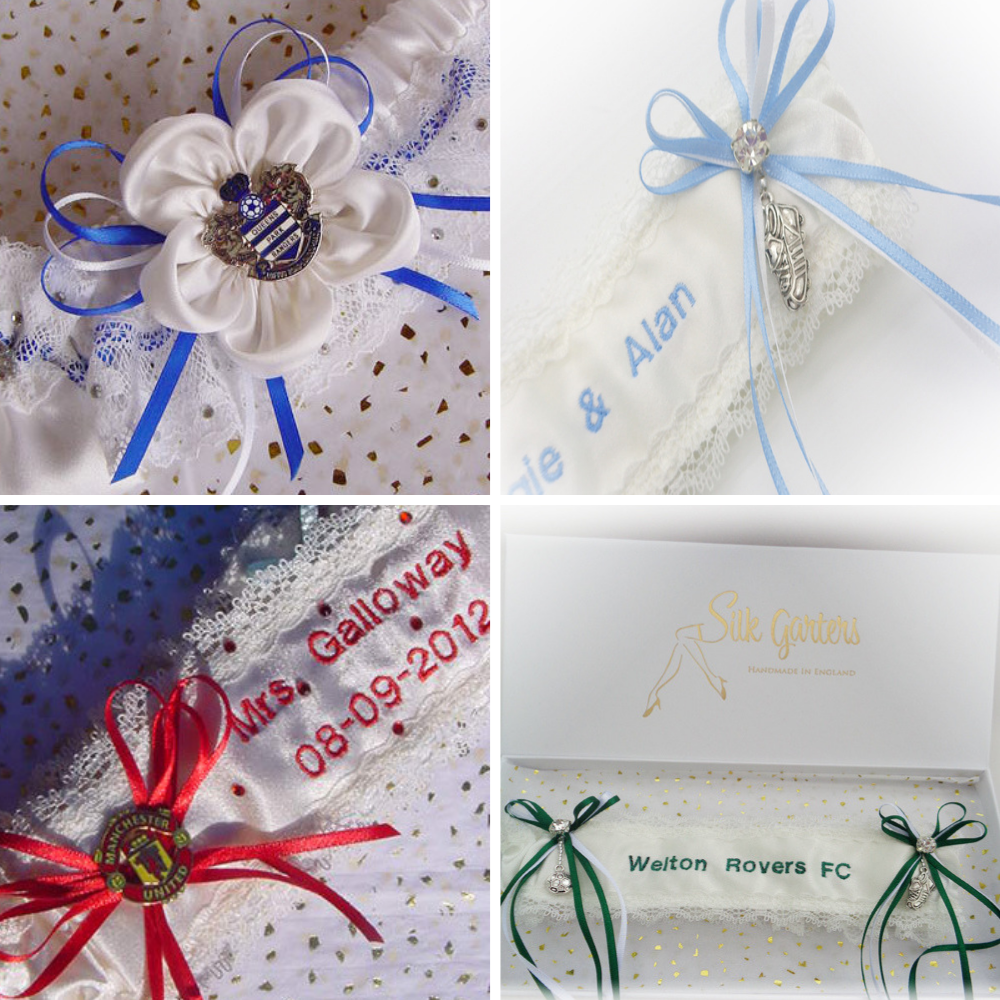 I've been making football garters since 2005
I have a huge archive of previous orders, this is just a few… And all brides supply their own badges
Cassie said…
"I've had a look on the site and I quite like this one. (The dusty blue flower garter style) I did wonder if it could be done with a red bow, and I've found a small Liverpool badge? I still have an old bridesmaid dress with red bows on it from when I was 1, I wondered if I could send them to you and use it as my something old?"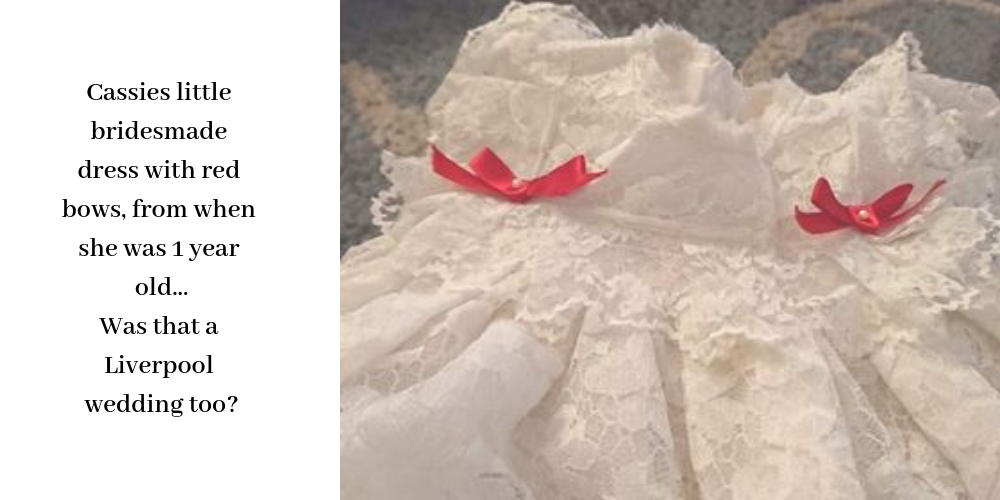 Using the red bows from her little bridesmaid dress is a lovely idea isn't it!
You'll Never Walk Alone… Custom text hidden inside
And being a Liverpool garter Cassie asked to have  'You'll Never Walk Alone' embroidered inside in red, such a beautiful sentiment for a wedding too :-). I love that, walking down the aisle with "You'll never walk alone"
Here is the Liverpool garter all finished and Cassie putting on her wedding garter at the begining of the day and showing it off dancing the night away in the evening.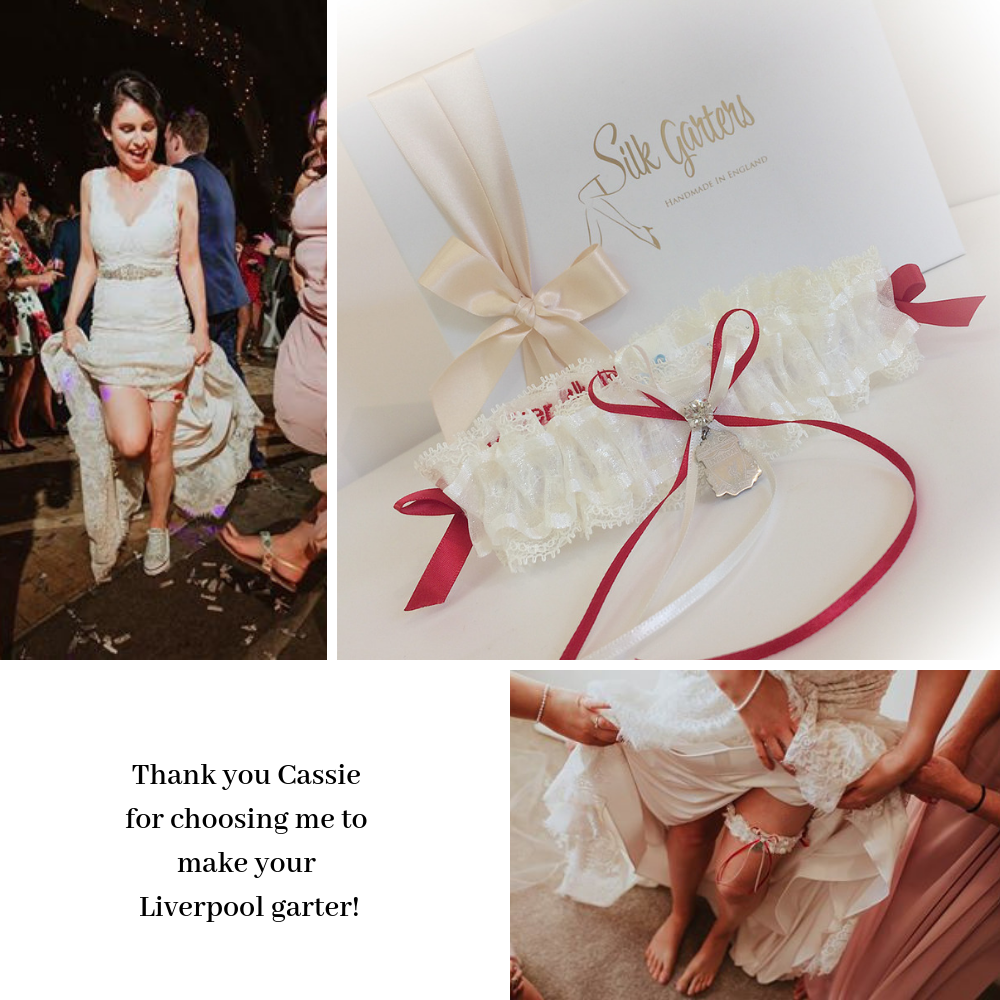 Thank you Cassie for choosing me to make your garter and sharing your photos… Wedding photographer was Joshua Wybon
If you'd like a football garter please message me, I'd love to hear from you.
If you'd like a team badge on your garter, you must supply your own because of copyright law. All badges remain the intellectual property of their clubs.