Where do I start… our wedding journey has defiantly not been plain sailing.  We got engaged on our 3rd Anniversary (18.05.2018) in Green Park, London, the day before Royal Wedding of Prince Harry & Meghan. We soon set a date for 22nd December 2020 and plans were full underway. Sadly my father had a health scare and we all as a family planning for the worst, decided to bring our big day forward to July 25th 2020, all new venue; style, catering.
Amazingly my father had a full recovery and asked if we could move the wedding back to our original date and venue as he knew we only moved for him. So back we moved to our winter wedding. As time went on, we hit the year mark; so excited for the year of planning ahead. Well, we all know what 2020 brought, we held on for a while but in April 2020 had decided to postpone our big day to 22nd December 2021 to make sure all was well with the world we didn't have to have any restrictions or stress leading up to the big day.
As the months passed; work was lack; both working in the hospitality and events industry; we decided even in 2021 financially we could not have the wedding we were planning; as we also found out our caterer had gone into voluntary liquidation with our money without telling us. We didn't want to postpone again. We wanted to be married. We decided to move our date back to 22.12.2021 and keep it a secret only inviting our parents, bestman and few close friends. As the date grew closer; guilt kicked in and we felt terrible not telling anyone of our pending vows.  So we decided to let everyone know and arranged for our videographer to stream the ceremony live.
We had again booked another venue for our intimate reception which we were so excited about. Sadly, just over a week before our videographer had to self-isolate and was unable to attend. Then six days before Boris decided to put us in tier 3; our reception was cancelled. We decided no matter what we wanted to be married so would go ahead with ceremony only. Then on 19th December at 4.30pm Boris announced we were going into Tier 4 and our ceremony was going to be cancelled too.
After tears and cuddles; I turned to my fiancé and said half jokingly "why don't we just get married tonight!". After over an hour waiting for the vicar to return our voice messages and few calls back and forth checking if we could legally wed at night, we got the go ahead for ceremony at 21:30pm. We had just over 2 hours!! I had pre warned my parents while we were waiting for the vicar; so they had already started to get ready and were packing the car with my dress. I quickly put my face on and attempted to do my hair. We exchanged gifts and cards in our bedroom while clothes and suits were being thrown around.
A few friends were able to make it and dropped everything to rush and get ready while the bestman came to our house to help my fiancé get ready. I drove myself in my work van to the church and met my parents outside; where we waited for the vicar to unlock the church. Myself and parents quickly put out some fresh Christmas trees and candles, that I had packed in the work van ready (as were due to set up the church on the Monday) I got dressed in the church kitchen with the help of my mum and close friend.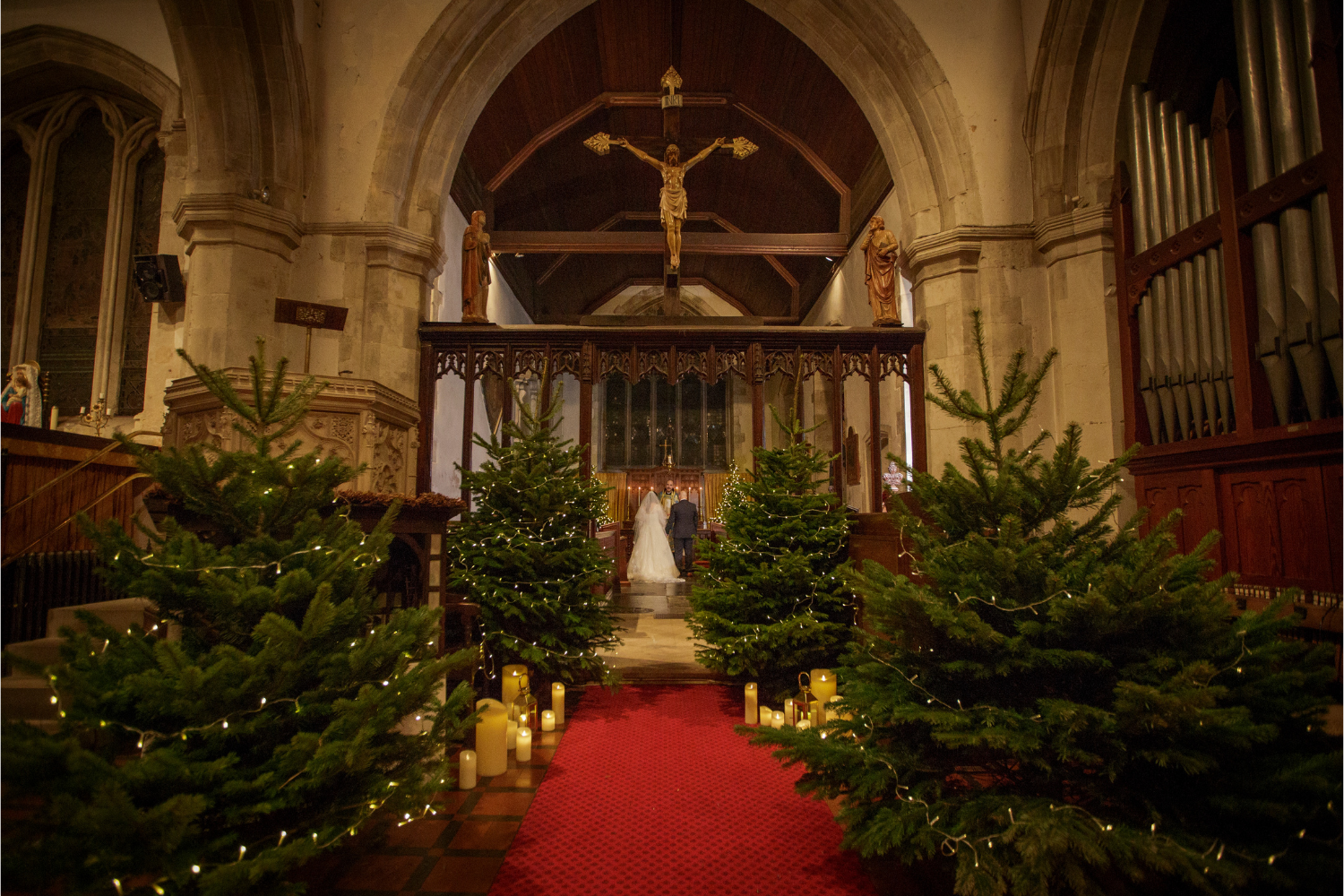 We were so lucky our amazing photographer made it in time; (he was currently out on an evening run when I called to tell him the plan) Our florist ditched his dinner and rushed to his shop and made not only the most amazing bouquet for me, but buttonholes for all the men and corsages for the women and dropped them to the church.
This was by no means the grand day we had planned. There was no vintage Rolls Royce, or string quartet, or professional hair and makeup, or a 6 tier wedding cake. It was me and him, saying our vows; promising to love each other forever. THIS is what it is all about; this is what made us happy.  We have no regrets and only think back to our ceremony with pure happiness. At that moment no one else mattered; it didn't matter who was or wasn't there. As we only had eyes for each other.
If any Bride or Groom has any worries about not having their dream day; I promise, marrying your love is all you need. Saying those vows and exchanging those rings.
We finally got home just before midnight; almost not believing what had just happened… FINALLY!! We sat in the middle of the mess that used to be our front room; opening card and gifts that family had sent. I ate a cold Mc Donalds and had a flat coke and felt complete.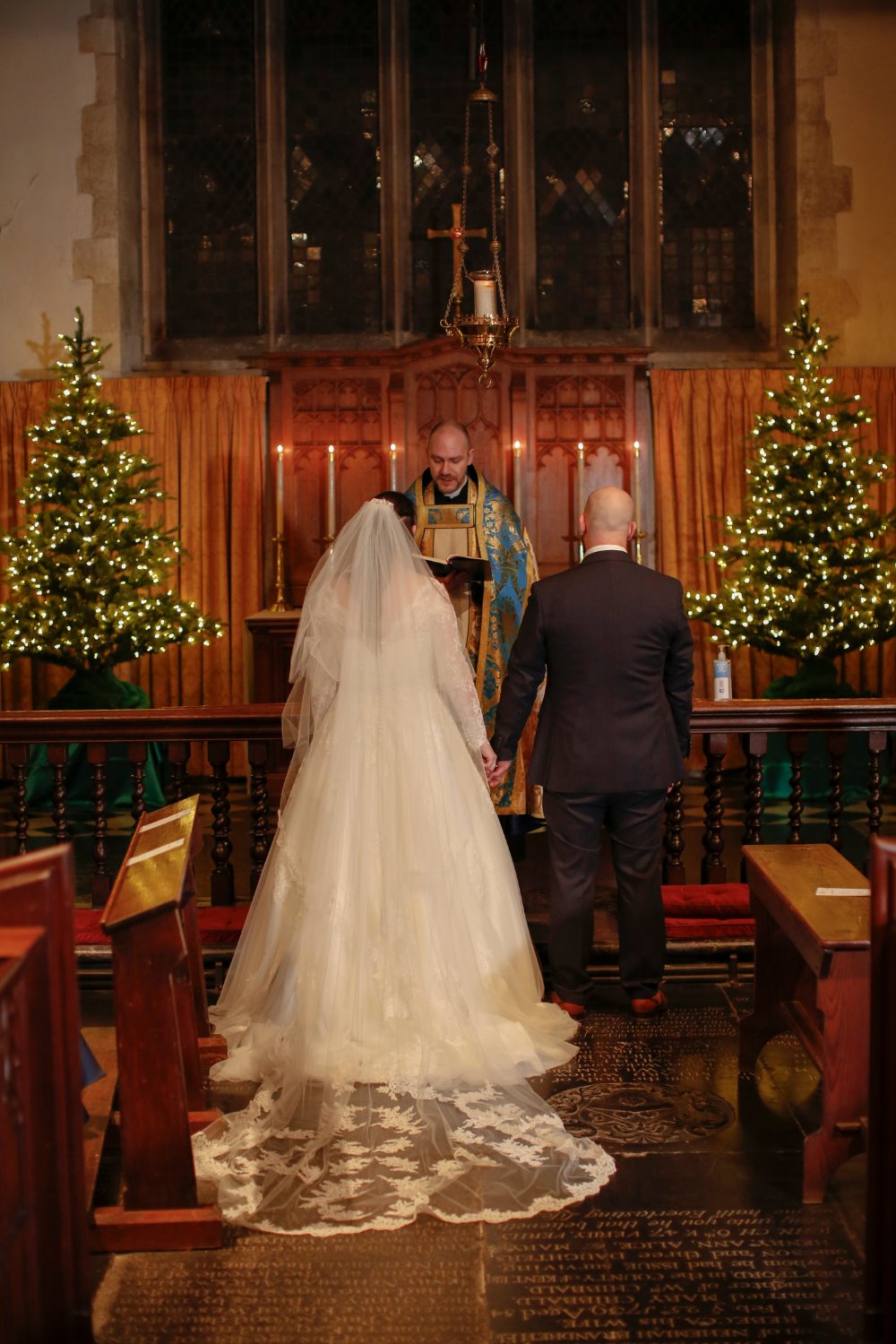 Decor: Dress It Yourself
Flowers; Maples Flowers (Hemel Hempstead)
Ian Scott Photography
All Saints Church (Houghton Regis)
Dress: White Rose Bridal
Shows: Jimmy Choos
Veil & Hair Comb: Richard Designs
Garter: Silk Garters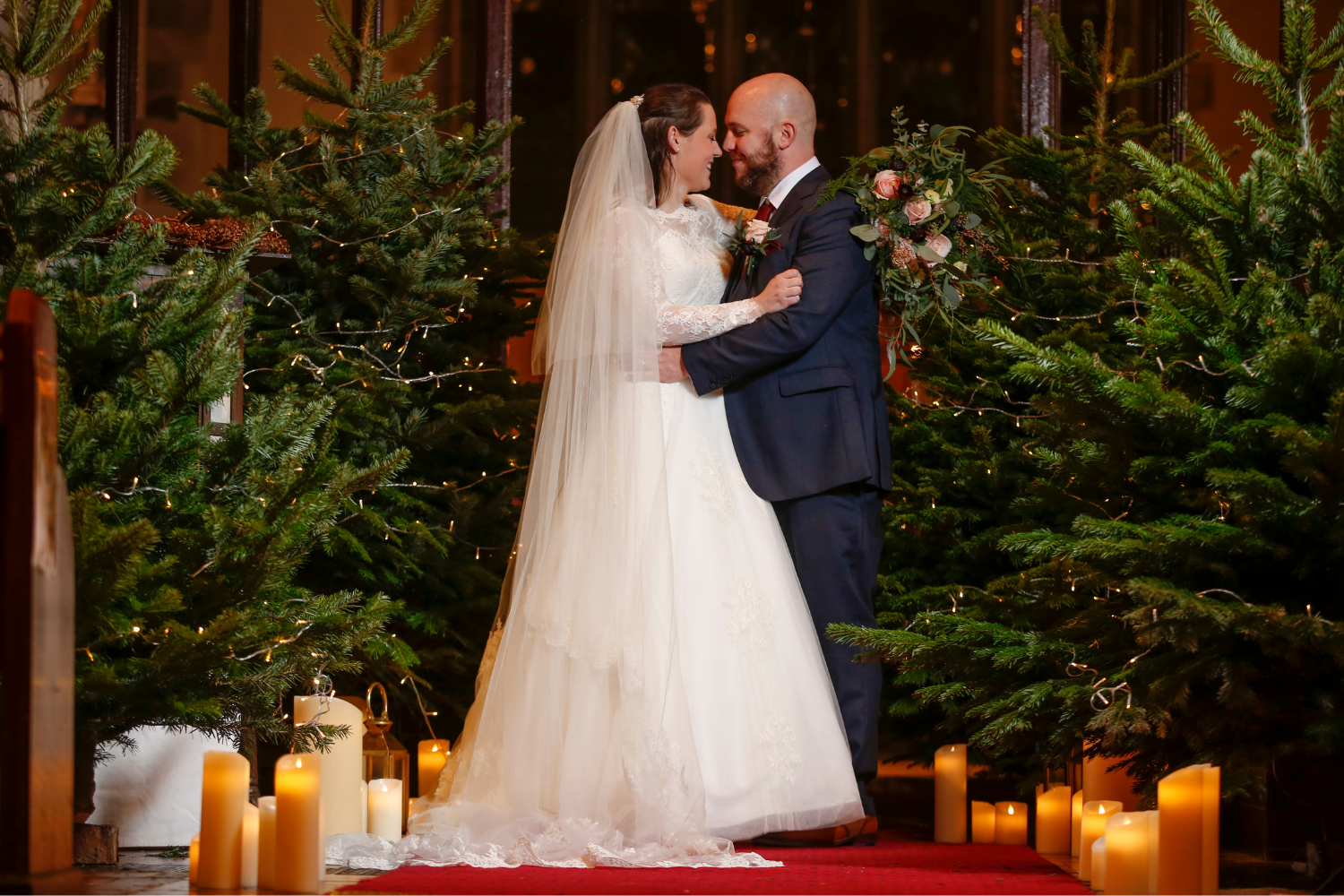 Thank you Clare and Chris for sharing your amazing wedding so honestly, it made me cry…
Catherine @SilkGarters
If you're a Silk Garters client and would like to share your wedding, please contact me, I'd love to hear your story!