Are you choosing a soft tone of nude, champagne or gold for your wedding dress? Are you looking for a gorgeous wedding garter to blend perfectly with your colours?
Below are just a few of the designs I have at the moment and a sneak – peek at two of my gorgeous new designer garters…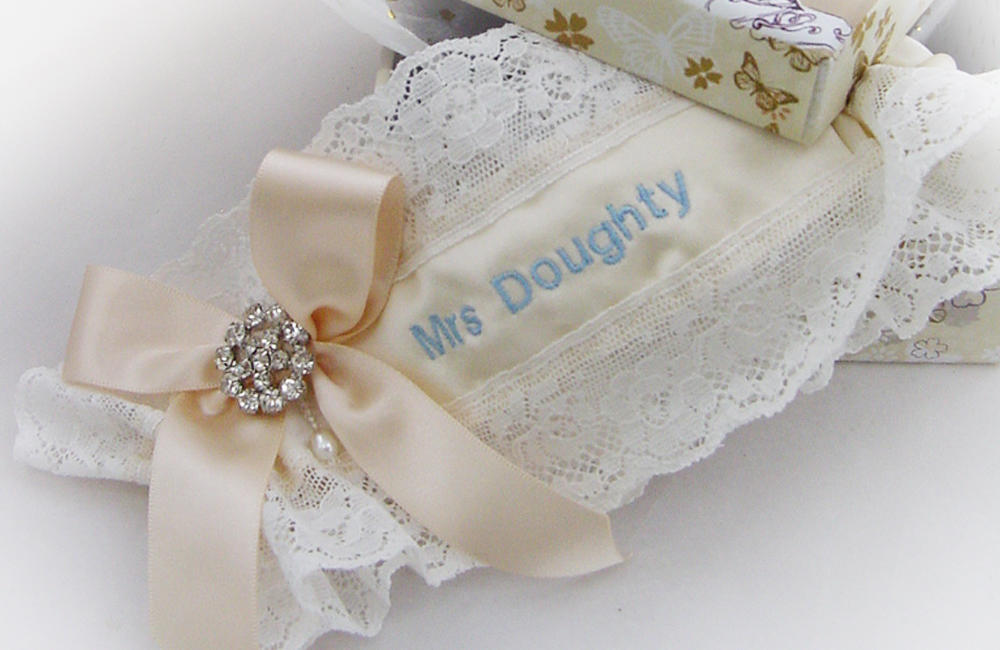 This is 'custom colours', you choose your silk colour, embroidery, bow, lace and drop colour to make a wedding garter unique to you.
The lace is a gorgeous cotton Nottingham lace from Royal Wedding Suppliers… The garter is deep and luxurious, so if you prefer something narrower there is the new narrower version 'Charlotte', with 'Victorian style' cotton lace. Shown here in nude silk…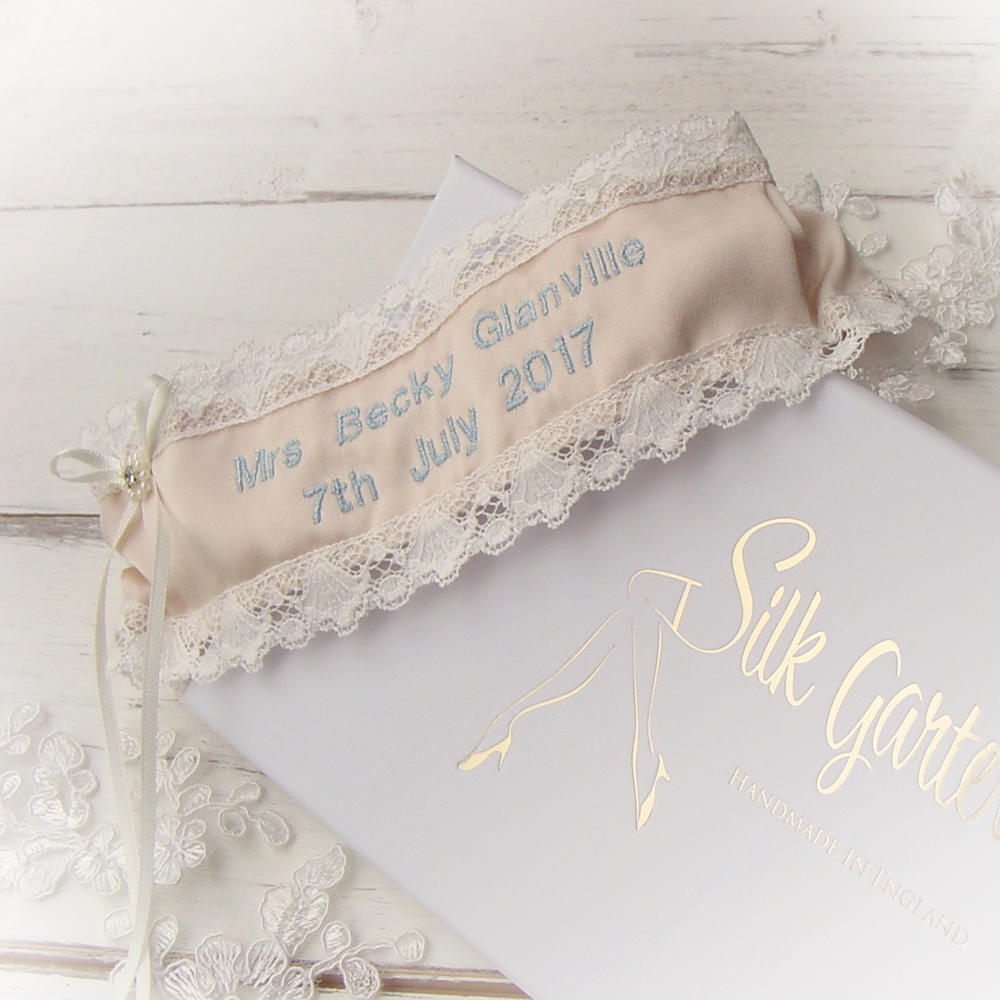 A classic wedding garter of understated elegance, the Nottingham lace is beautiful! Perfect shells lined up in a row with delicate sheer lace spaces between, a delightful lace, the superb quality is always a pleasure to stitch.
Then in total contrast the 'Decadent lace layers wedding garter' in gold…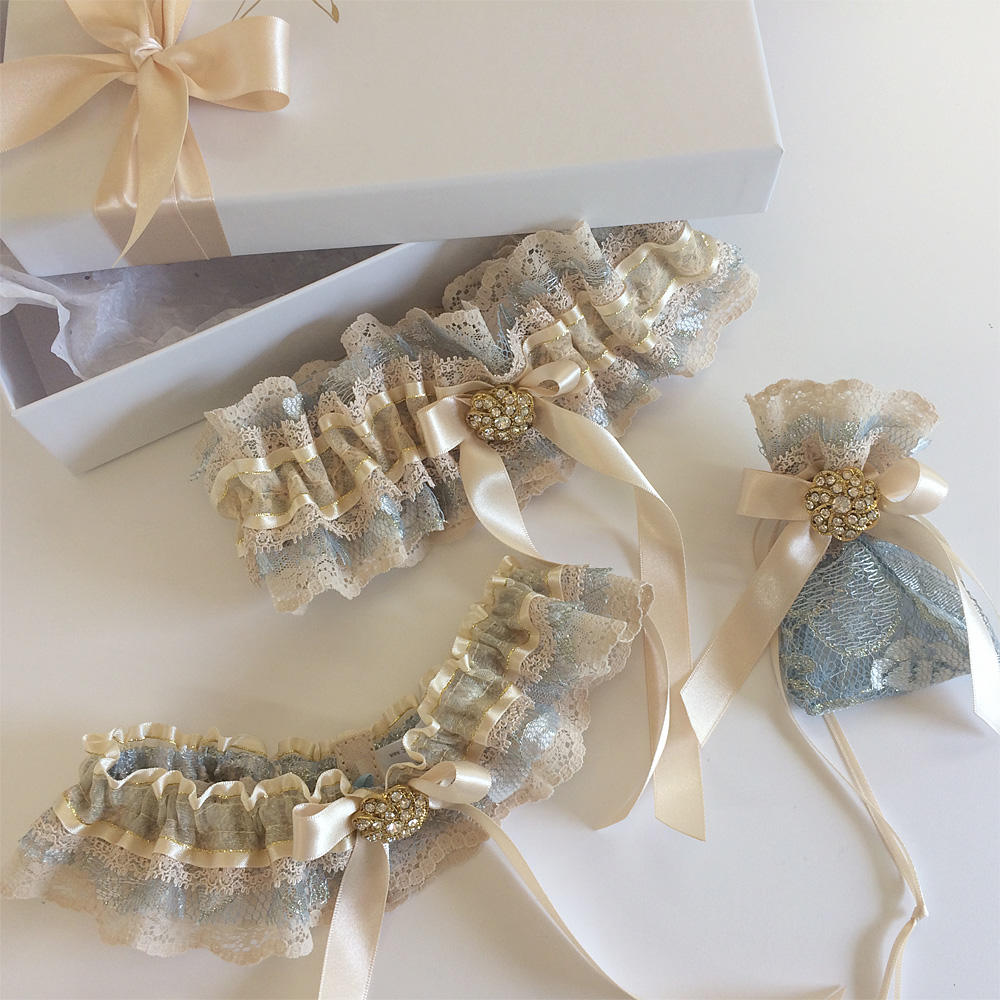 This is the decadent lace layers wedding garter set, made to order, this was for a bride in the USA who chose to add a narrower garter to toss and the keepsake bag. All the items are available singly.
The garter is loved by brides because it is quite unique… They have left lovely reviews and it's become a best seller, so much so that I've struggled to keep up with the supply of nude lace which has changed twice and crystals which have changed 3 times and are about to change again!
It's also available in ivory now too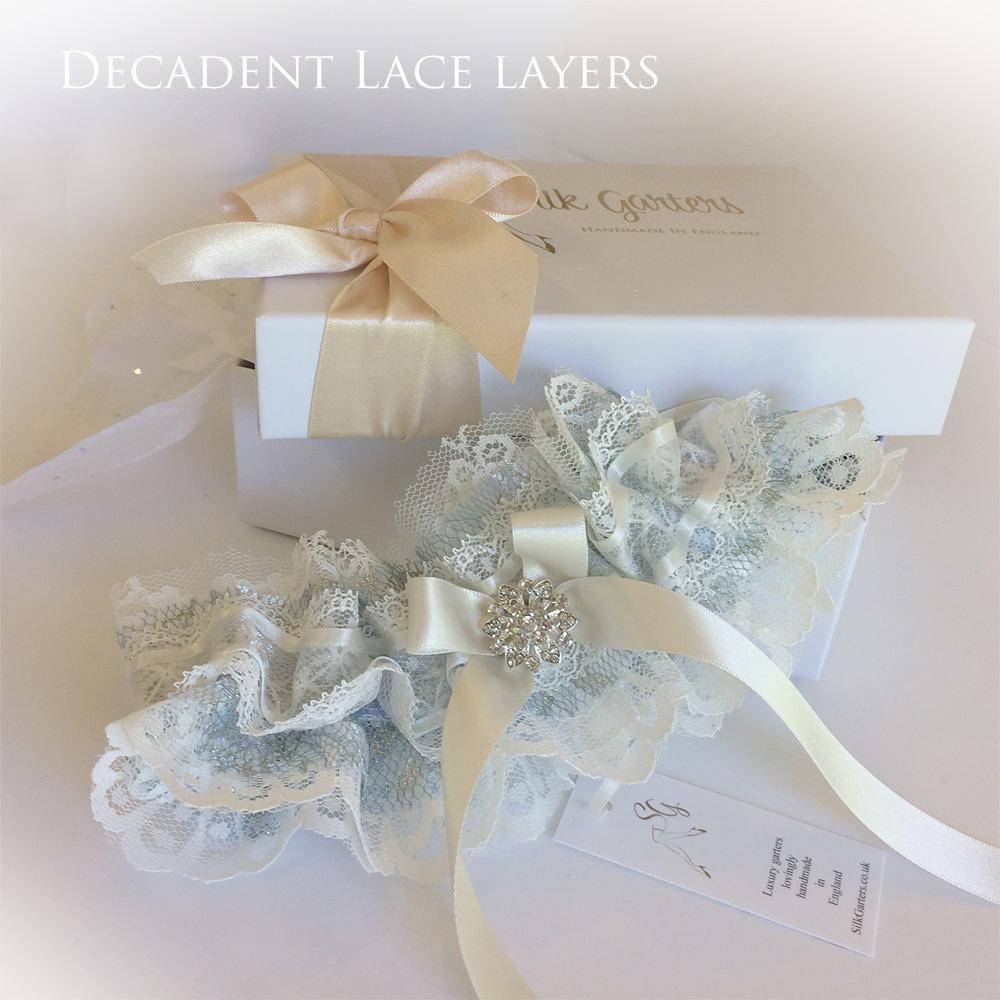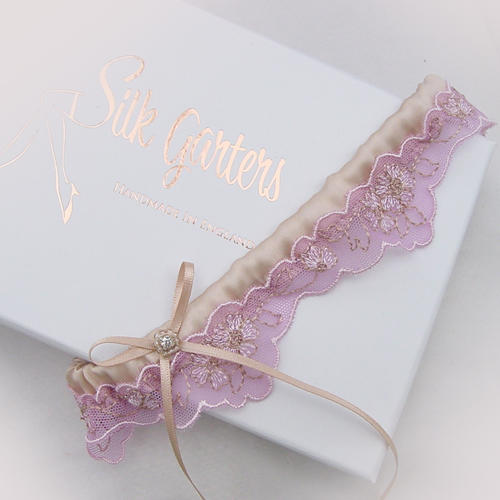 This is a very dainty little garter, designed with a flat front, the nude colour, pure silk band matches beautifully with the gorgeous Swiss embroidered tulle flowers. A tiny single crystal surrounded by seed beads over a fine bow complete this garter.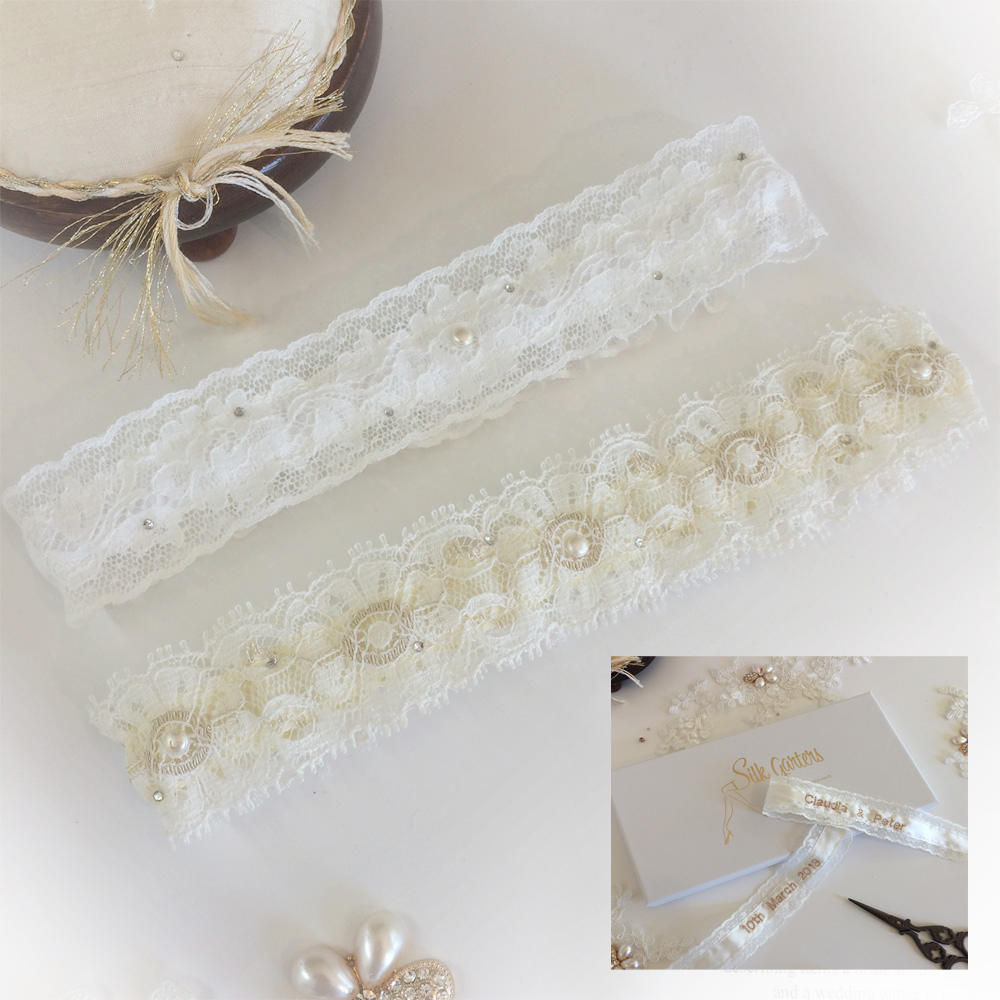 This is the Olivia wedding garter. Beautiful cotton lace in a flat design with delicate pearls… You choose ivory or cream lace, the cream also has small gold circles woven into the lace. The inset picture shows how you can have your garter personalised inside as it's being made!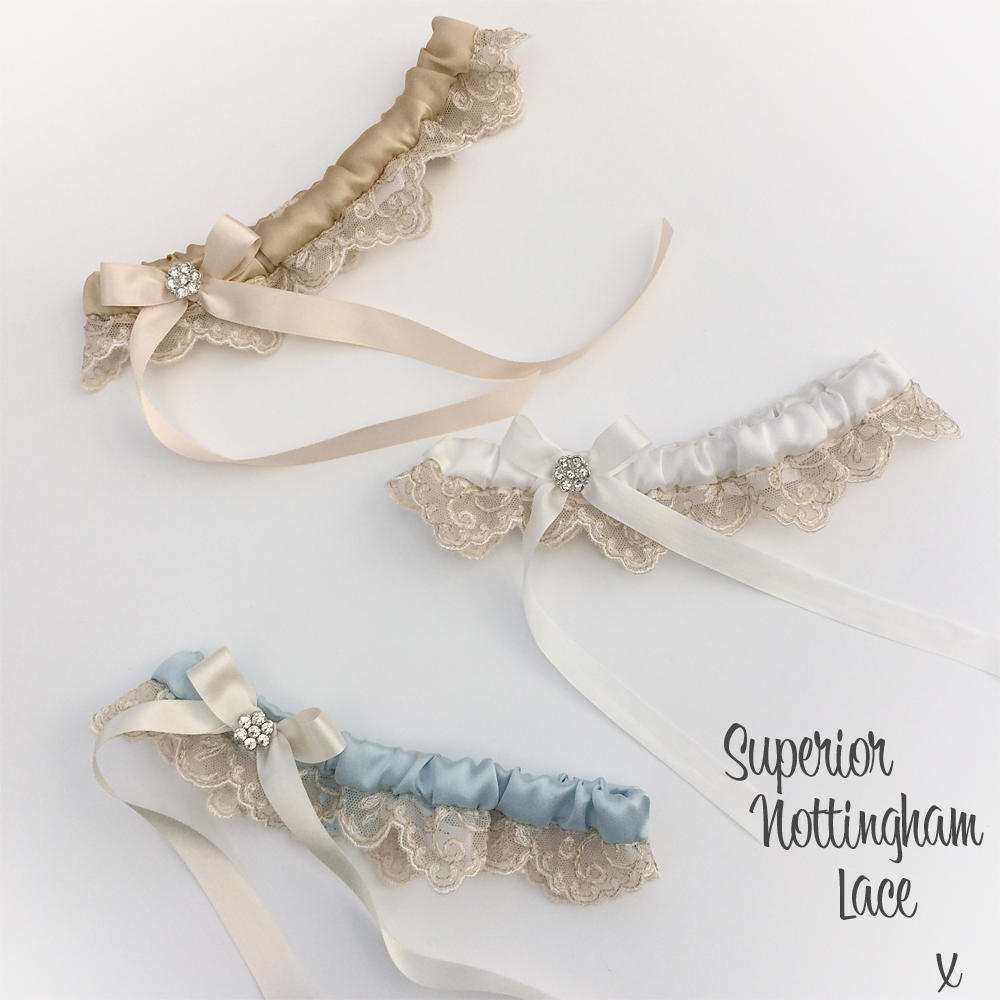 Classically beautiful wedding garters with the most exquisite embroidered tulle… This Nottingham lace really is a superior quality, from the old British maker Fewkes, who collaborated on making lace for Princess Diana's wedding. Fine champagne and gold threads are stitched on soft tulle in swirls and leaves. The pretty lower edge is a delight!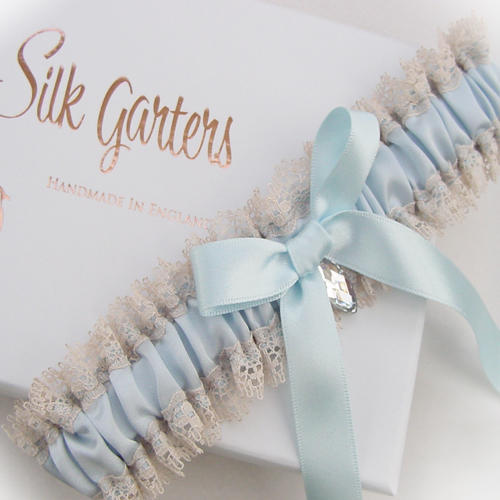 For the bride on a tighter budget, I have these two popular designs, both made in a poly satin with a nude latte and antique gold lace edgings. Both have lovely reviews!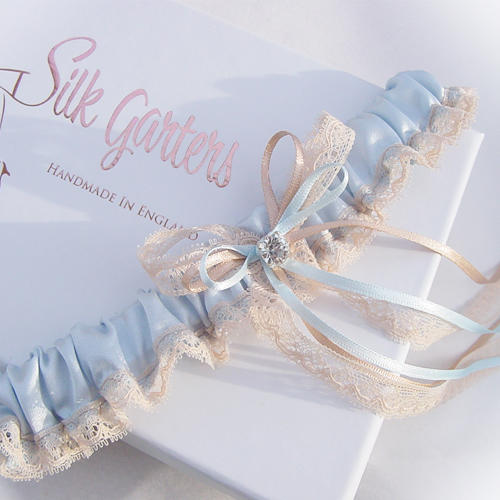 And as promised here is your sneak peek at a new design 🙂 #myhandsmaking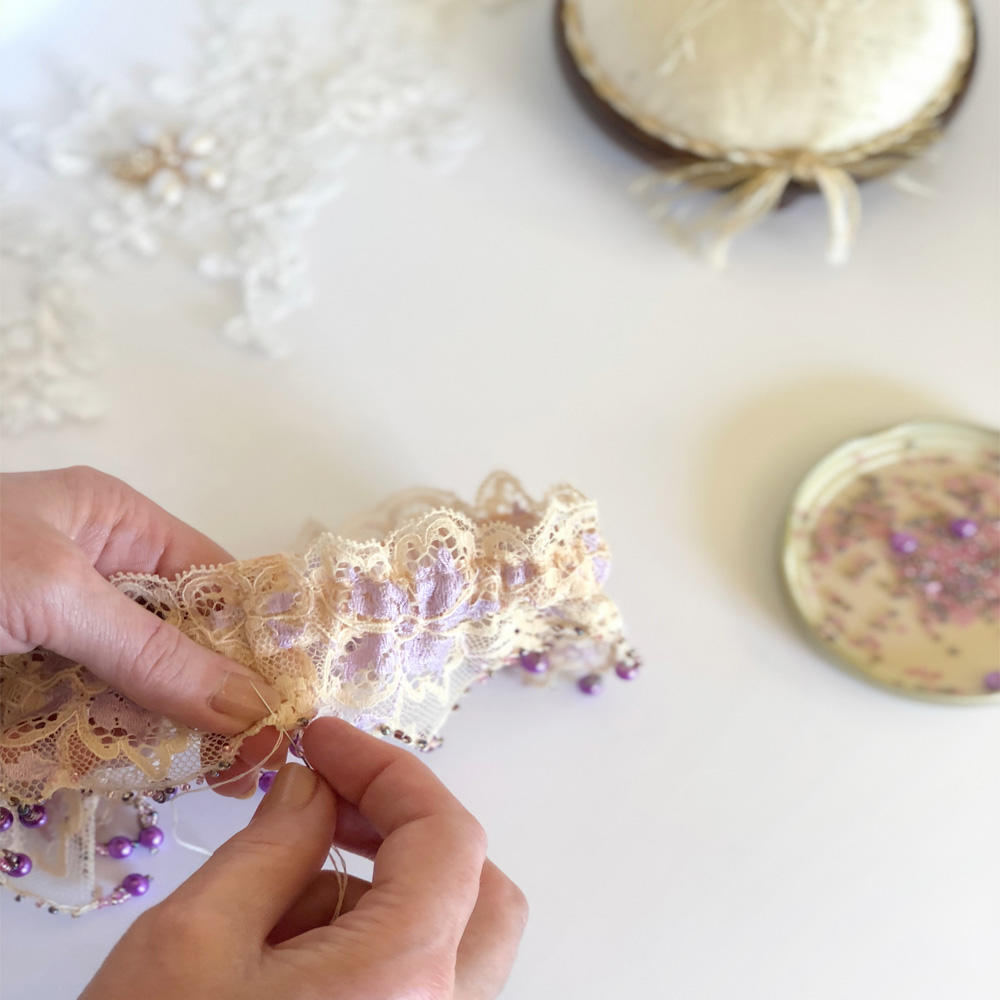 This is purple pearls on French Calais lace 🙂
I hope you love my designs x
Catherine