I love it when brides come to me, asking me to make their dream wedding garter and that's just how the Cherish wedding garter set came to be…
I had made the Leila wedding garter and the Constance garter, both with their lovely pearl details, when Andrea came to me asking if I could combine the two designs into a white wedding garter to go with her gorgeous dress.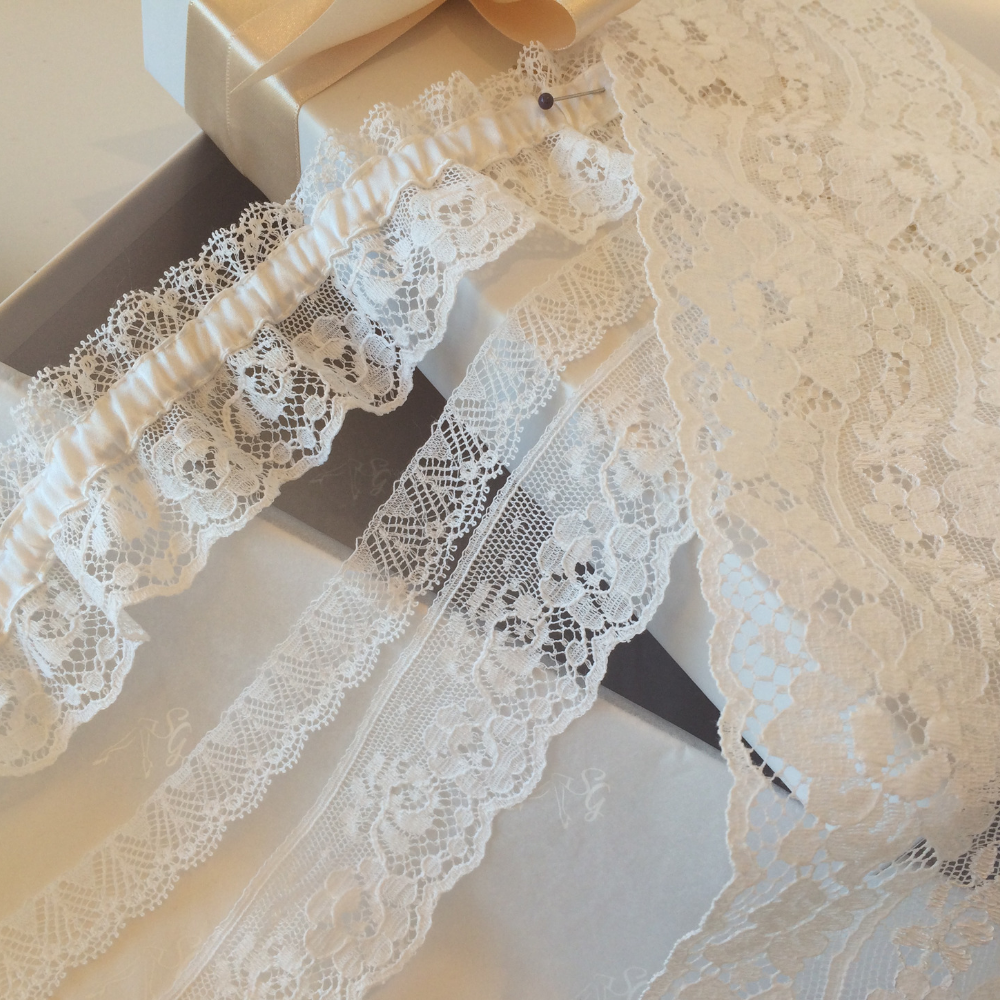 The first step was to send Andrea a photo of the lovely laces available… ( I'm afraid I took the photo on a winter afternoon and the light was fading outside, giving everything a warm glow. It is white! ) I included a sample of how I could put them together.
Now I just can't help myself when it comes to lace! These gorgeous cotton Nottingham laces, are made the traditional way on looms from the 1800's, they also made lace for the Duchess of Cambridge's wedding dress. ( Lace similar to the middle lace above was used, taking the flowers and individually appliqueing them onto the bodice, creating a unique piece)
How fabulous is that, lace made on antique looms for a vintage wedding!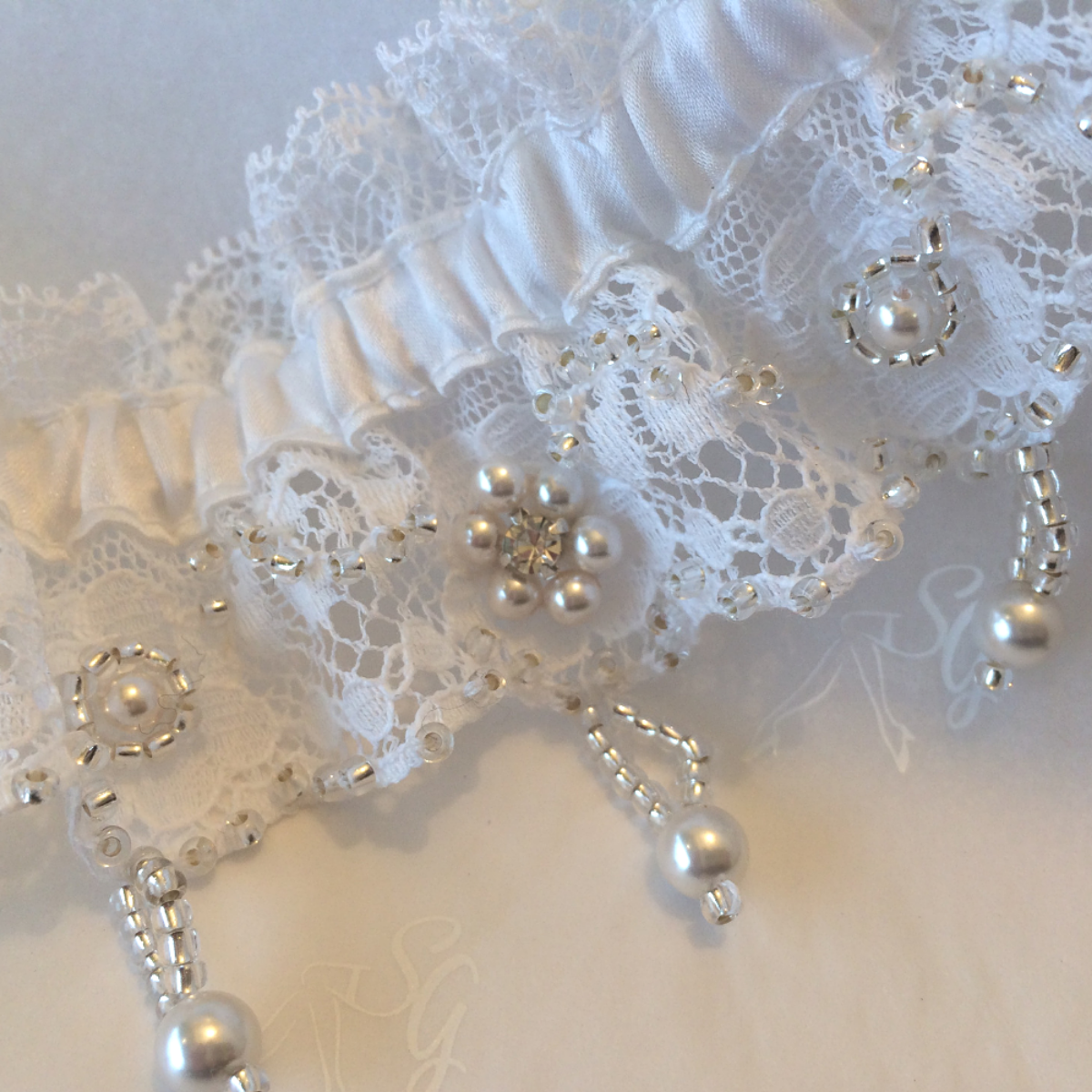 This is a small sample, I've hand beaded with Swarovski pearls and silver-lined seed beads. The pattern of the lace is followed with alternate flowers, curving lines of seed beads stringing them together. I should have taken photos stitching! I'll remember when I make the next one 🙂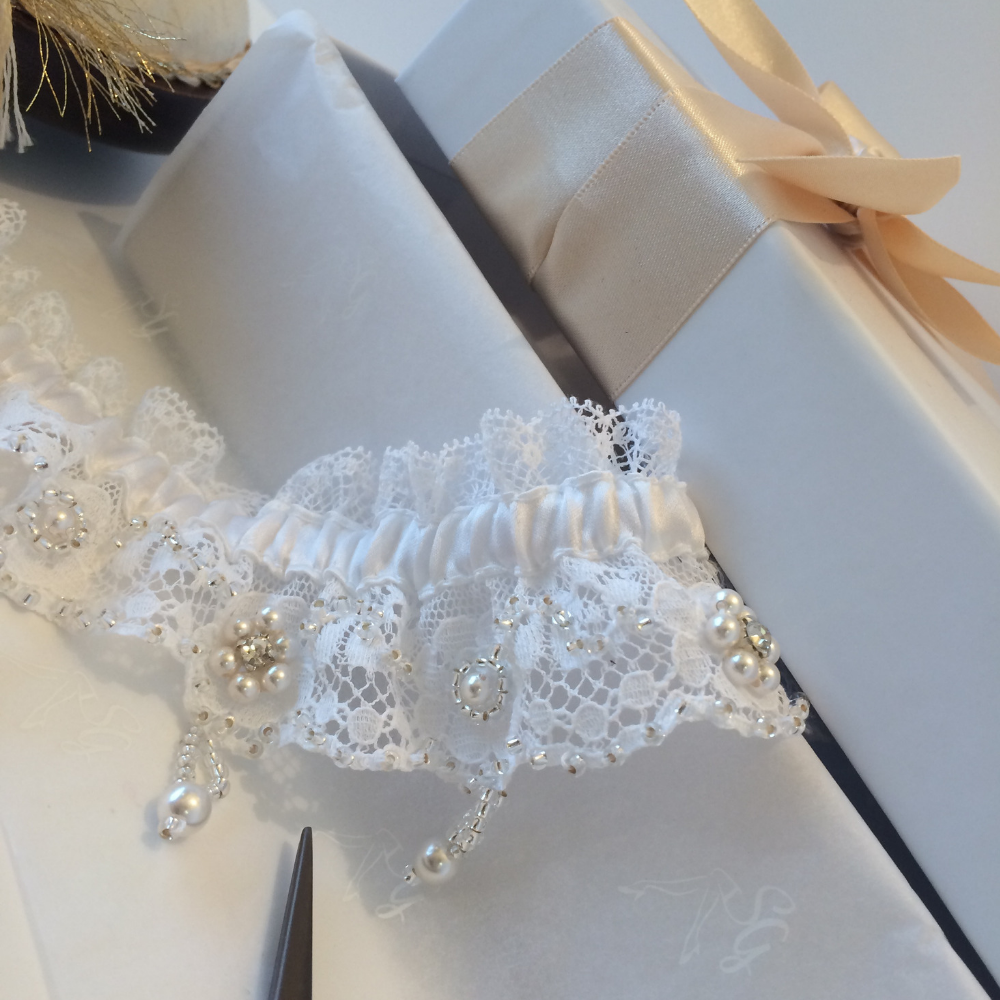 Notice how the Swarovski pearls drape? I just love making the garters with the droplets!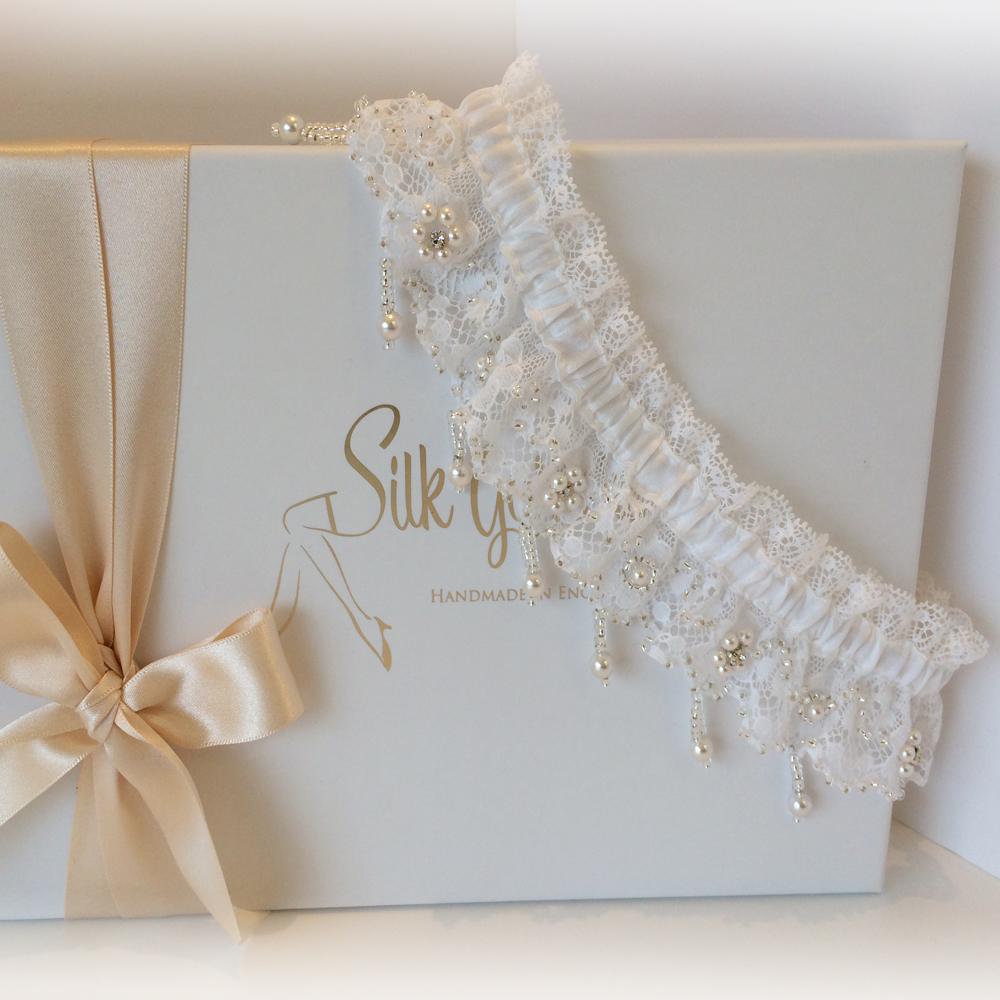 So here is the luxury Cherish garter almost finished! Just the flower and leaves at the top to do.
I believe every bride should feel fabulous on her wedding day and making bespoke pieces like this, that the bride will cherish, makes my heart sing!
This is a plus size bridal garter in white silk and Nottingham lace, I've carefully hand beaded with Swarovski pearls and silver-lined seed beads, the pearl drops at the lower edge dance as you walk…
And yes, the back is just as beautiful as the front, what would you expect for the most luxurious garter I've ever made!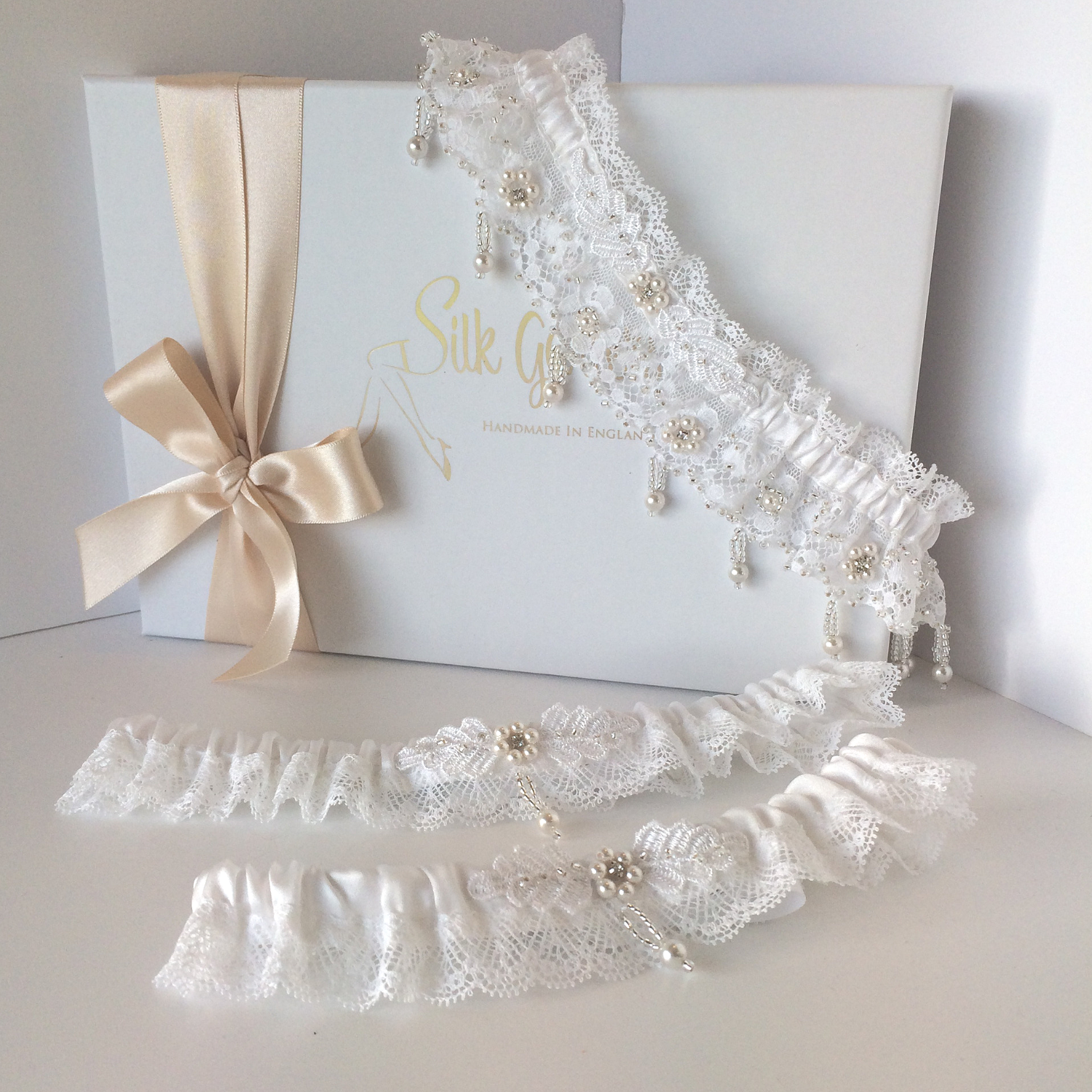 The finished Cherish garter…
But my bride didn't stop there! She asked for a simple toss garter to match and one for her MOH too 🙂 How lovely is that!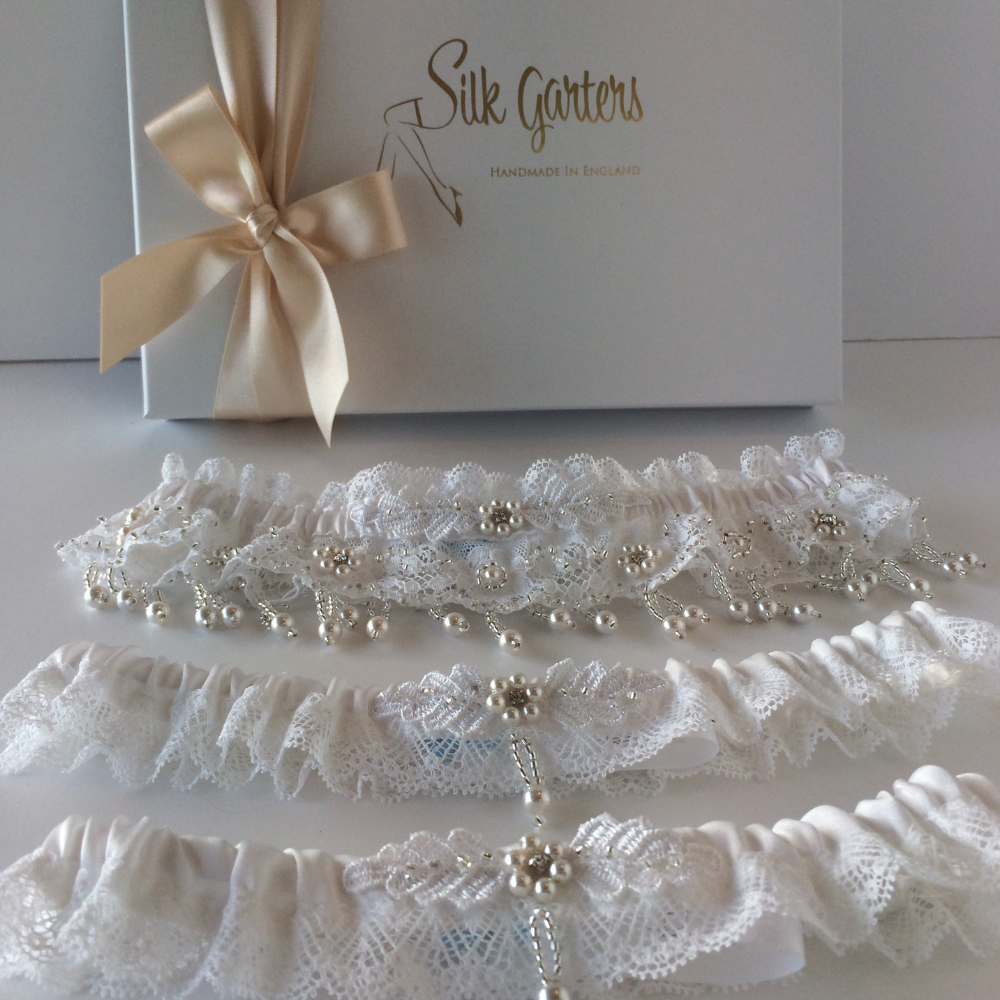 Here I'm showing you the toss garter and garter for her MOH, beautiful in their simplicity. The bride chose the same dainty Nottingham lace, to edge the pure silk band. Stitching a central flower, with guipure leaves and a single crystal drop. Each with a tiny blue bow hidden inside. I hope you love this set as much as I do!
Custom made to order⠀ ⠀
Catherine x" ⠀⠀⠀⠀⠀⠀