Every Piece is Handmade in the UK!
I was a teenager studying Fashion Design, with a Saturday job, selling lingerie. On a college trip, I visited Harrods and was spotted by an elderly assistant, obviously loving the gorgeous negligee sets I was seeing, but not someone they would recognise as a serious customer.
When I told her, I was studying at college and just loved the amazing lace, beautiful fabrics and hoped to be designing my own nightwear someday, she gave me a tour! Telling me about the designers and showing me even more lush and beautiful designs. Kindred spirits, sharing a passion, she said she should have retired years ago, but just loved it all too much! I left loaded with brochures and filled with inspiration… I'll never forget how wonderful she was.
So here I am, fulfilling my dream, designing and making my own collection of nightwear… I hope you love what you see!
Lavender Blue Lace Wedding Set
The pantone colour of the year Is Very Peri! I'm already seeing it filtering through wedding themes, just today I was asked to personalise a garter set with this gorgeous shade in embroidered text.
This nightwear set is a gorgeous Lavender blue embroidered tulle I'm adding to ivory satin… Lovely if you'd like something a little different for getting ready photos and later for your honeymoon! I'm making this negligee set to order, you choose from pure silk satin, poly-satin or chiffon.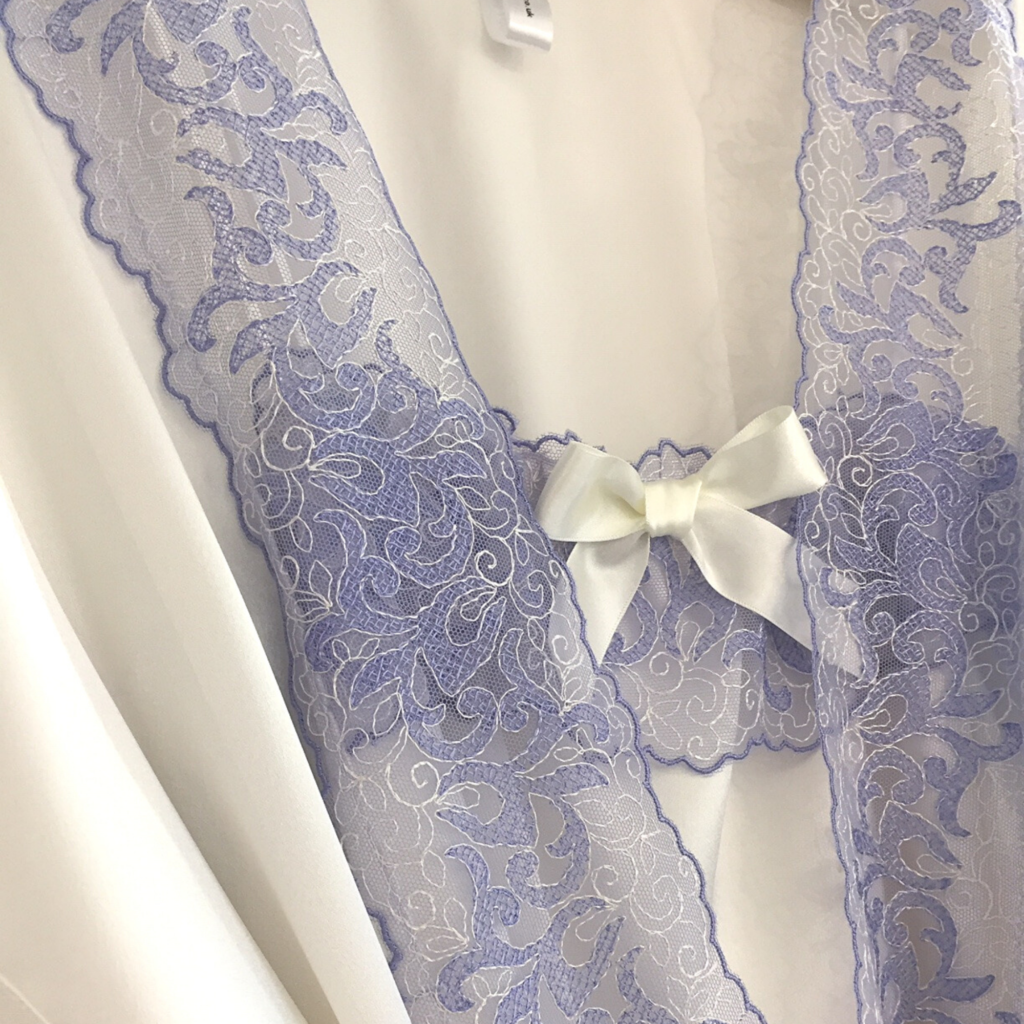 I love this beautiful, fine quality tulle… Soft, comfortable lace with a delicate embroidery of swirls and stylized leaves, with an elegant scalloped edge. You choose whether you would like the bows or not, and a wider silk belt is also available if you prefer. Just let me know your preferences when you order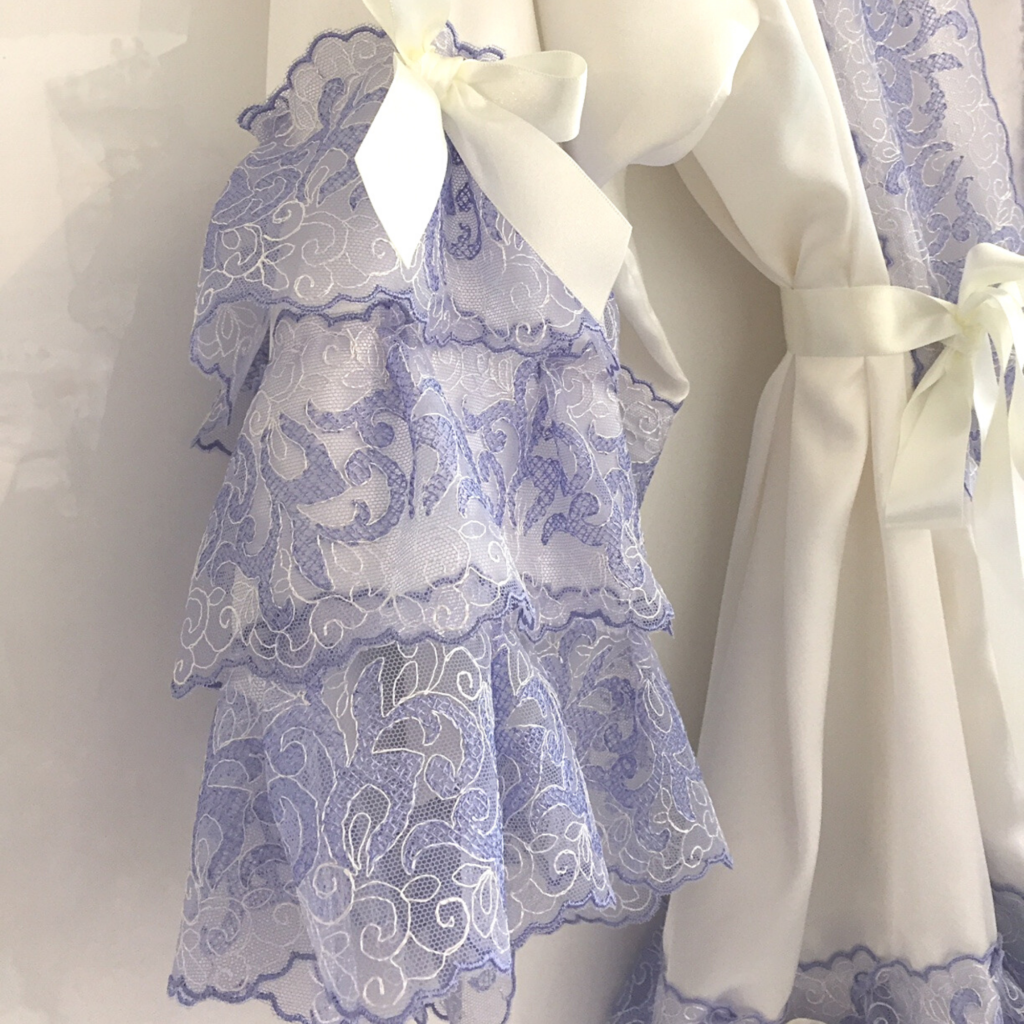 These lovely photos are from a photo shoot at the Waresley Park Estate, a glorious wedding venue, the photographer was @victoriamitchellphotography and the shoot featured on 'Want that wedding'… You can read it here
Exceptional sleeves, ruffled with layers of beautifully soft tulle, designed to give you a real Bridgerton moment! I do love the extravagance of historical fashion, ultra-feminine, wearing these pieces you're transported to another era…
This lovely lavender blue lace wedding set, beautiful nightwear perfect for lounging, for your 'getting ready' photos on the morning of your wedding, honeymoon, anniversary or just because!
A matching lavender blue lace wedding garter set too
Now there is a matching lavender blue lace wedding garter set too and it's available in any size, from petite to XL plus size. With a comfortable narrow elastic, encased behind a pure silk ribbon, stitched around the centre of the garter. A simple bow and crystal complete this lovely set.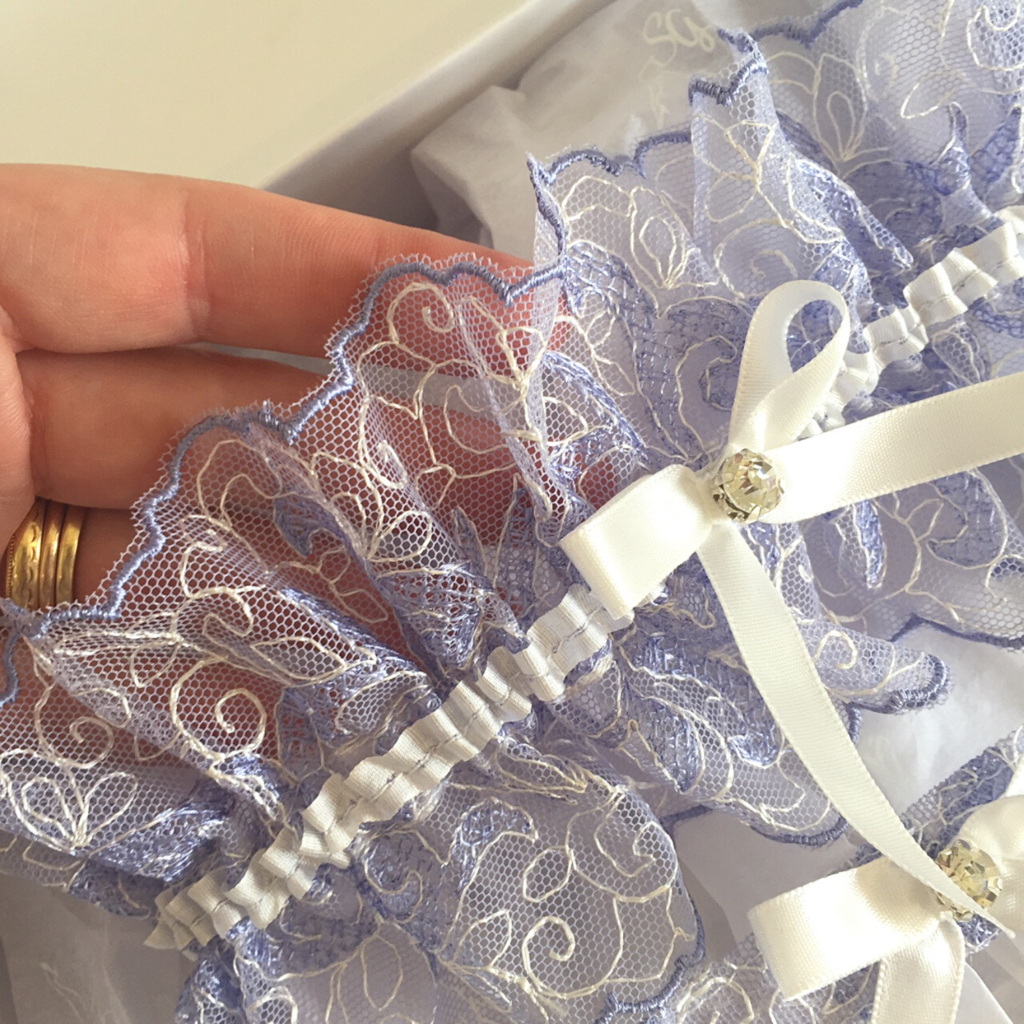 When you're choosing such a gorgeous set, it arrives in this luxury white gift box, filled with tissue! Wrapped with a lovely champagne bow to match the gold logo lid and a pretty card is included for the bride too. Room for you to write a special message and on the reverse a little explanation of the tradition of 'Something Blue'.
I hope you love my work! Follow the link in the menu for my shop, or if you'd like me to make something special for you, please message me.
Catherine