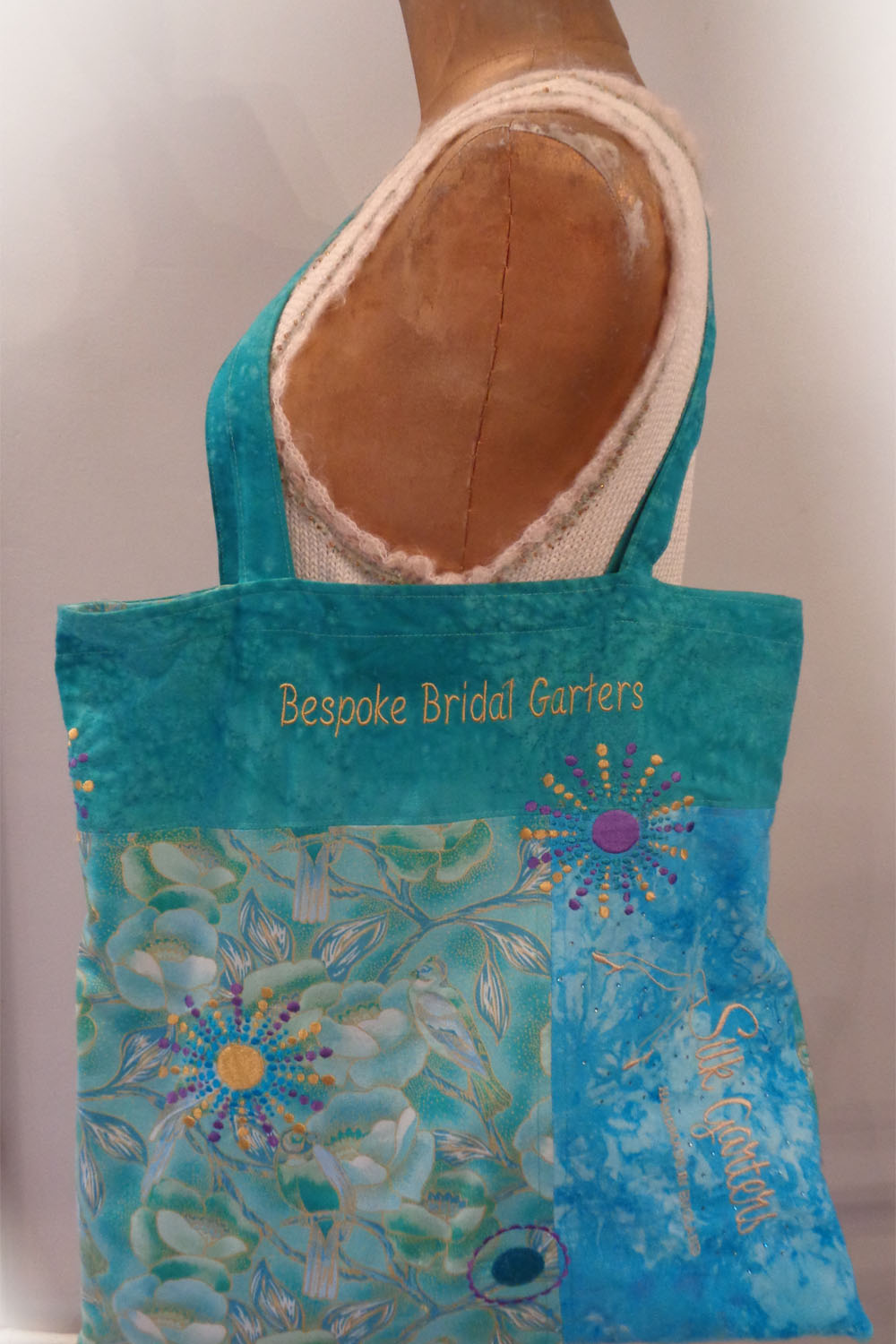 Now that we're not picking up carrier bags every time we shop, I decided to make a little shopping tote; I wanted something that folds up to a small size, to carry around in my handbag.
The first one I made was from plain calico, embroidered with my silk garters logo, strapline and the web address. I have an 'all singing and dancing' embroidery machine that I hardly use (I use the simple one for the wedding garters). I had the logo digitized by a seller on Etsy, and it stitched out beautifully!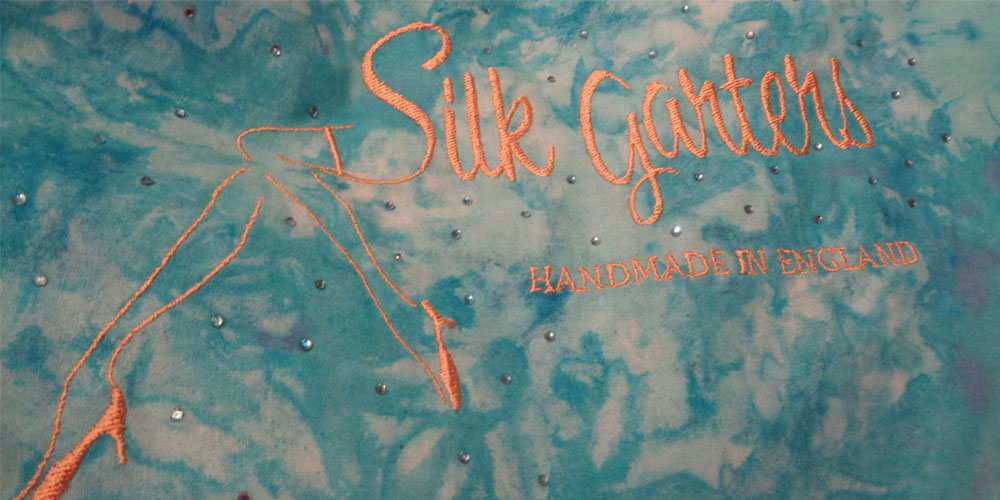 The second one was for my nephew's bride, (getting married in a couple of weeks time). I thought she would use it to carry her wedding accessories to and from the fittings…
Anyway, this last one is 3 fat quarters, plus lining fabric, so it is bulkier than the calico, but I felt the fabric wouldn't be strong enough for bottles of coke and other heavier items!
I don't know who the manufacturers are…two are tie-dye cottons, a turquoise with hints of purple and a teal green. All the colours were in the beautiful bird print fabric with gold accents:-)
The top panel was embroidered with 'Bespoke Bridal Garters', the turquoise side panel with the Silk Garters logo, scattered with hotfix crystals. All the seams were reinforced with ribbon inside. I wanted to soften the joins and digitized some sunburst circles, rotating the colours used by editing the image in photoshop, then transferring to the embroidery software. It's only the second time I've done this, I was quite pleased with the result, although each one took about an hour as there was a lot of unnecessary stitching. When I have more time I'll work out how to edit the stitches too!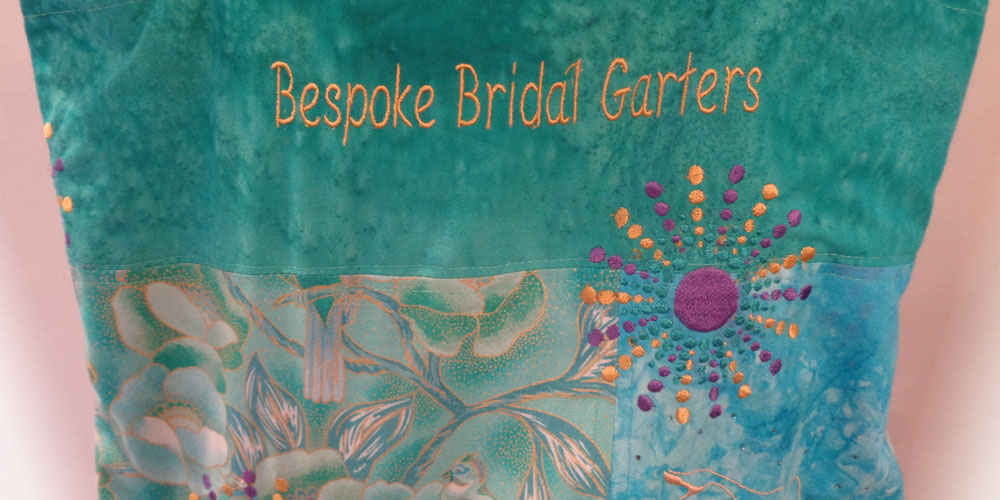 I'm afraid the straps are made with the leftovers from the top panels, they have a bias seam at the top, but the strap is reinforced with a solid cotton lining inside.
The straps are extending 5cm inside the lining. The leftovers from the side panels are used the line the inside top, although the whole bag is lined with another fabric, giving a triple layer to strengthen the handle area.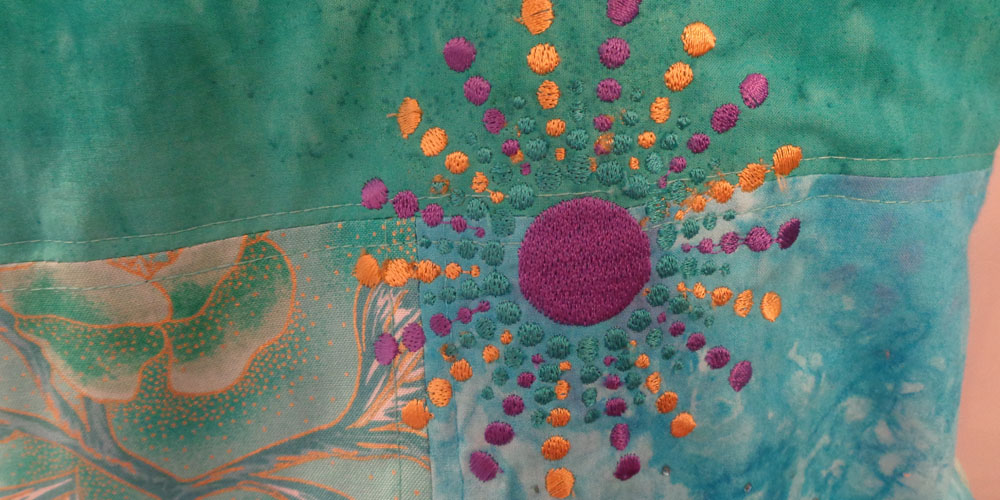 The bag took 3 fat quarters plus lining
Finished size
Bag width, 41cm
Length 44cm
straps 72cm looped
Strap width 2.5cm
Total height 78cm.
Top panel cut 2, 14cm x 44cm
Bird panel cut 2 35cm x 27cm
Logo panel cut 2 35cm x 18cm
All sizes are approximate!
Hope you enjoy making your own and post your images 🙂
Any questions just ask
Catherine
x