Would you like a Green Garter, to match your wedding theme?
I do have garters in the personalised section of the website where you can add green text or ribbon for a green garter
Why Choose A Bespoke Garter?
When you have an idea for a wedding garter you'd like, but just can't find anything like it…
I had a lovely message on Insta from Charis, asking if I could make a special tulle garter for her friend with a personalised keepsake bag to match. She had a good idea of what she wanted…
Ruffled tulle to match the brides dress with a little guipure applique
Some green to match the bridesmaid dresses and wedding theme
Charms for the couples initials
A keepsake bag large enough to hold precious items for years to come, with embroidered green text, with the couples names, date and venue.
The Bespoke Process
When I'm making a special bespoke garter, I'll create some mock up photos, to make sure I understand what you're looking for.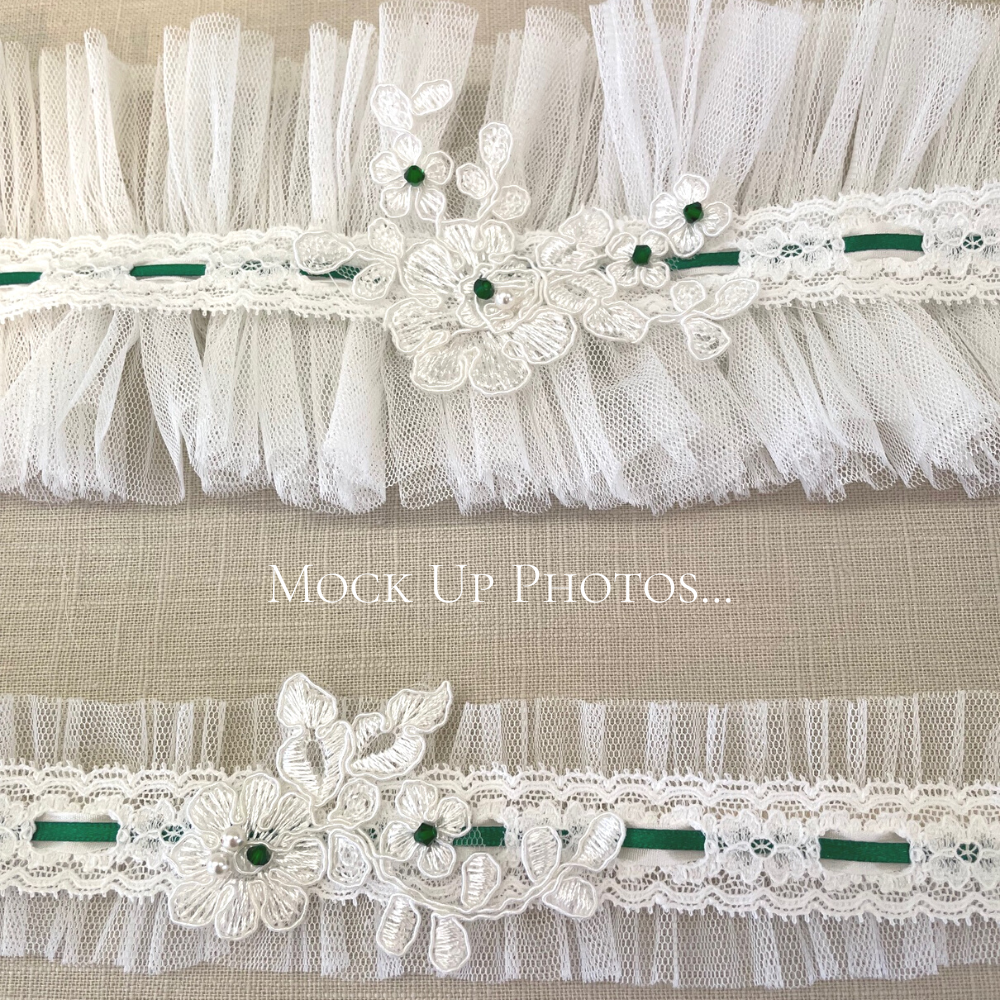 These photos help you decide how deep you'd like the garter, the amount of tulle gathered into the garter and which appliques you'd like etc.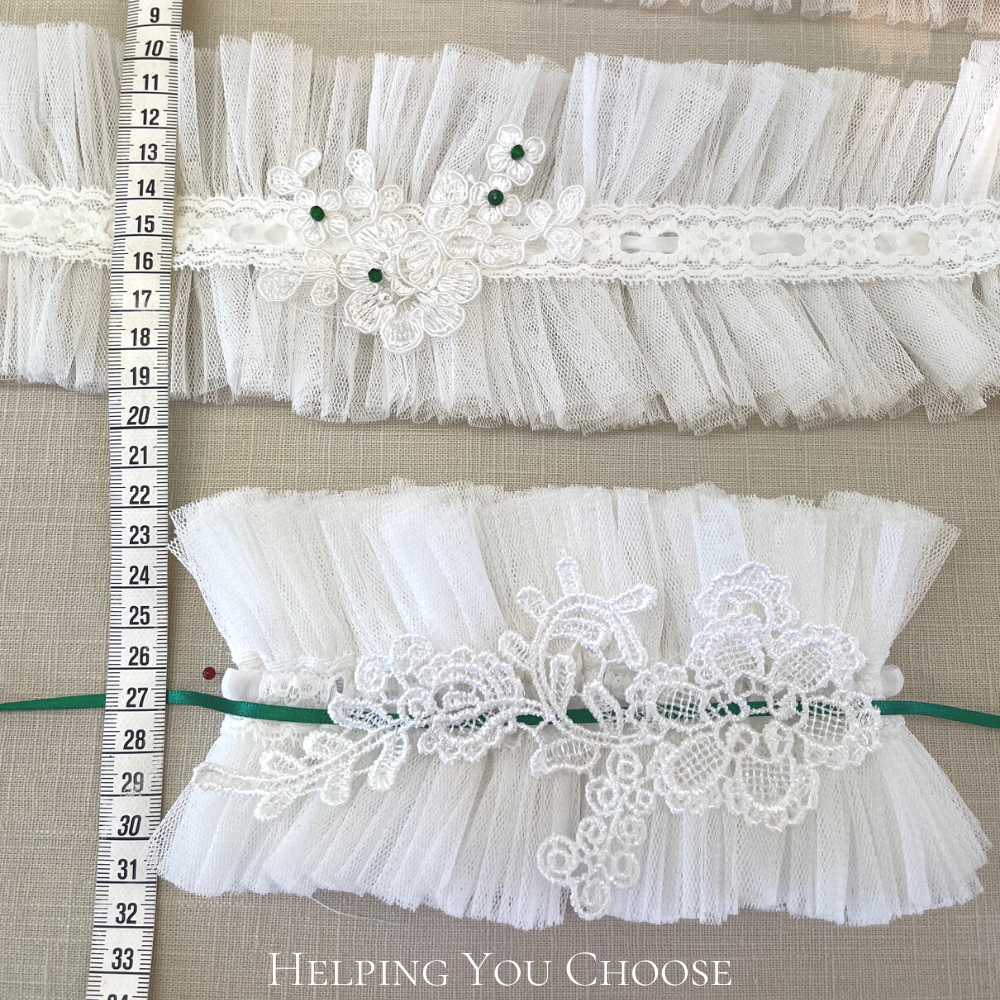 Charis loved the last applique, with deep tulle, but slightly less gathers and here is the finished garter and Charis's reaction!
The Finished Garter Set
Stunning!! Thankyou so much, its perfect! xox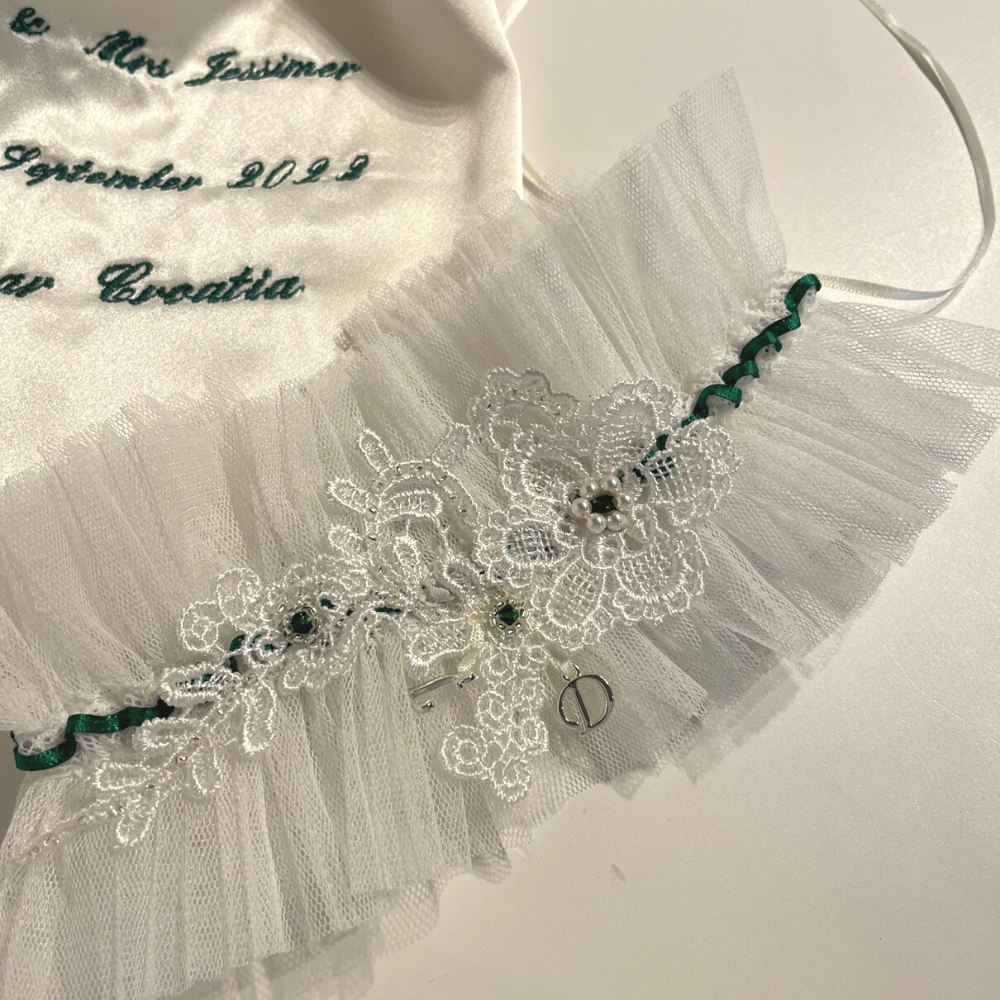 Using a finer centre lace with the fine green ribbon, gives a more delicate look. The large applique I've handstitched with Swarovski pearls and silver-lined seed beads, that gently shimmer as they catch the light. See how the flowers each have an emerald crystal centre? I've also highlighted the stems, following their curves with seed beads. Then the two small silver initials charms, nestle on the tulle.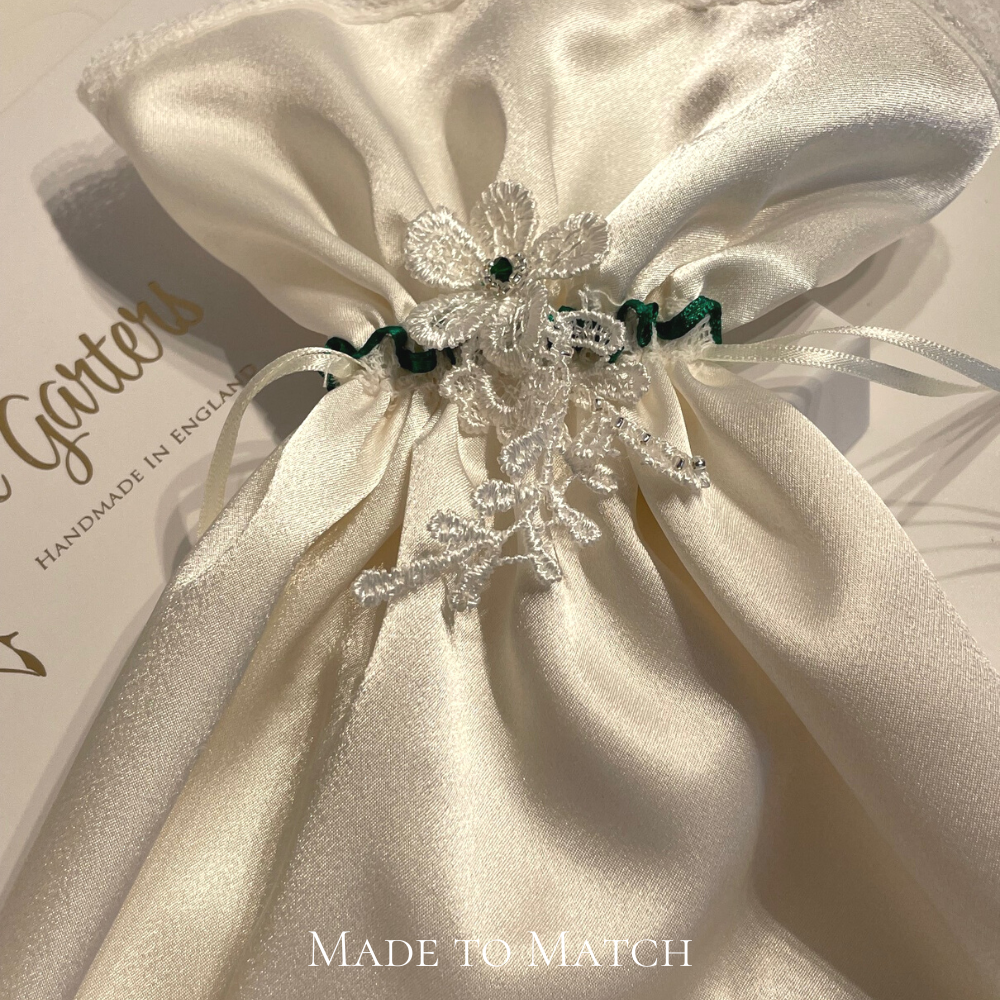 Then I made the matching drawstring bag, fully lined and with green ribbon highlight, and more gorgeous applique. The bag was also embroidered with their special text.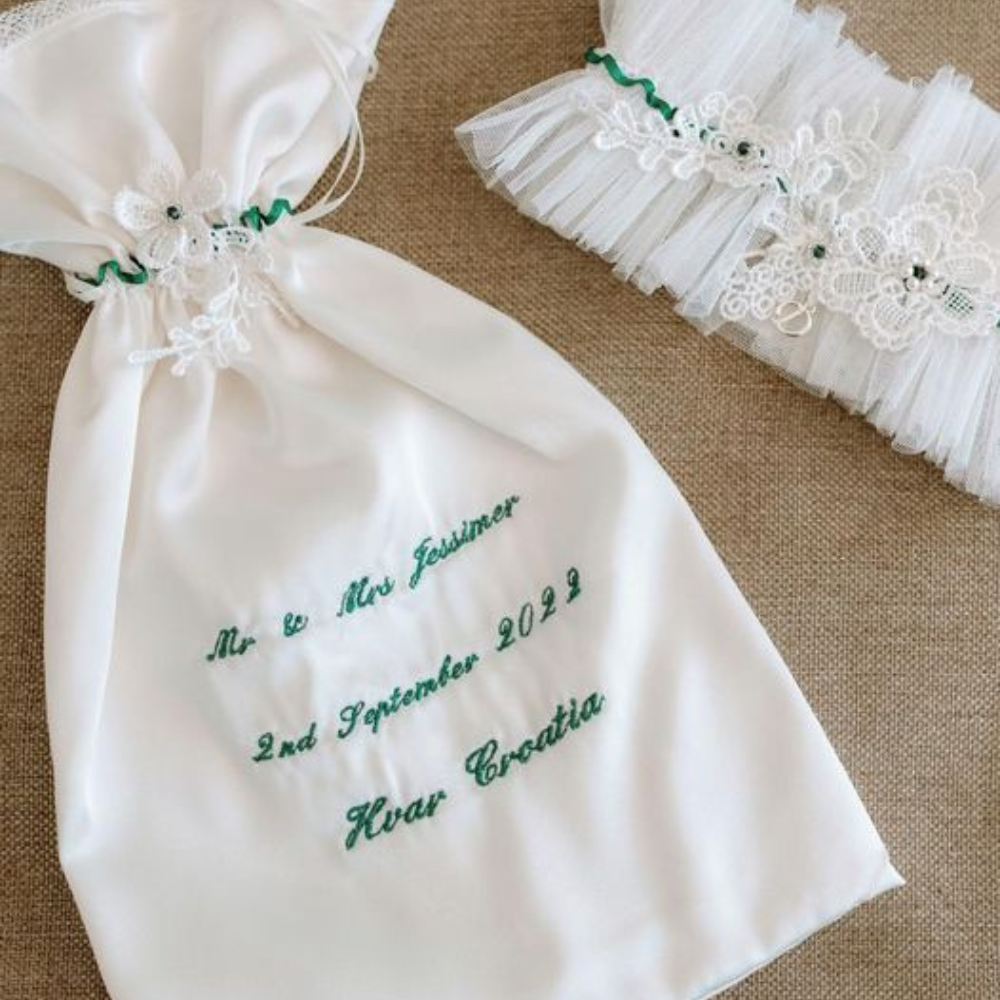 What The Bride Said…
Hello! I just wanted to message you to say thank you for making my beautiful garter. My MOH ordered from you and it was absolutely perfect. We got our photos back and there's a lovely picture of it so wanted to send it over 💚 Charis said you went above and beyond so please feel free to share anything 💚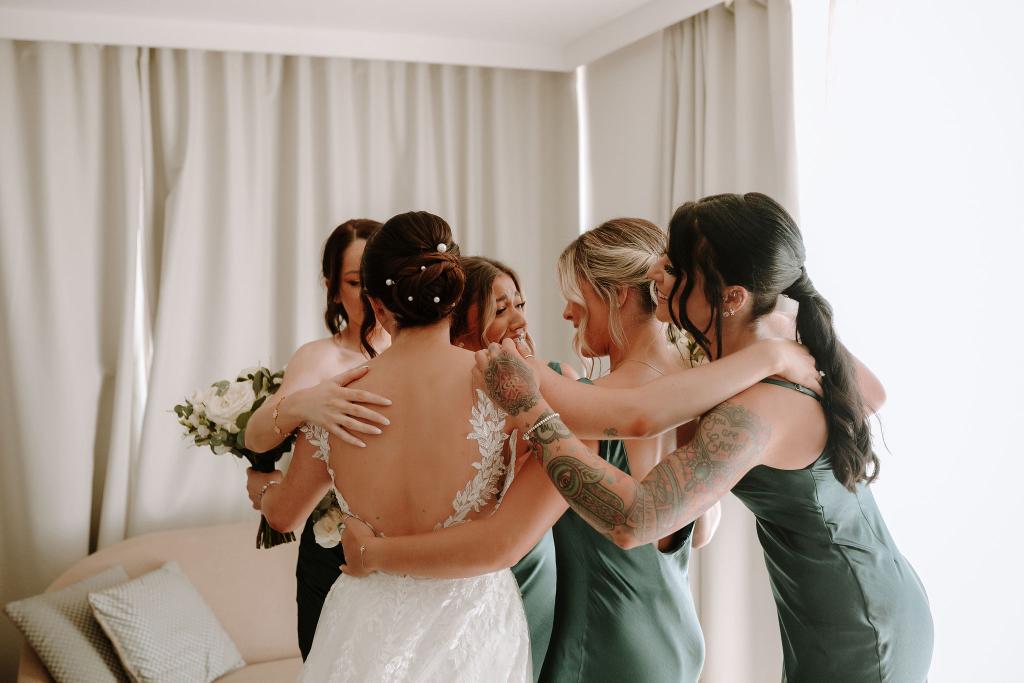 Isn't that lovely 🙂 So here are some gorgeous pictures from the Jessimers!
Super Service Wedding Dress Shopping
💚 I was super nervous going dress shopping as I'd never really thought about weddings or dresses etc. I didn't really know where to start or what I'd suit. We went to Eleganza Sposa in Glasgow and I had initially thought I'd found the one, it was a square neck A-line dress. The dress assistant then brought out one last dress as a "wild card" and it totally blew me away 😍!
Beautiful Croatia, Their Perfect Destination Wedding
😍 We got engaged in Dubrovnik during covid and completely fell in love with Croatia. We'd intended to get married in Dubrovnik but after coming across Hvar we knew it had to be there 💚
With more sunshine hours than anywhere else in Croatia, the town boasts ornate churchs, monastry and Cathedral, providing a beautiful backdrop to the elegant yachts, glimmering on the sparkling water.

Hvar is a pretty port and resort town where stone streets meander up to the medieval fortress, protectively overlooking the old town, it's secluded beaches and rocky coves.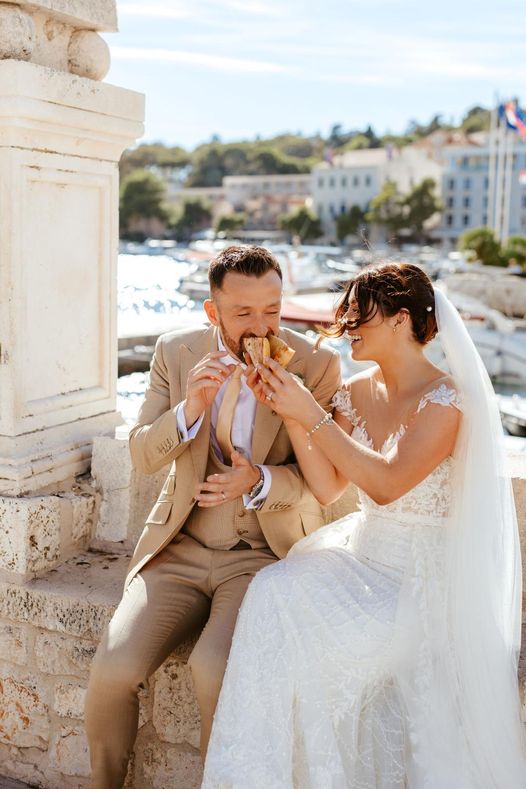 This gorgeous photography is by http://lovefoodwedding.oblakphotography.com/
Thank you Lucy for kind words and sending in your wonderful photos, giving us an insight into your beautiful wedding! Catherine xx
---
PS.You can see another bespoke green garter I made here The Leila wedding garter, personalised with names and date, with unique hand-embroidery
If you would like a green garter or anything a little different, I'd love to hear from you and create something special for you too!