Christine's pink wedding…
Christine has just sent us the wonderful photos from her wedding day at the beautiful Boxted Hall. Her photographer was Rachel Armes.
We just have a few photos here, but everything was stunning, from the beautiful old church, to the gorgeous reception. Christine looked wonderful in her pale pink silk dress with its sumptuous bo-peep hem line, showing the daintiest little boots.
Christine chose our Designer French lace garter in a pale baby pink…
"It was a beautiful garter and I had my eye on it for a long time before I purchased it.  Thanks again, I would certainly recommend you as having by far the best selection."
The polonaise, style gown was popular in the 1770's, but it has caught peoples imagination as the embodiment of 18th century fashion. Christine's dress with it's subtle silk luster, lends itself to this design particularly well…loops are stitched into the inside of the skirts and drawn up to create attractive drapery…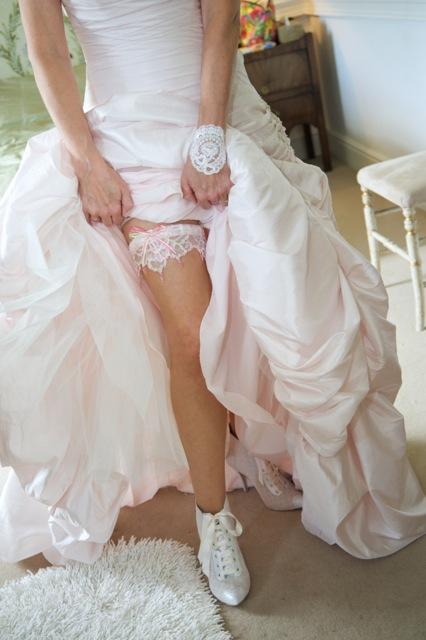 The garter is made from the softest French lace in a beautiful pale baby pink. The lace is made of shimmering roses and leaves, the leaves make a pretty design on the lower edge of the lace, which is enhanced with hundreds of tiny seed beads and droplets, all lovingly stitched on by hand in our little workshop You can now also order this unique garter in a pale blush pink…
Personalised pink garters
At Silk Garters we also personalise garters with names and the wedding date, this is our Couture wedding garter, individually made from start to finish in whatever colour you choose…The garter pictured below is a plus size wedding garter in fushia pink with a sprinkling of plain pink and pretty flower crystals added.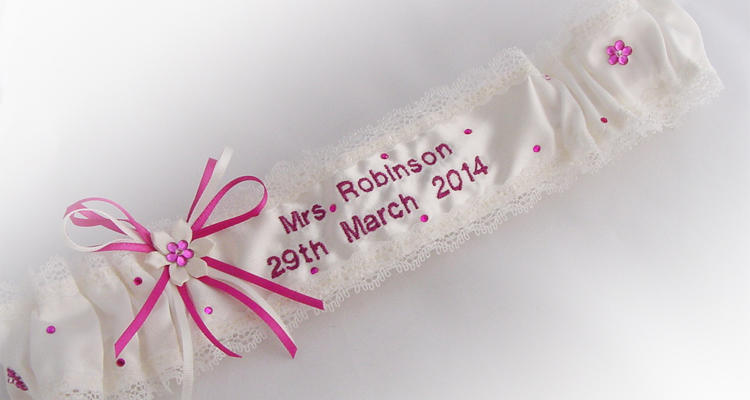 For a pastels wedding the lace on this garter is just perfect!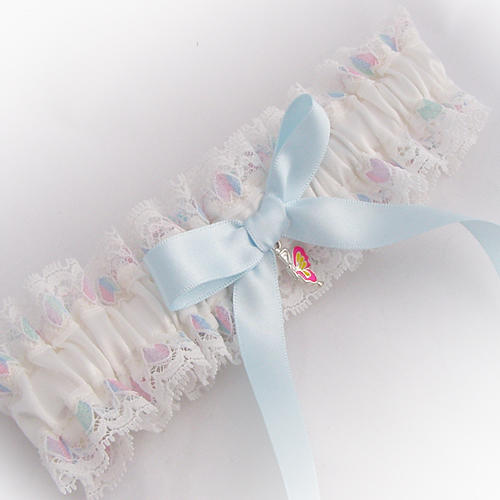 Ivory satin is edged with a pretty pastels ivory love hearts lace. The dainty little hearts alternate blue, pink, green and lilac around the edge. They're complimented with matching triple ribbons and a cluster of seed beads. We have also personalised this garter as a special request for a bride…it's soooo pretty!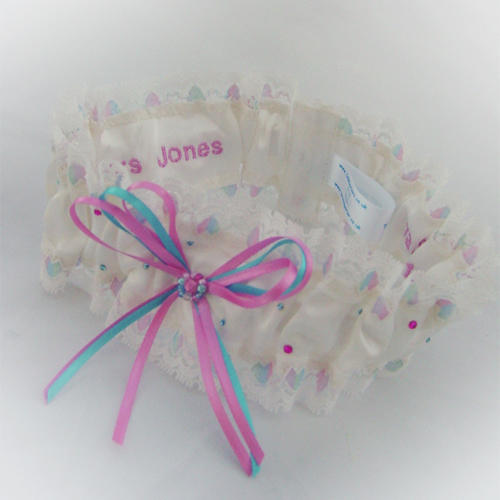 French Rose garter in vintage pink
This is a new garter design, taking different elements from some of our most popular garters, that we know our brides love and incorporating them into one luxurious garter…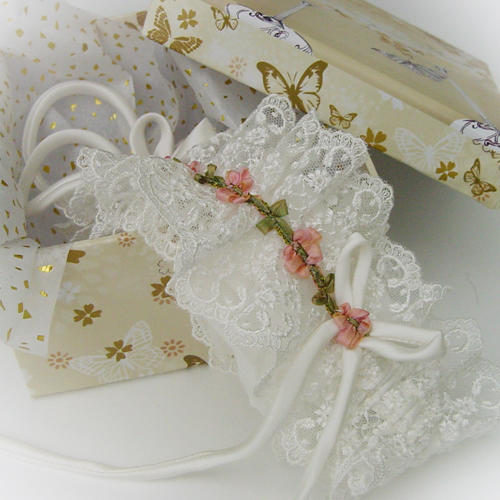 The lace as you know from previous posts, comes from the Nottinghamshire company that made the lace for Princess Diana's wedding dress. The rouleaux bows are made of pure silk satin and are turned by hand. The rosebud trim is made from fine silk ribbons in vintage pink with green leaves, the same way as it would have been made in the 1920's. The dainty band is also lined with pure silk, so that no elastic will touch your leg…so if you're looking for the ultimate luxury, this garter is for you
Limited Edition Garters in pink…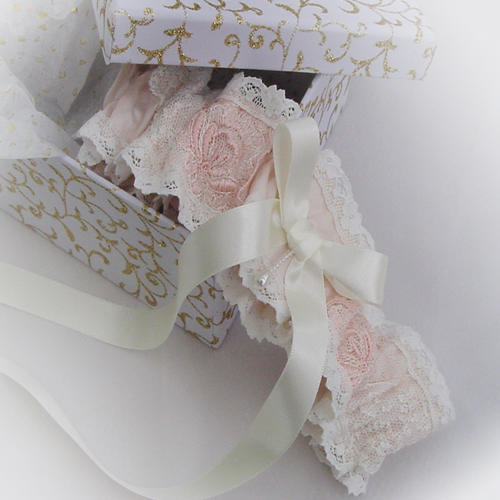 Vintage silk garter in blush pink
This is the latest edition to our range of pink wedding garters. Palest blush / shell pink silk dupion is appliqued with a assortment of vintage laces from our archive collection, then edged with a narrow cotton roses lace. A beautiful long tail bow and pearl drop complete the garter.
Rose pink and deep burgundy garters
We have this unique Swiss embroidery in two designs…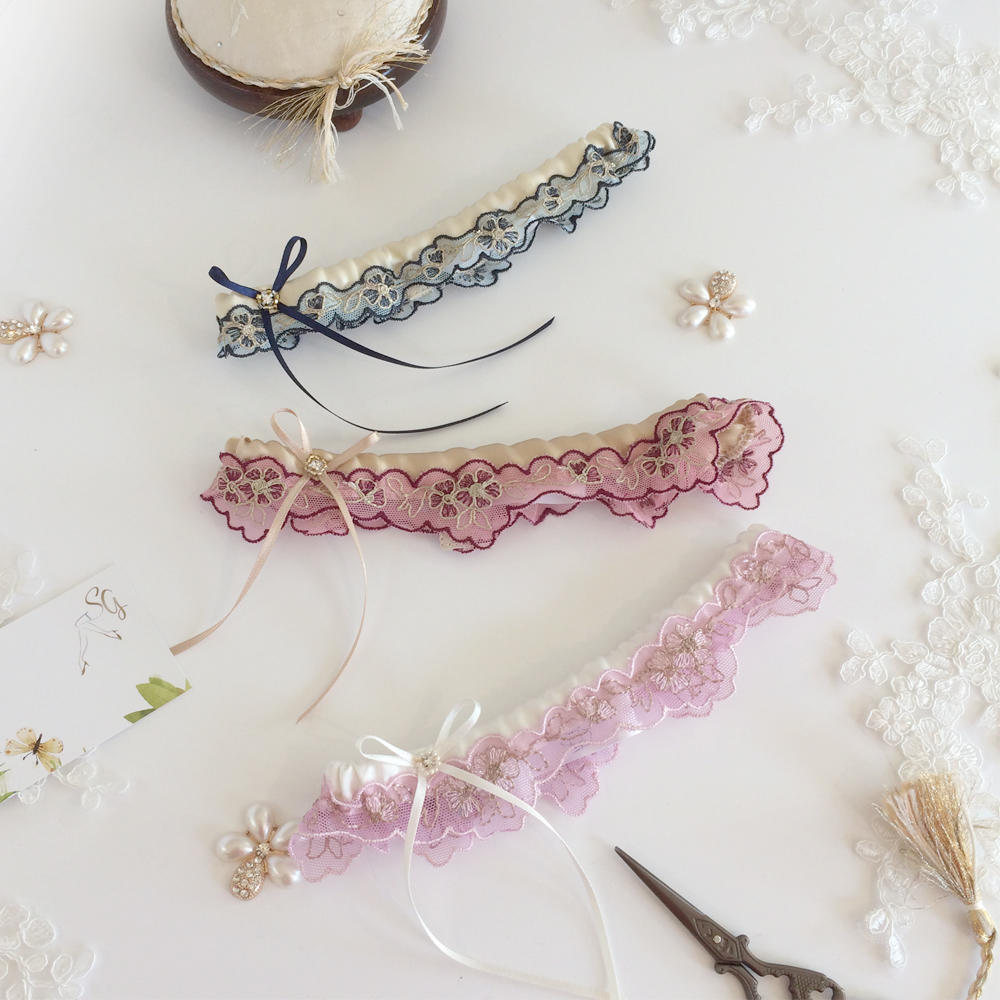 This burgundy and pink garter, has a champagne band to compliment the gold threads in the embroidered lace. The garter is designed to sit fairly flat against the leg under a more fitted dress…
I showed this dainty little garter to the chairlady of our local embroiderers guild and she was intrigued by its dainty prettyness I hope you love it too!
Which pink will you choose? Message me below with your comments.
Catherine x