Are you looking for a tartan wedding garter? I'd love to show you how I can help! See all the styles below…
I just wanted to say thank you for my garter – it was perfect for my wedding back in May and matched my husband's tartan perfectly! Kind Regards Jules
Jules sent in this fabulous wedding photo, where she's showing off her 'Modern Douglas Tartan Garter' It looks so dainty and delicate with her fabulous beaded wedding gown… The train is so elegant and gorgeous tartan shoes are an unusual twist! It looks fabulous on Jules!
Lace gathered with Modern Douglas ribbon, a dark blue tartan with green and white. Embellished with a tartan bow and crystal.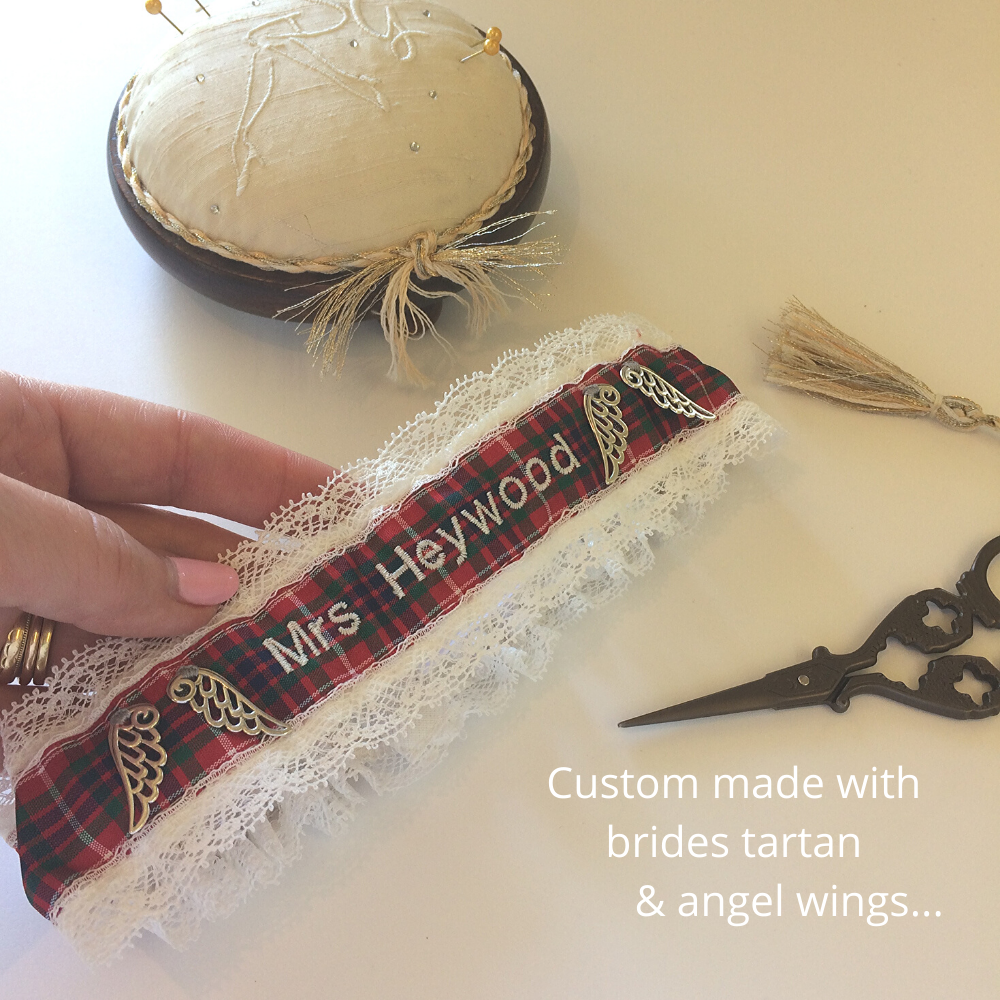 I'm making all the tartan garters to order now and have 36 tartans in stock in ribbon or silk dupion fabric. You can also send me your own tartan, to make a unique garter just for you. Here is a selection of tartan garters I've made previously… Angels are added free, 'in loving memory of' just message me.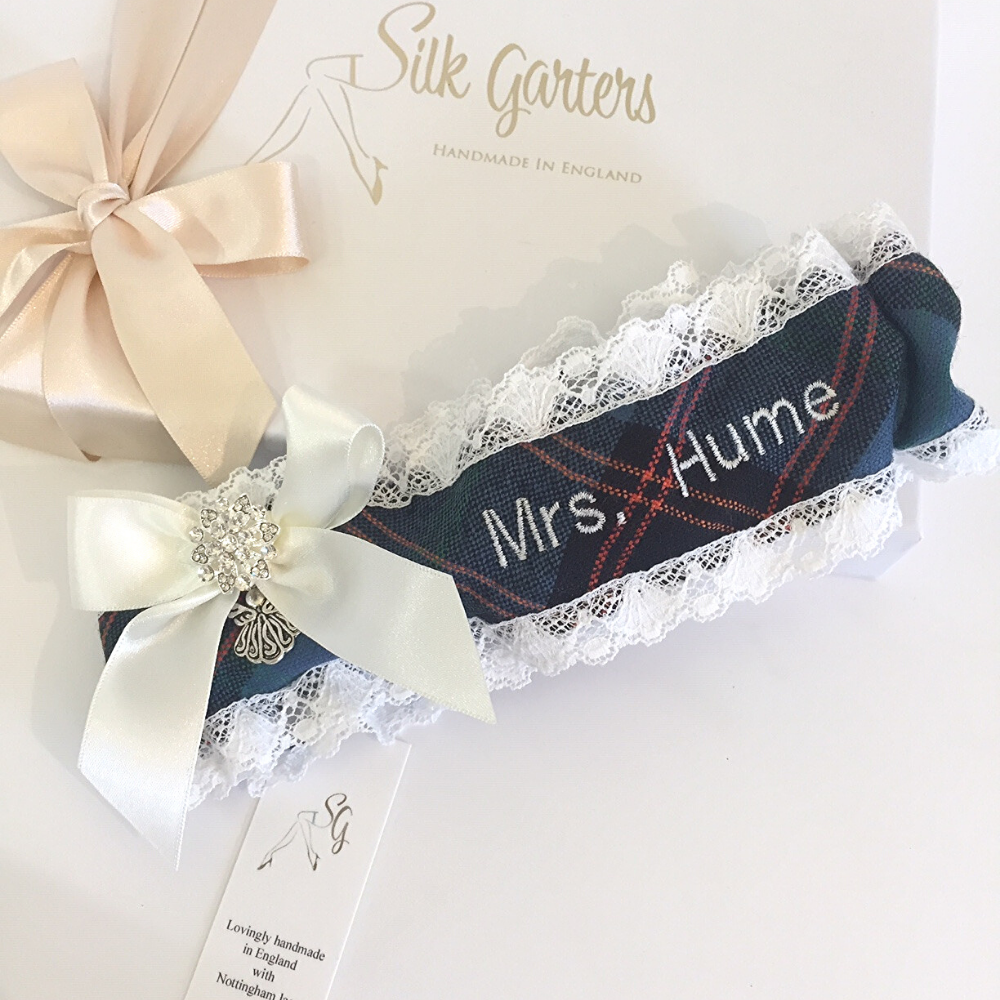 This is Hume Kilt tartan, it's lined with satin fabric, to make sure it's comfortable and this one is edged with beautiful cotton lace…
Garters can be personalised inside or outside…And don't you love the thistle charms!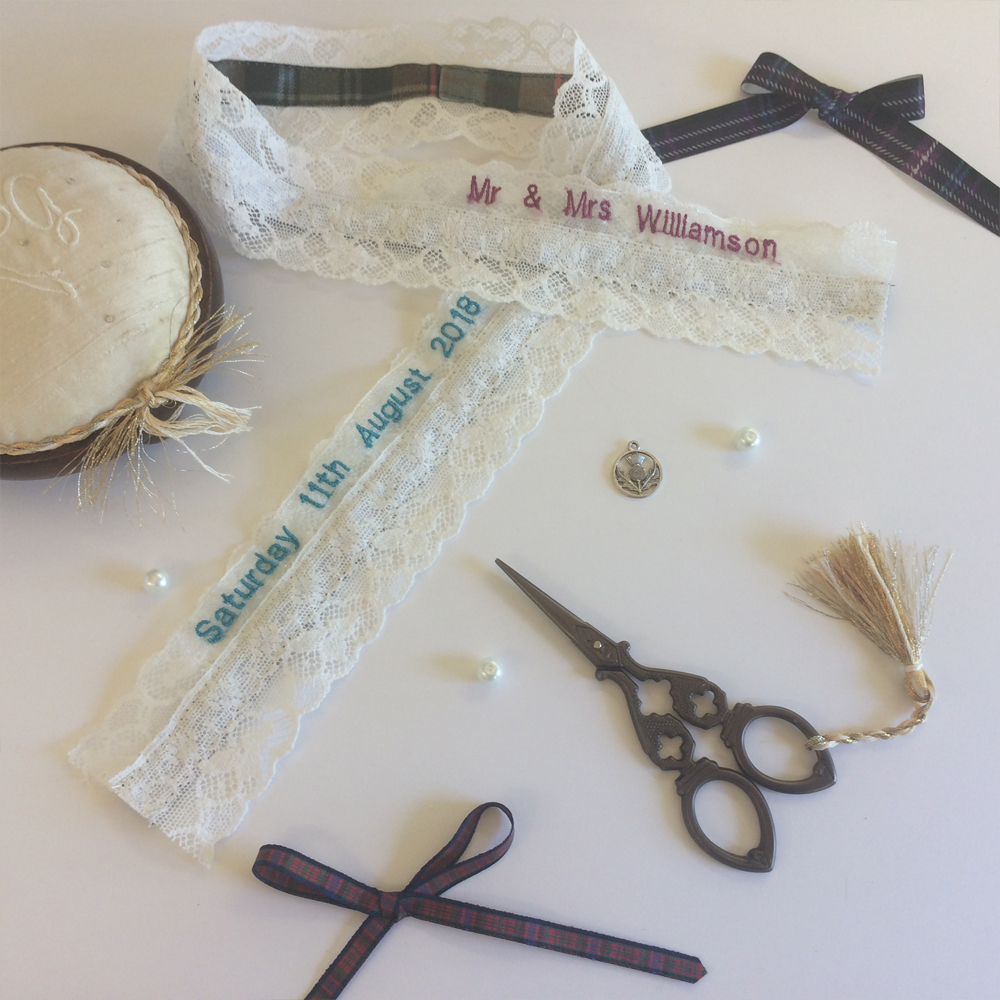 I also combine tartans.  Here is a personalised garter being made, with a rustic bow it's a combination of 4 different tartans, to cover all the family!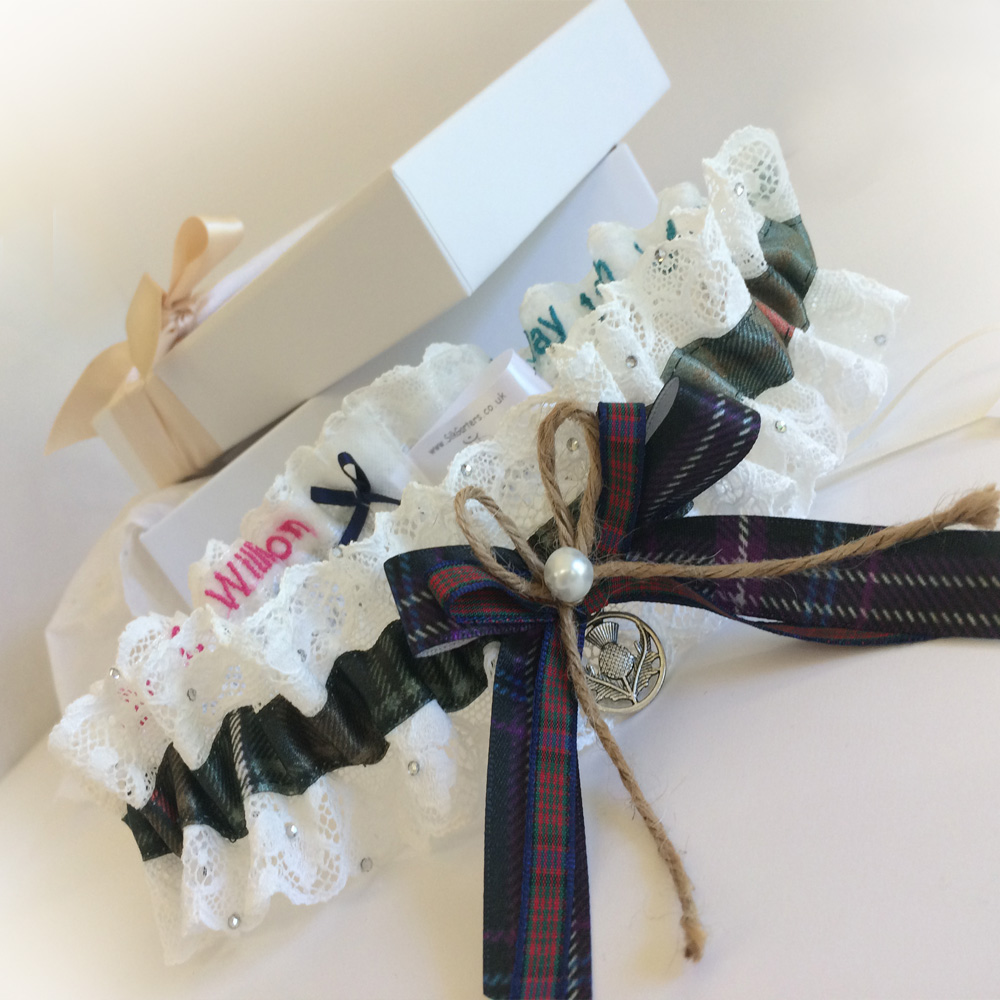 Here it is completed, with their quirky wedding colours, embroidered inside. The bride sent a lovely thank you card after the wedding 🙂 Made my day!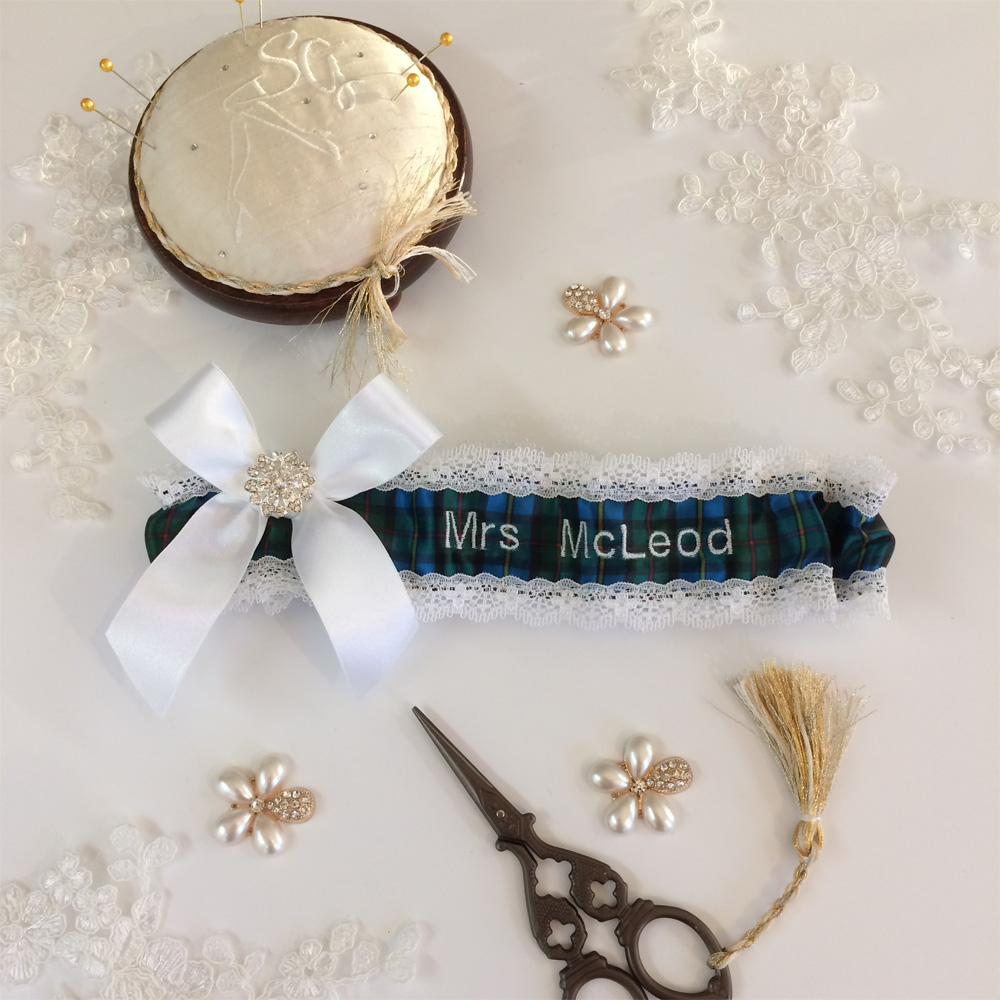 Another custom made garter in the brides own tartan…
These quirky Pride of Bannochburn garters were sent to the USA, perfect for the bride who loves purple! Available to order as singles or a set, although I don't have much of this lace left now.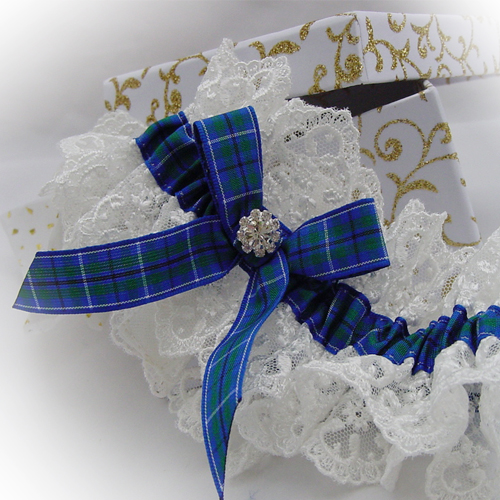 This gorgeous Nottingham lace garter is a best seller, I have the lace specially made for 'Silk Garters' on a cotton tulle… I'm just ordering some more!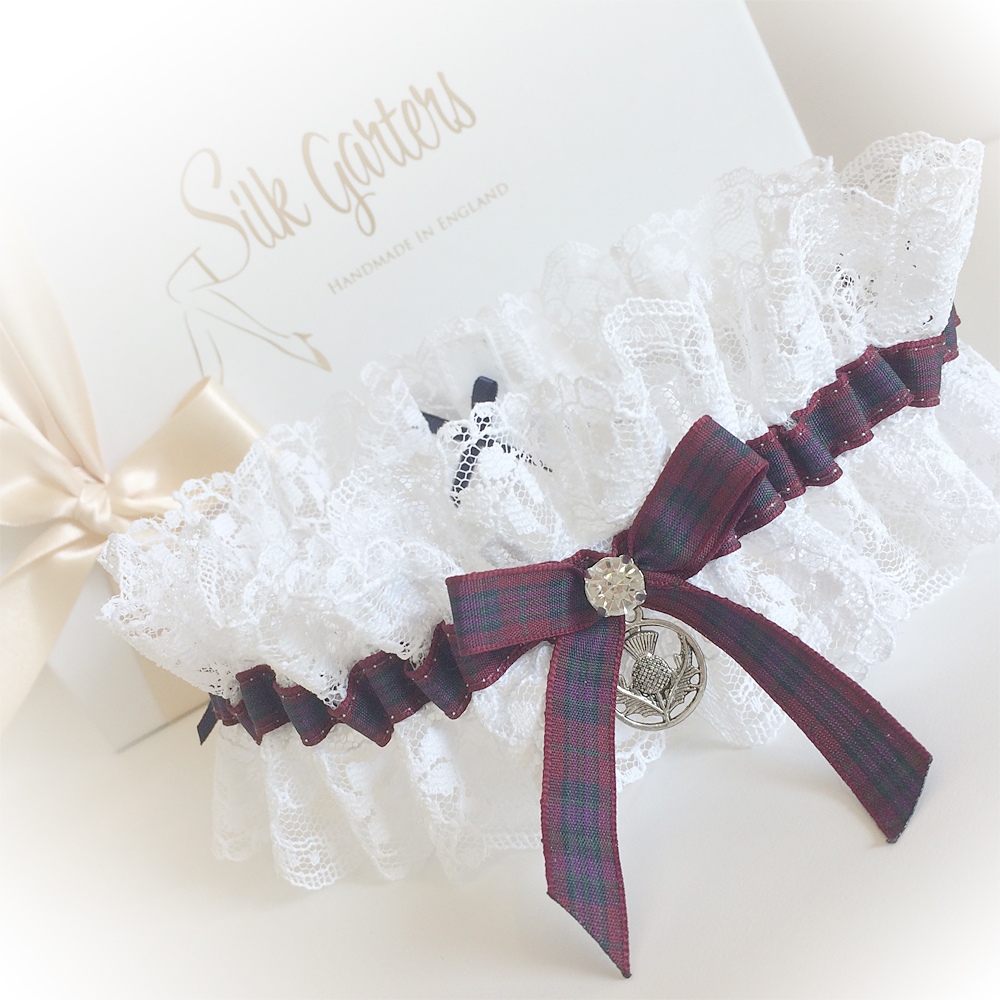 If you prefer pure white lace I have this dainty garter, as Jules chose in the top photo 😊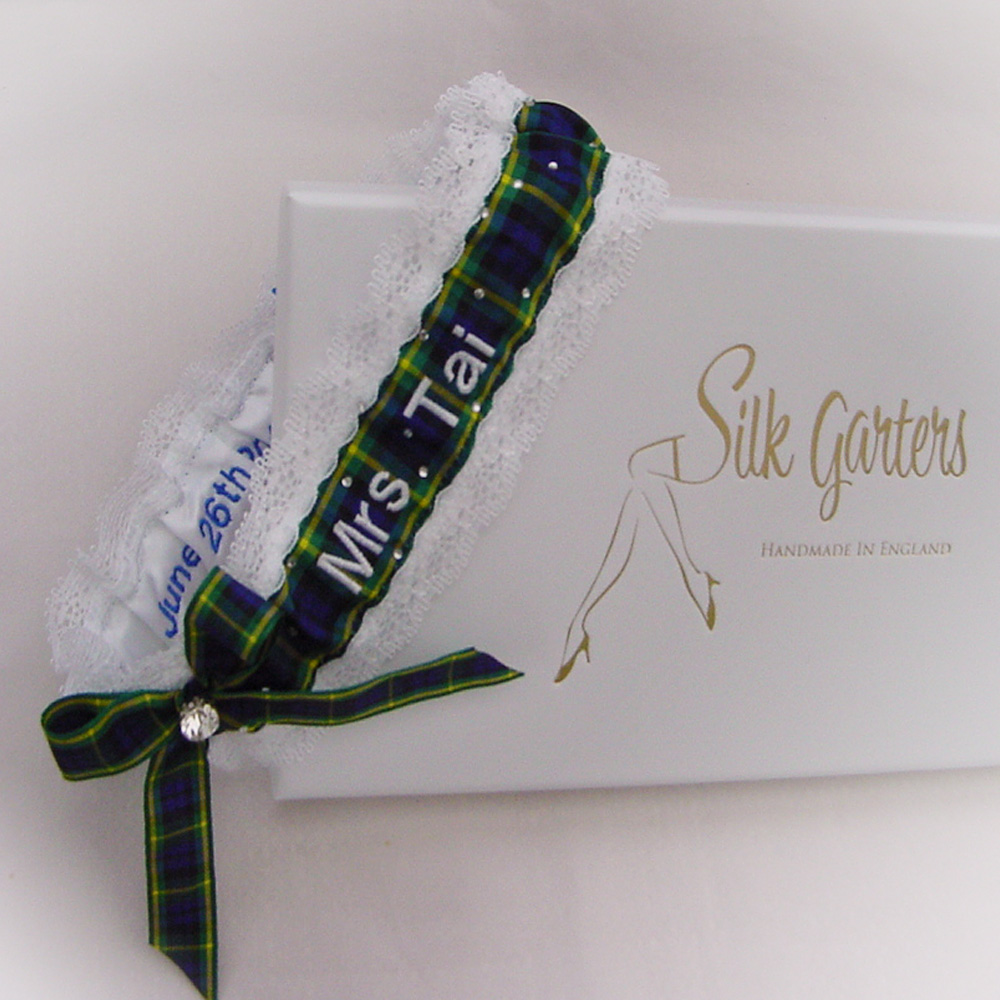 A personalised tartan garter, with the date inside, for a bride in the USA…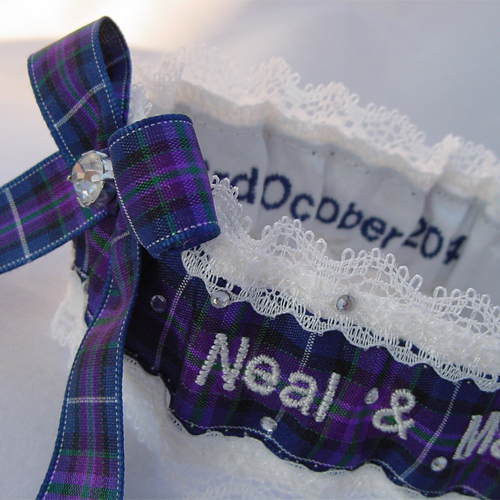 Another best seller, the pride / spirit of Scotland personalised with crystals. It now comes with a lovely cotton Nottingham lace.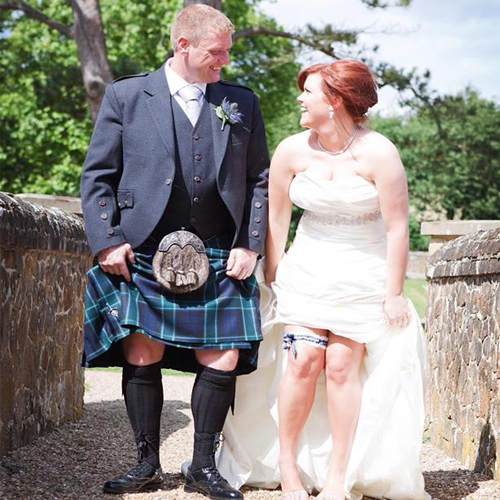 In the same style as above… I love this cheeky photo, with the bride showing off her Glasgow Rangers tartan garter!
I'd love to make your tartan garter too! Please message me, prices for the garters here range from £35 – £95 for the most complicated bespoke.