Are you confused about which size wedding garter you will need?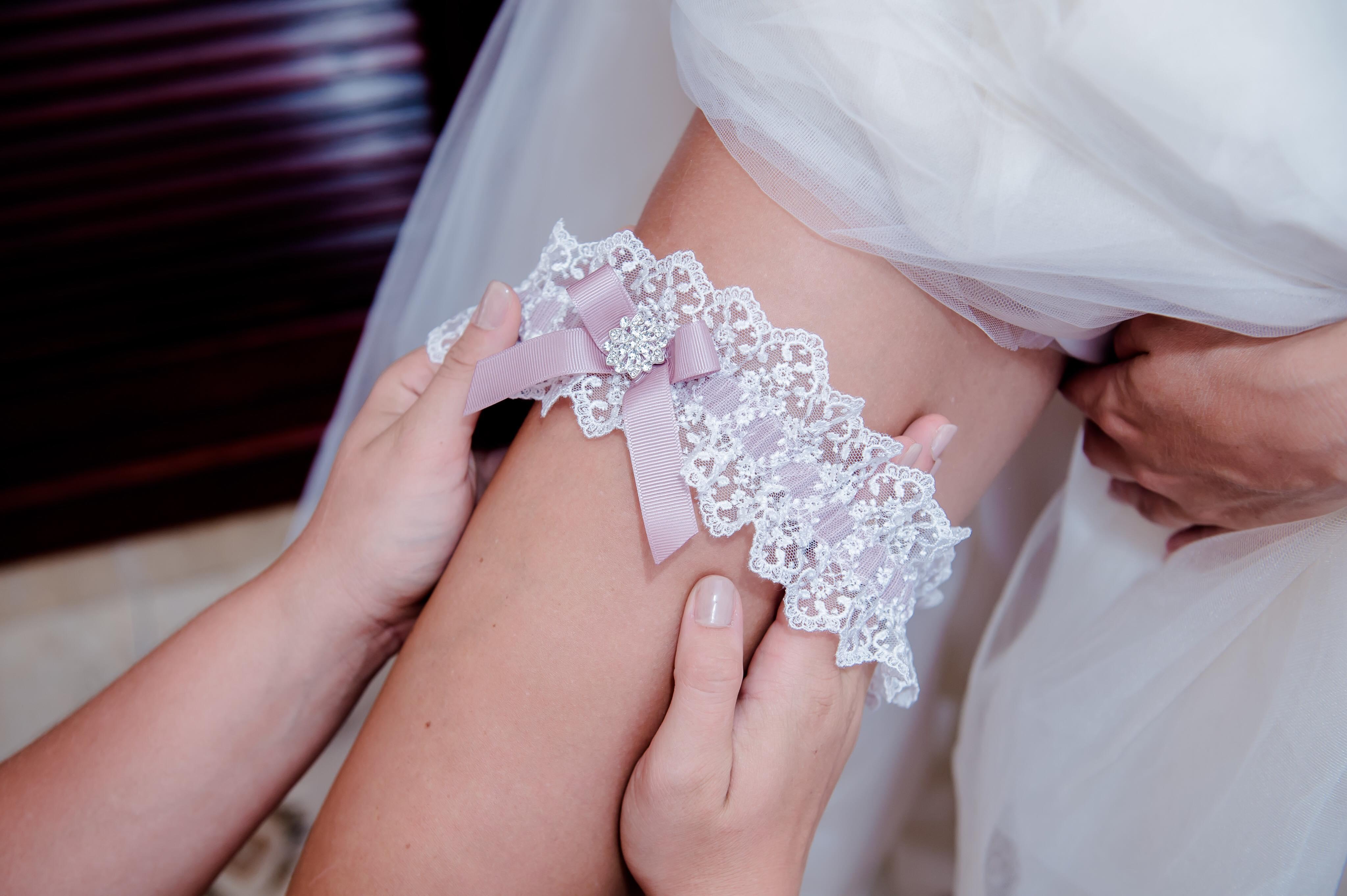 ~ Above is the best selling Lauren garter, available in several gorgeous colours, in sizes 14″-22″, 20″-26″ and XL plus size 27″-34″ ~
 
Unlike your usual clothing which comes in 'Standard' sizing, the size of your wedding garter will depend on, how high up your leg you choose to wear it…
If you're having a garter photo or have a tight dress, you may decide to wear your garter just above the knee (A hand-span or 4") and may need a smaller size…
Are you usually a plus size? You may not need a plus size garter…
To find your size, you will need to measure your leg, where you would like to wear your garter. Don't worry if you don't have a soft tape measure, you can use anything flat narrow and non-stretchy and then measure that against a ruler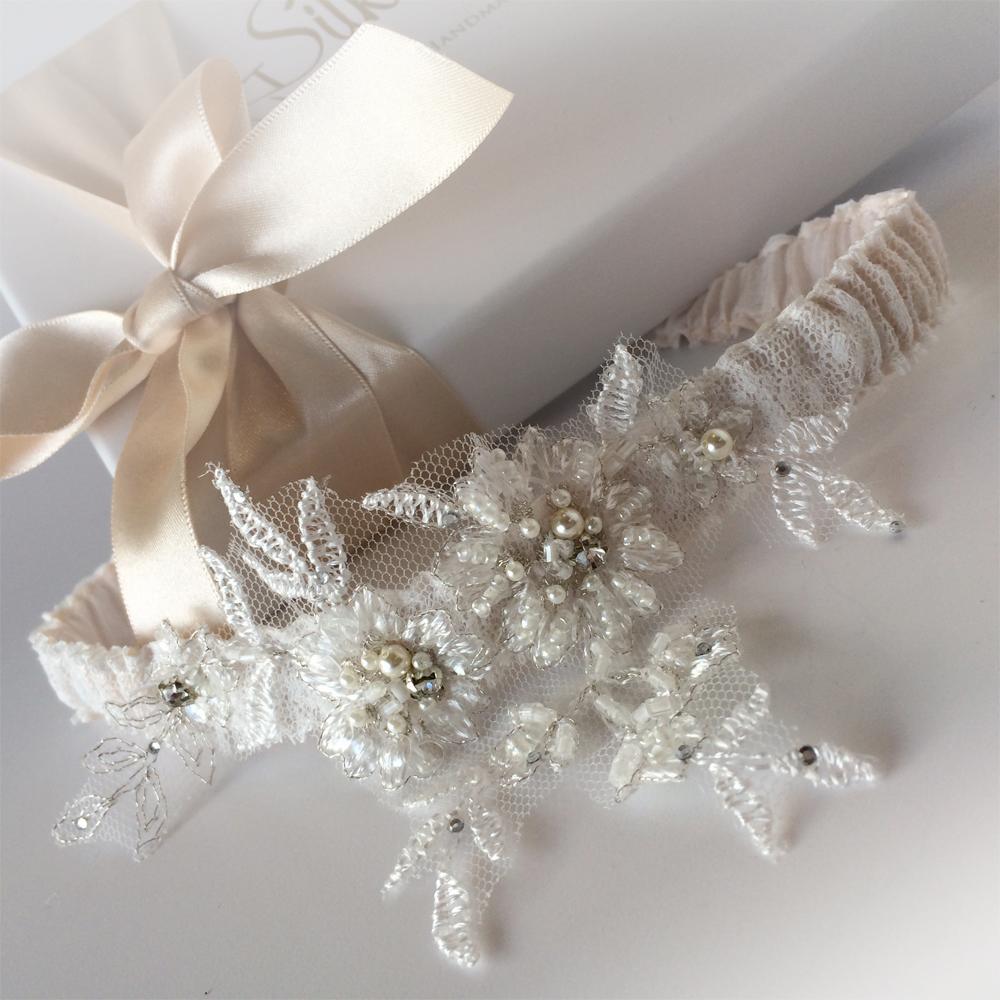 ~ Above is the lovely mia garter, beautiful with an illusion lace wedding dress ~ Available in sizes 14″-22″, 20″-26″ and XL 27″-34″ ~
Your measurement should be snug, but not tight, with the flat garters, you want to create a smooth line.
Choosing a ruffled garter, is slightly different…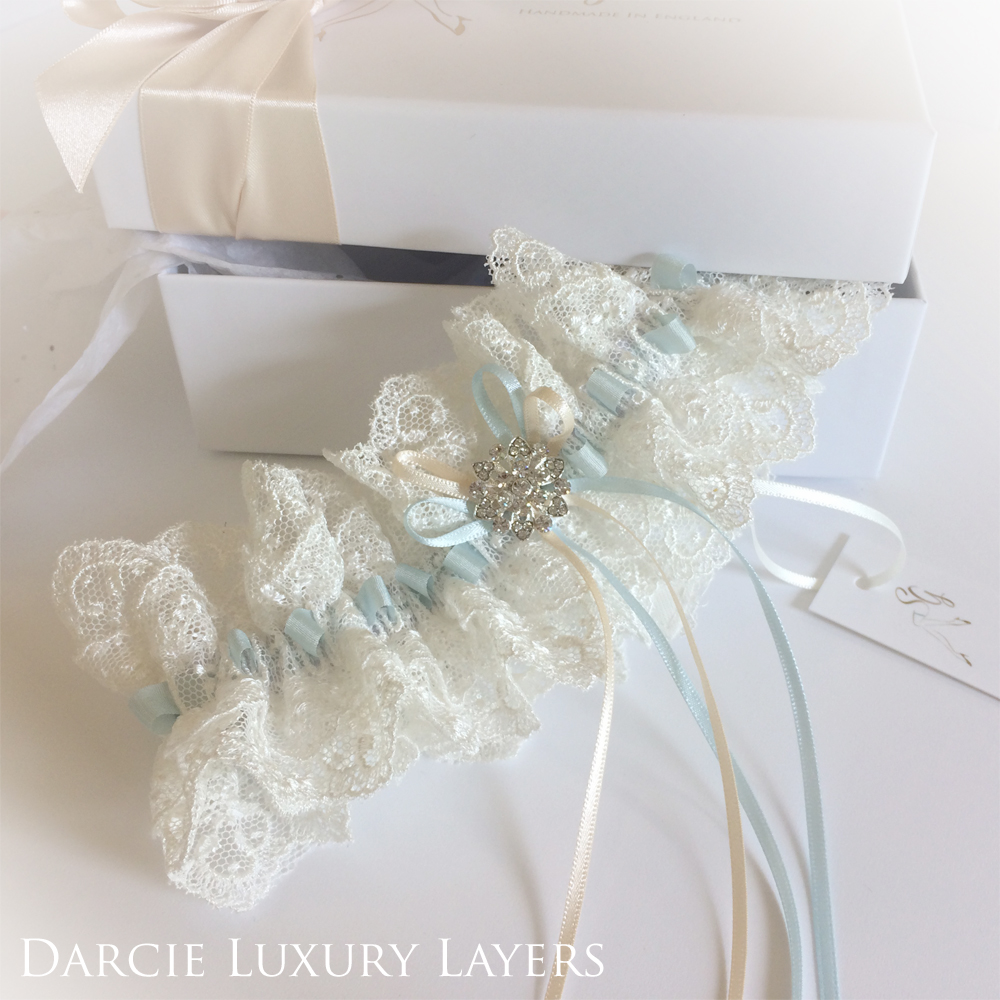 ~ Two layers of our exclusive cotton tulle are used to make the Darcie garter ~ One Size 14″-22″, Plus Size 20″-26″ and XL Plus Size 27″-34″ ~
 
I know with all the dashing around before the wedding, the weight just dropped off me, so if you're someone who loses weight when they get a bit stressed and your measurement is a borderline size, you will be better off going for the size down.
e.g. with sizes 14"-22" (35cm- 56cm) and 20"-26" (50cm-66cm), if you're 20" (50cm), choose the 14"-22" (35cm-56cm), this will still be secure, even with a little weight loss.
If you're unsure just give me a call… 077 8080 1102
You can have any size garter made, so don't worry if you fall outside my standard sizes.
Need a Petite size?
I know petite brides particularly struggle to find their perfect size, so just let me know what you need and I can either make a garter for you or alter the existing standard size, that's no problem!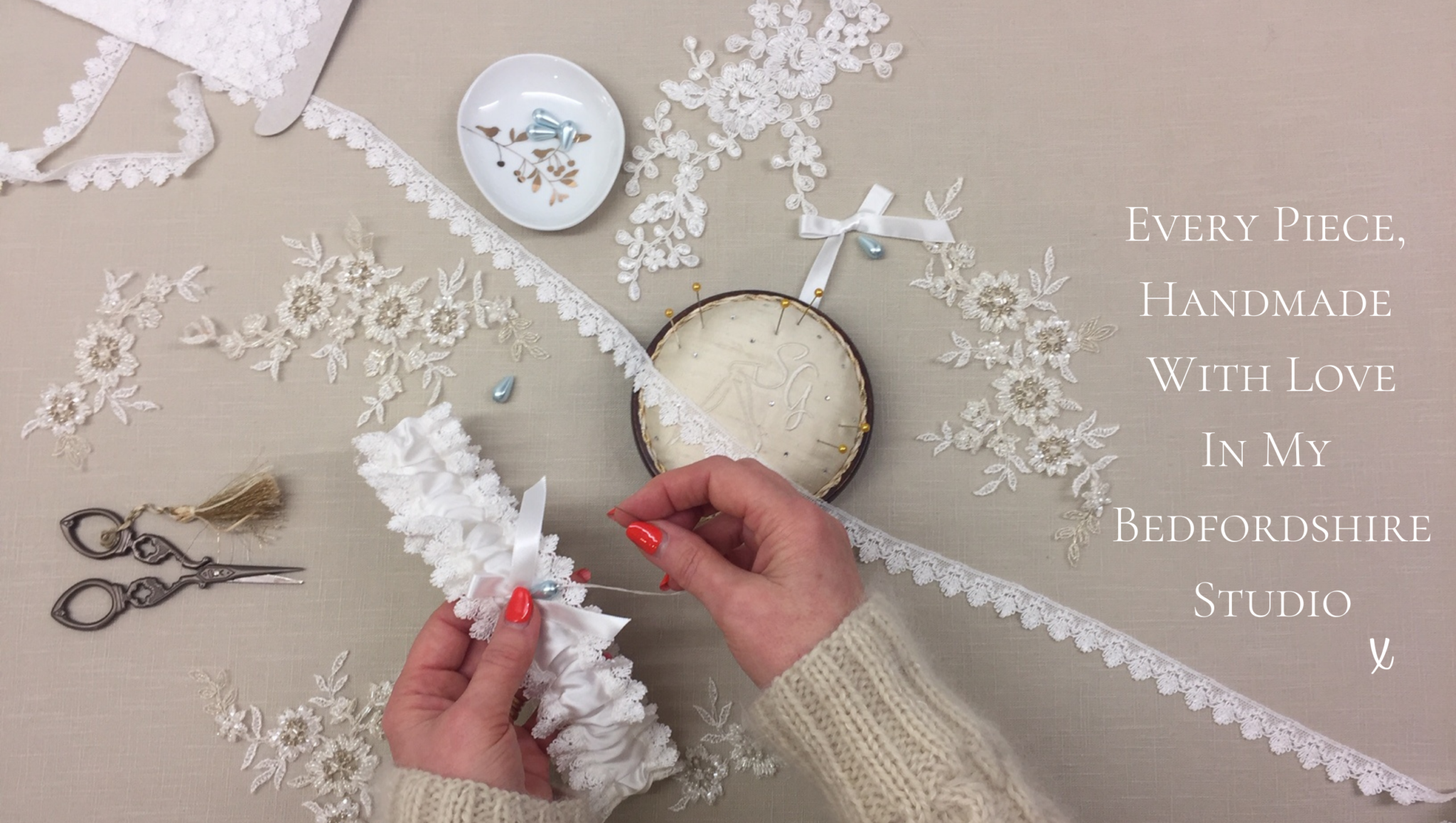 ~ Here I'm making the lovely Natalya garter, pure silk satin, edged with Nottingham lace ~ One Size 14″-22″, Plus Size 20″-26″ and XL Plus Size 27″-34″ ~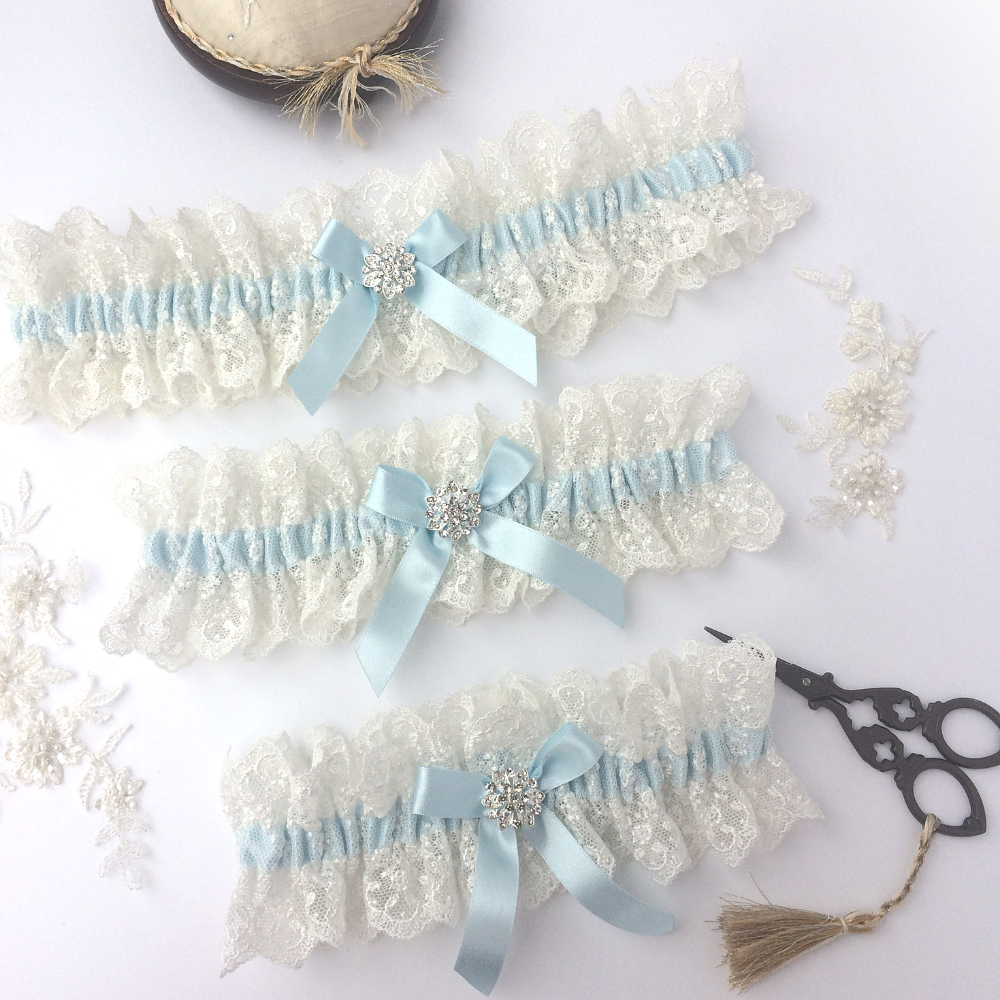 ~ Lauren in three comfortable sizes ~ One Size 14″-22″, Plus Size 20″-26″ and XL Plus Size 27″-34″ ~
Remember to look in the 'Added Extras' section…
There are some lovely add-ons to be had in the 'Added Extras' section of the website!
Add text inside your garter, names, wedding date or a special message, a lovely keepsake in years to come…
Add a little angel charm to your garter, to remember loved ones on your wedding day.
A small silk and lace keepsake bag for precious items like grandparents photos.
Lucky Sixpence bag, complete with genuine silver sixpence for your 'something old'.
You can also add a matching garter to toss and lucky wedding horseshoe to complete your set!
If you fancy something a bit different, I'm also making gorgeous nightwear and ultra feminine robes, perfect for your getting ready photos, honeymoon and gifts…
If you need any help, I'm just a phone call away. Catherine 077 8080 1102