Theresa is getting married this weekend and called me to see if we could deliver our vintage Edwardian stripe garter with a garter to toss in time for her wedding…(We ask you to call if your order is urgent 44(0)77 8080 1102, if you need a garter or horseshoe in a hurry, we always try to help!)
The pictures on the web site really do not do this beautiful set the justice it deserves it"s just so perfect and very comfortable to wear – Big day is this weekend can"t wait to wear it. Thank you so much!
Theresa also added the lucky sixpence bag to her order, it's a beautiful garter set in a creamy silk taffeta with pale turquoise and aqua satin stripes. Edged with an unusual picot cotton lace, as you would find on truly vintage pieces. They wouldn't look out of place being worn by 'Mr Selfridge's' 'Lady May'… Theresa is right, our photos don't do it justice! The 'Edwardian stripe' is now made to order, please message me.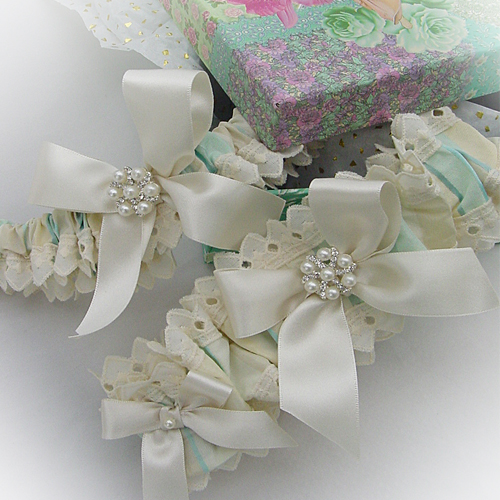 If you would like to see more vintage styles, just leave a comment