Choose Nottingham lace for your wedding garter and incorporate the rich tradition and history of British lacemaking into your wedding…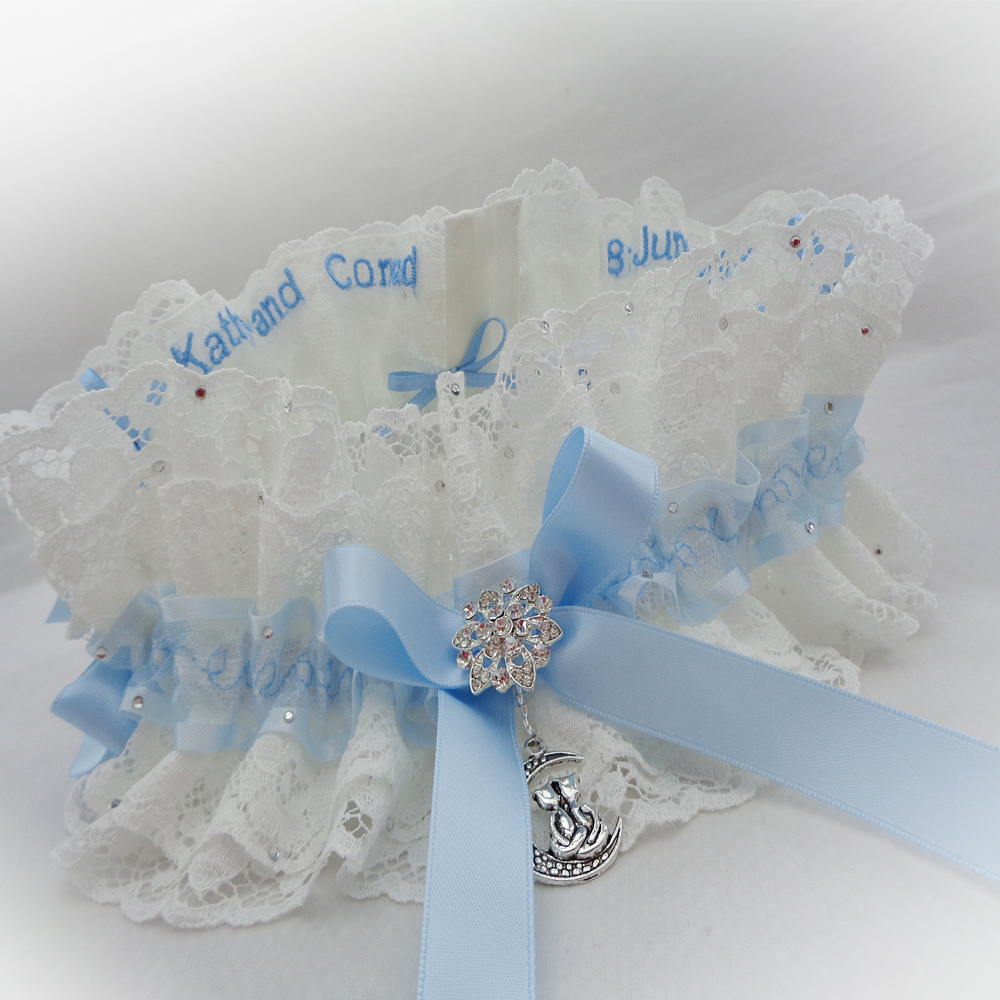 With so much cheap modern lace flooding the market, I thought I'd highlight the history behind our Nottingham lace manufacturers…
Originally lace making was a cottage industry; all lace was made by hand, with bobbins.
At the start of the industrial revolution in the 1760's lace fabric started to be produced on the most amazing machines. Using the same principal of twisting threads to make a net, lace could be produced on a vast scale…
Installing new machines took drastic measures!
The process of Lacemaking…
A design is sketched out…
Which is the converted onto graph paper…
That in turn is converted into a punch card, which is fed into a Jaquard machine.
The punchcard is duplicated into a solid form which move huge steel rods connected to the leavers machine, telling the machine which threads need to be twisted at the appropriate time to create the design…
Hundreds of lace designs are archived, unique to the Nottingham lace producers…
These huge machines produce vast lengths of lace cloth, look closely and you can see the same design repeated hundreds of times down the length of the machine…
The lovely design above, is a cotton lace we're currently using to edge the limited edition silk dupion wedding garters
The lace is checked for flaws and repairs are made, so perfect you wouldn't know!
The huge lengths of lace are washed, stretched back into shape and then dried…
If the lace is to be used as an edging, as it would be for your wedding garters, then the connecting yellow threads are removed, leaving perfect lengths of beautiful cotton lace edgings…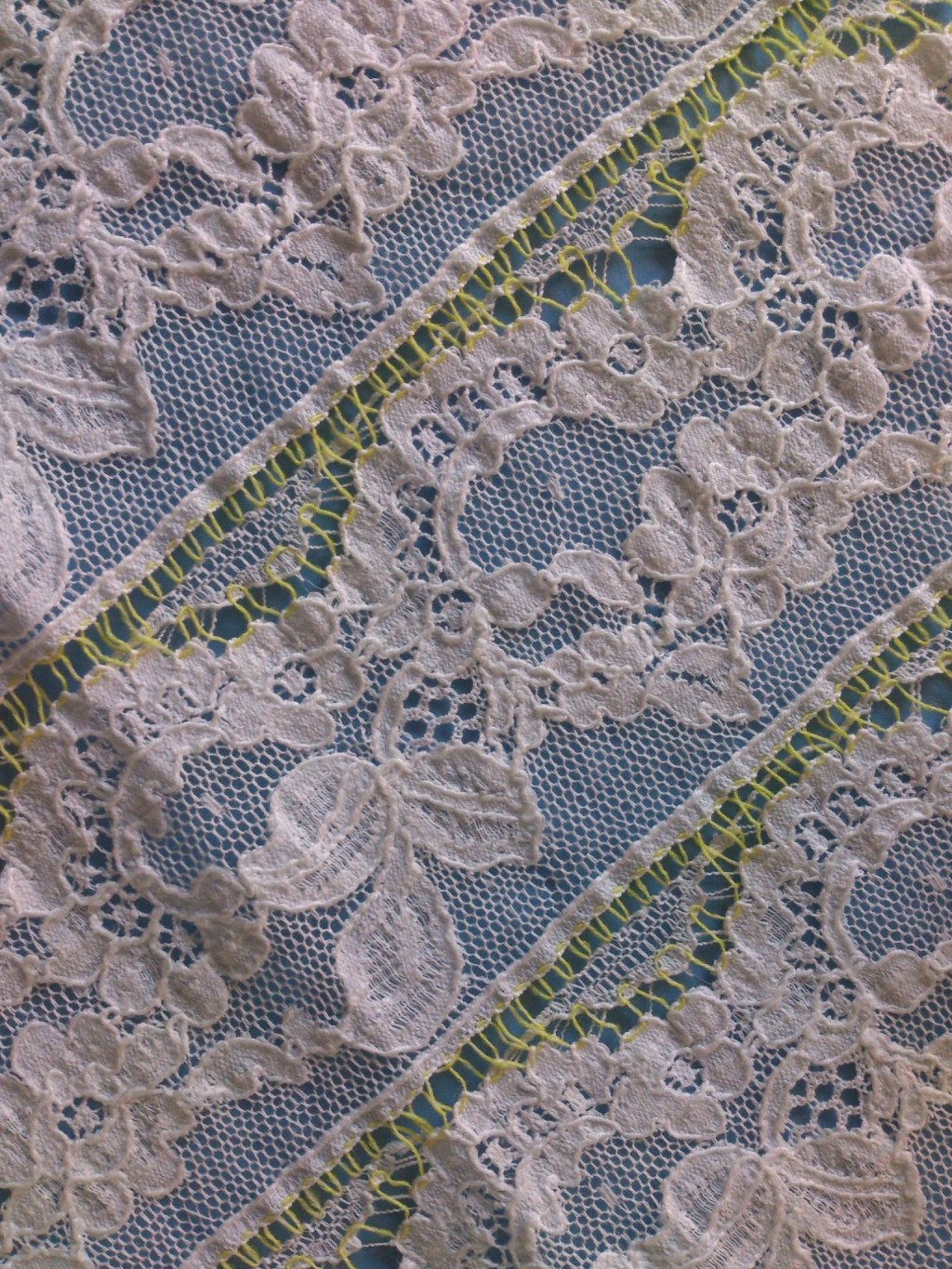 This traditional lace shouts quality and is extremely desirable, not just for it's soft cotton properties, that make it so perfect to wear next to your skin, but the unique designs are highly sought after by famous couture design houses like Alexander McQueen and Oscar De La Renta.
Sarah Burton of Alexander McQueen, used this Nottingham lace in the dresses for the Duchess of Cambridge's wedding…
Queen Victoria started the tradition of using British made products for her own wedding, to promote 'The Best of British' around the world.
"The underskirt was made of silk tulle, trimmed with daisies made from Cluny lace, originally used on bedlinen in the 16th century" Liz Jones, on Kate's dress, national press.
Here are a few more of the wedding garter designs we've made with this beautiful cotton lace…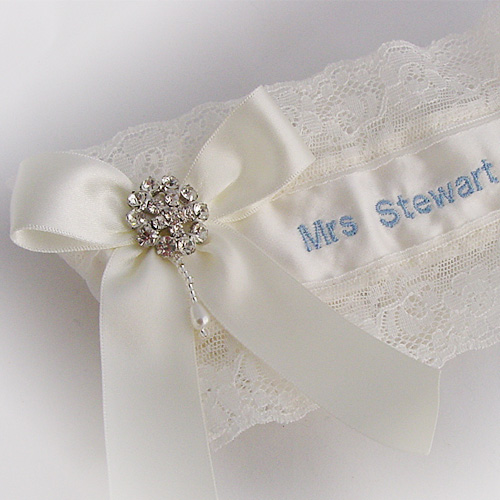 Custom colours…This soft cotton lace is available in white, ivory, cream and black. The silk fabric is available in a fair range of colours too, then for the embroidered text, you can choose any colour you wish 🙂
Note: Staying with just two colours, or toning shades will produce a more elegant design…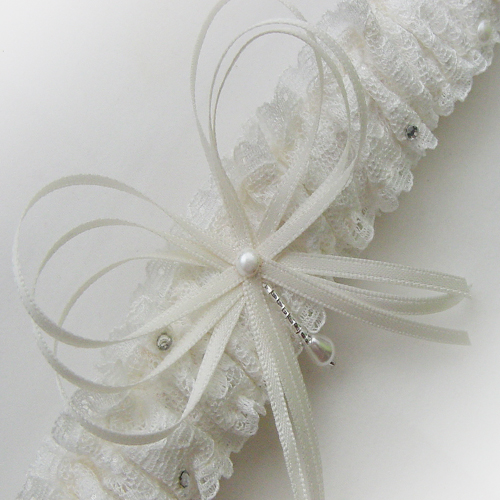 This delicate little wedding garter is cotton lace over satin, sprinkled with crystals and pearls…
This wedding garter set is pure silk satin edged with cotton lace and embellished with handmade flowers… it looks beautiful in all ivory too!
Beautiful bridal garters, unique designs to choose from or work with me to create something extra special…Elegant cotton Nottingham lace wedding garters, lovingly stitched and beautifully packaged. The perfect keepsake for a magical day!
A huge thank you to Cluny Lace for the use of their gorgeous photographs 🙂