Making a vintage wedding garter set
There has been so much speculation in the leadup to the Royal wedding, everyone eager to see how the happy couple choose to celebrate their magical day… No pressure then!
I started wondering what Meghan would look for in a wedding garter?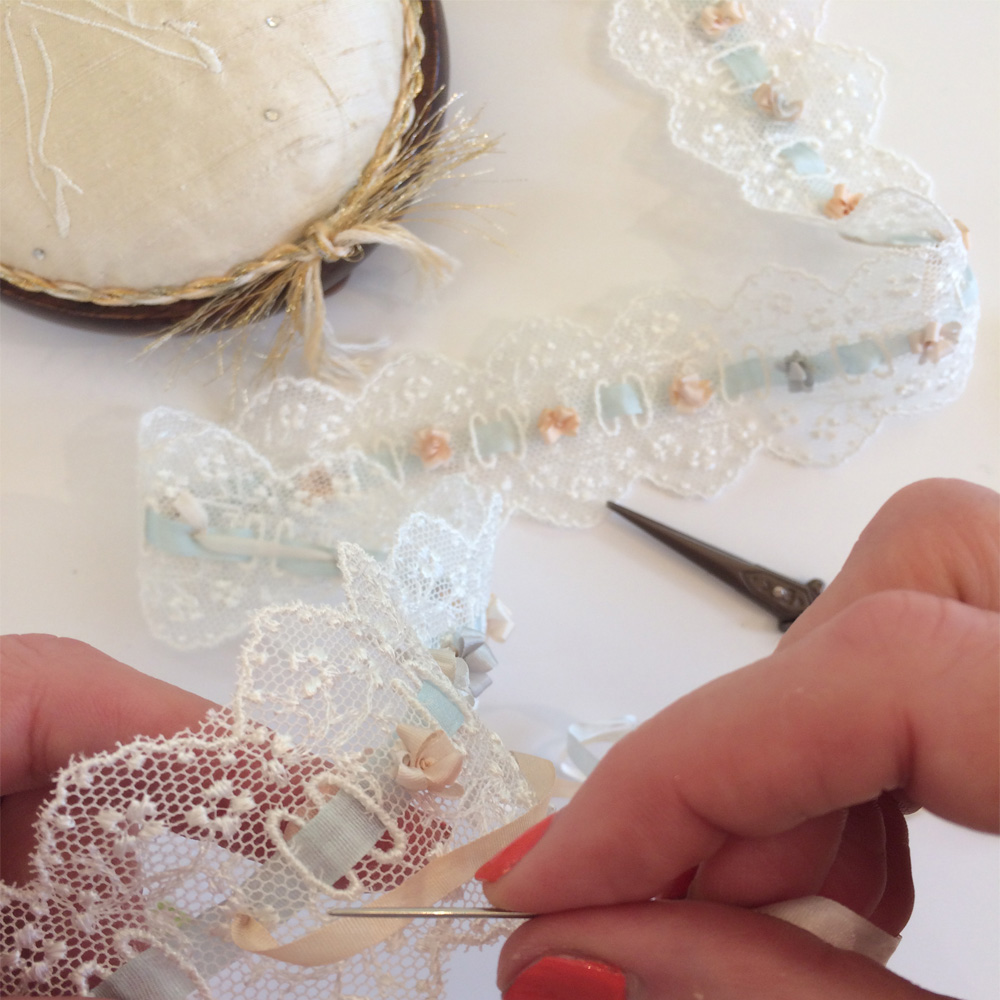 I  recently commissioned this beautiful cotton embroidered tulle from a wonderful old factory in Nottingham, a previous Royal Wedding supplier.
They had such interesting stories to tell about when they made lace for Princess Dianas wedding and Sarah, Duchess of York. In the back of my mind, I remember the Duchess of York asked for bees on hers 🙂
I thought Meghan would choose things that had a connection to Princess Diana, as our lace did… She'd feel it was important to Harry, to have connections to his mother. Making those special connections when you're planning your wedding are so important aren't they? I wore my mothers wedding ring.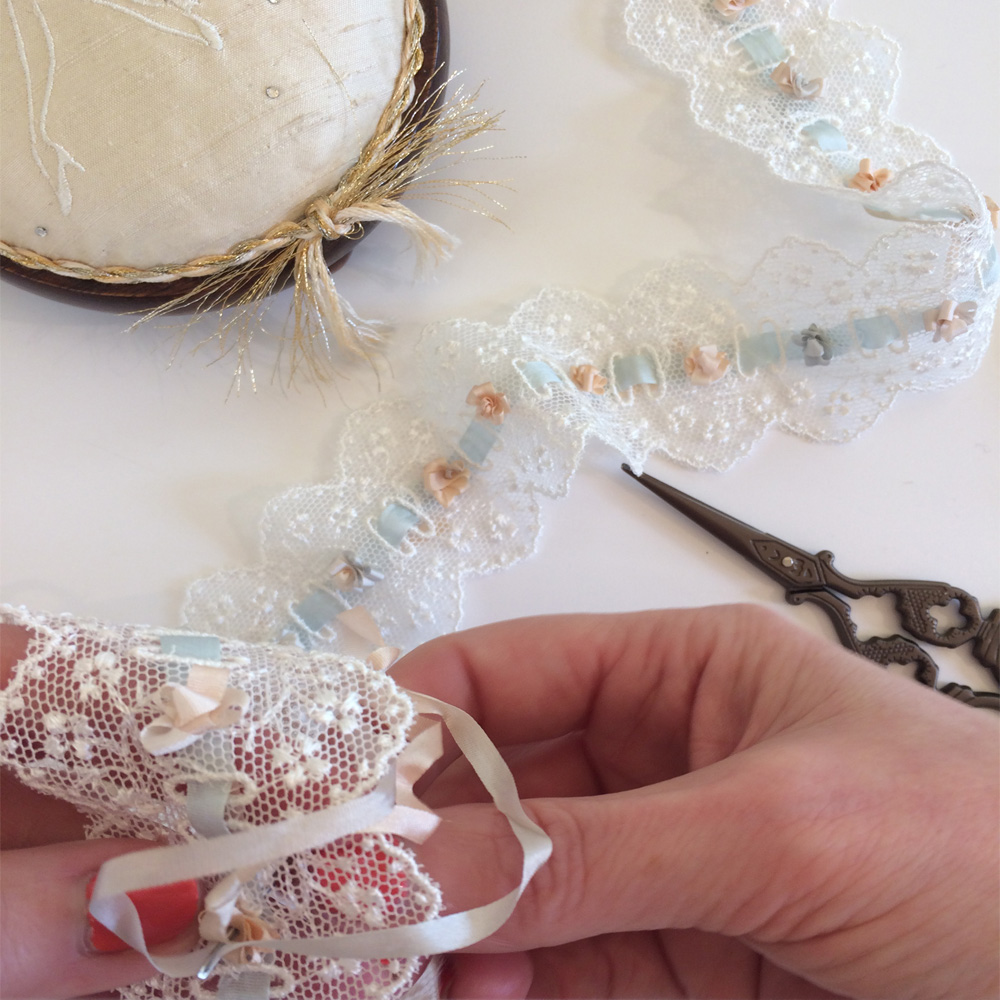 See how I've threaded the lace with duck-egg blue, silk ribbons, I had to make sure the 'something blue' was covered 🙂 Here you can see me stitching with a gorgeous hand-dyed silk ribbon, varying from blue grey to a warm peach. The colours went beautifully and the tiny embroidered silk ribbon roses had a lovely vintage feel…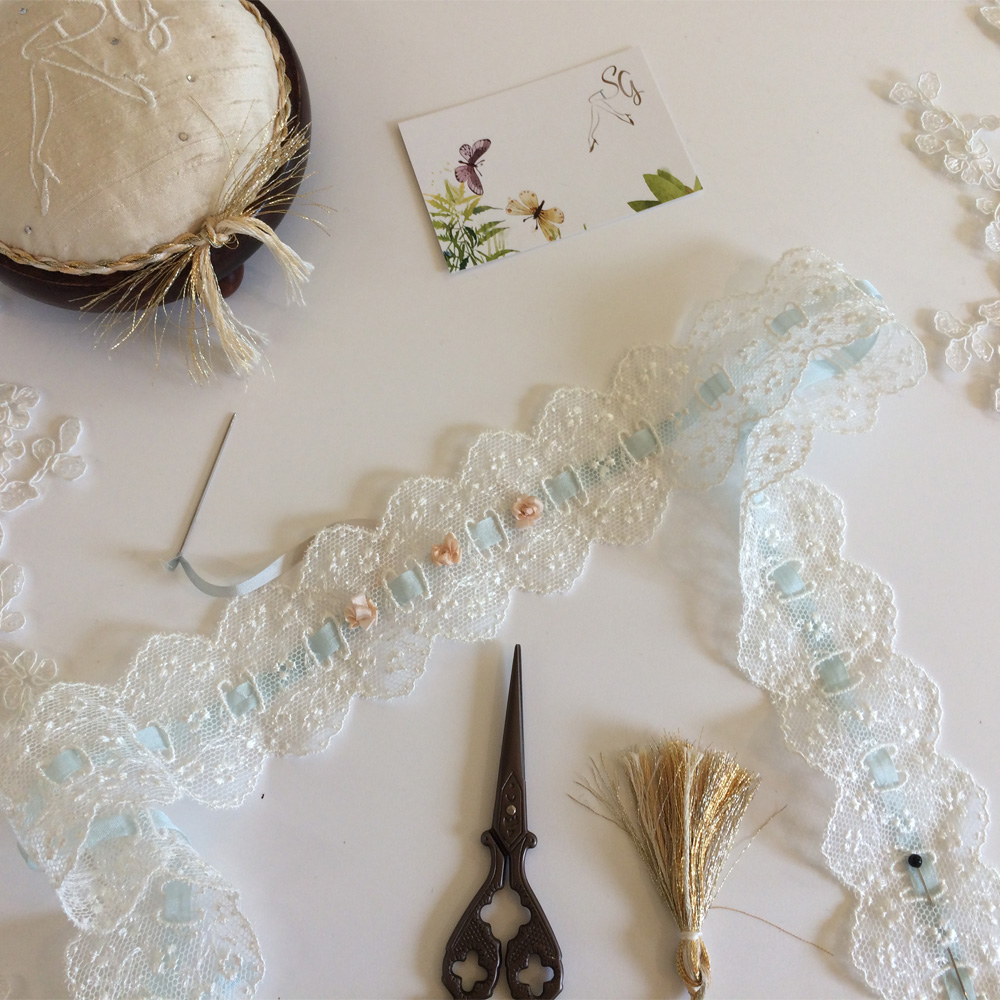 This was when I'd just embroidered a few… Do you think it's pretty?
Personalised inside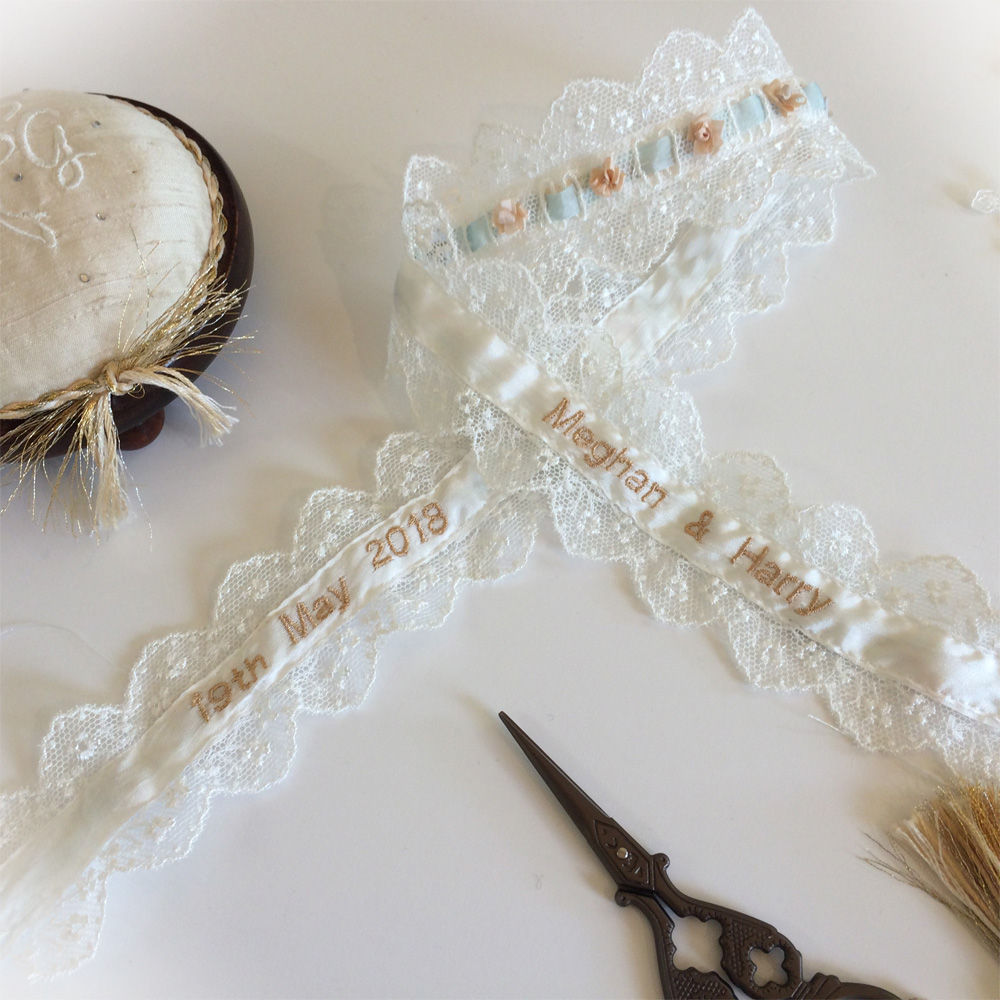 I had to add their names and wedding date inside in gold thread, it's the perfect keepsake isn't it? Handy too if someone is likely to forget the wedding anniversary 😉
I started with placing the silk roses at every repeat in the lace, it looked really pretty when the garter was flat, but when it was gathered it looked a little too busy, so I settled for having them on alternate repeats.
I loved the 3d effect of gathering the slotted lace too although some of that will be lost when it's stretched a little.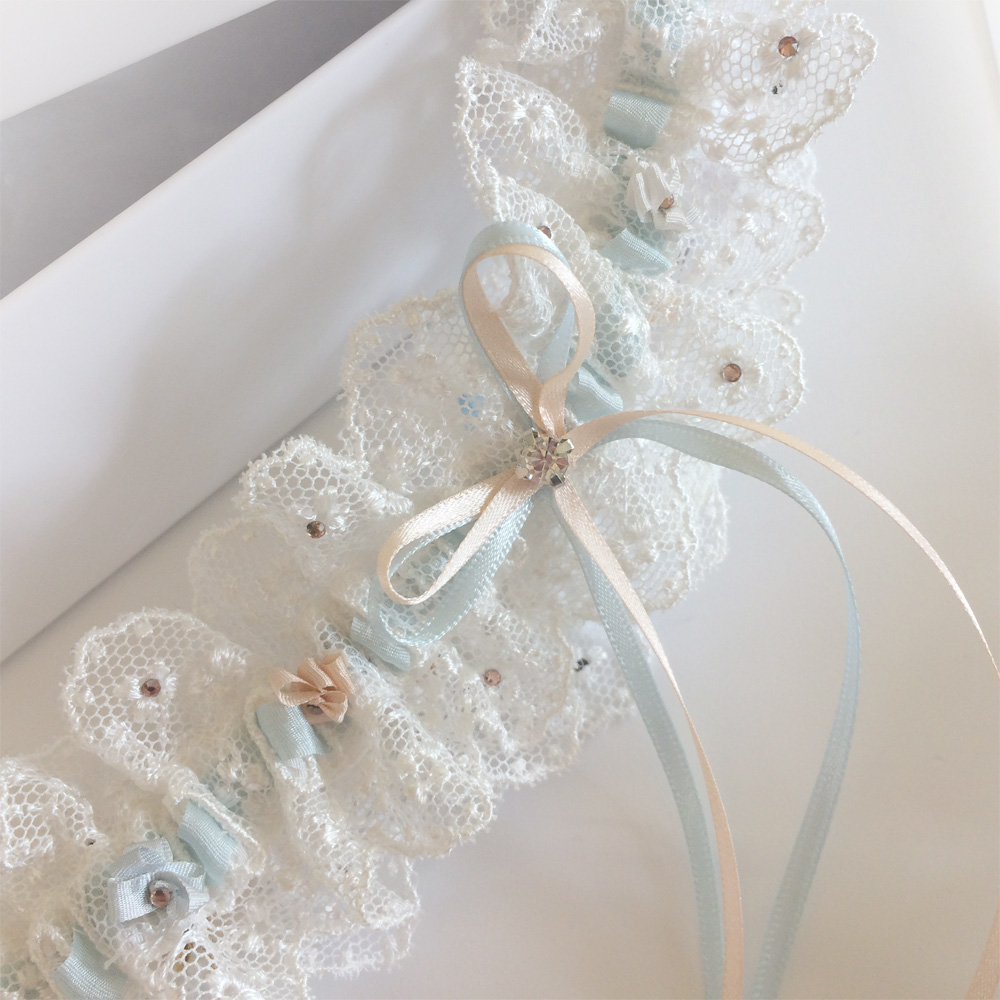 Now, I could have added silk ribbons for the bows, but I'd recently been on a bridal shoot in the beautiful Swiss Garden and the bride just loved these fine bows, so I added them instead with a simple glass crystal.
Then each ribbon rose had a rose gold crystal centre and alternate flowers on the scalloped lace were dotted with tiny crystals too.
And being American, would Meghan take part in the garter toss? I don't mean anything that those on high would considered bawdy, but just a bit of fun like tossing the bouquet?
A little garter to toss
Just in case, I made a perfect half size garter to match, with the same lovely details and just two little roses.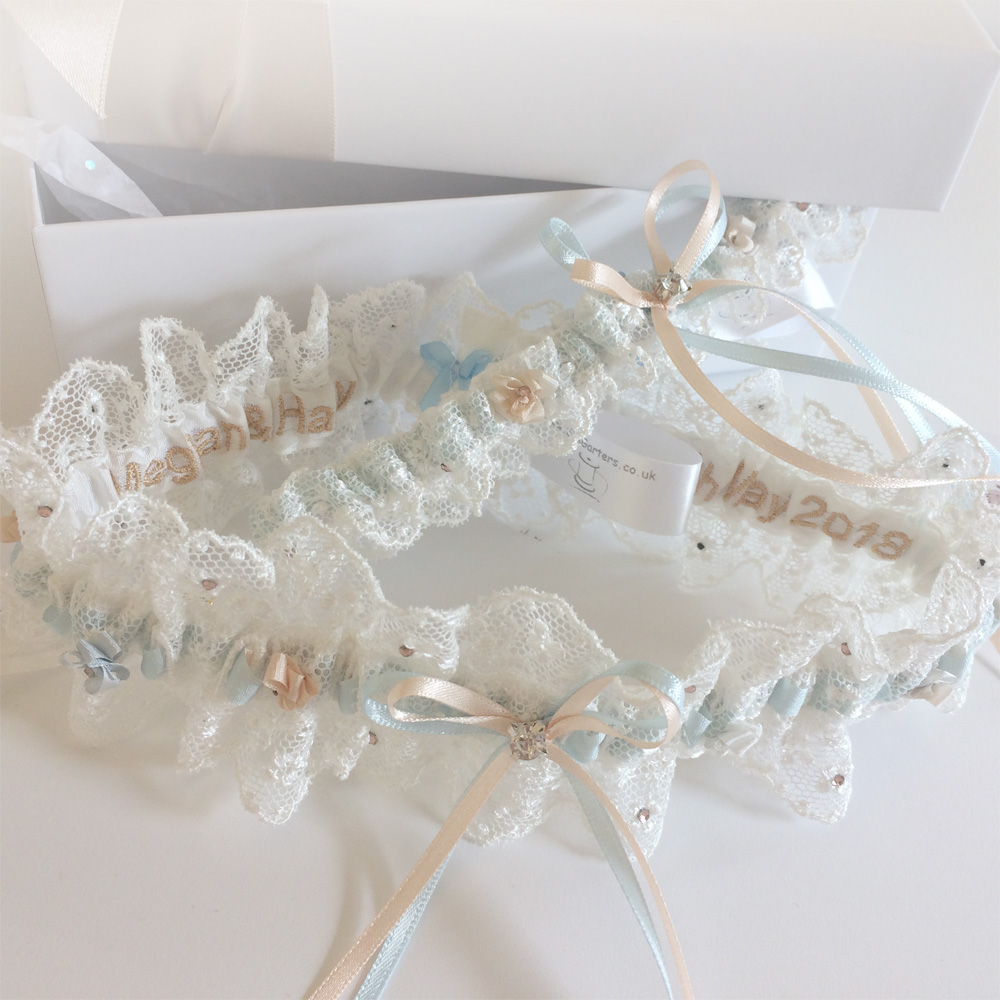 They were an absolute joy to make, it wasn't like working at all!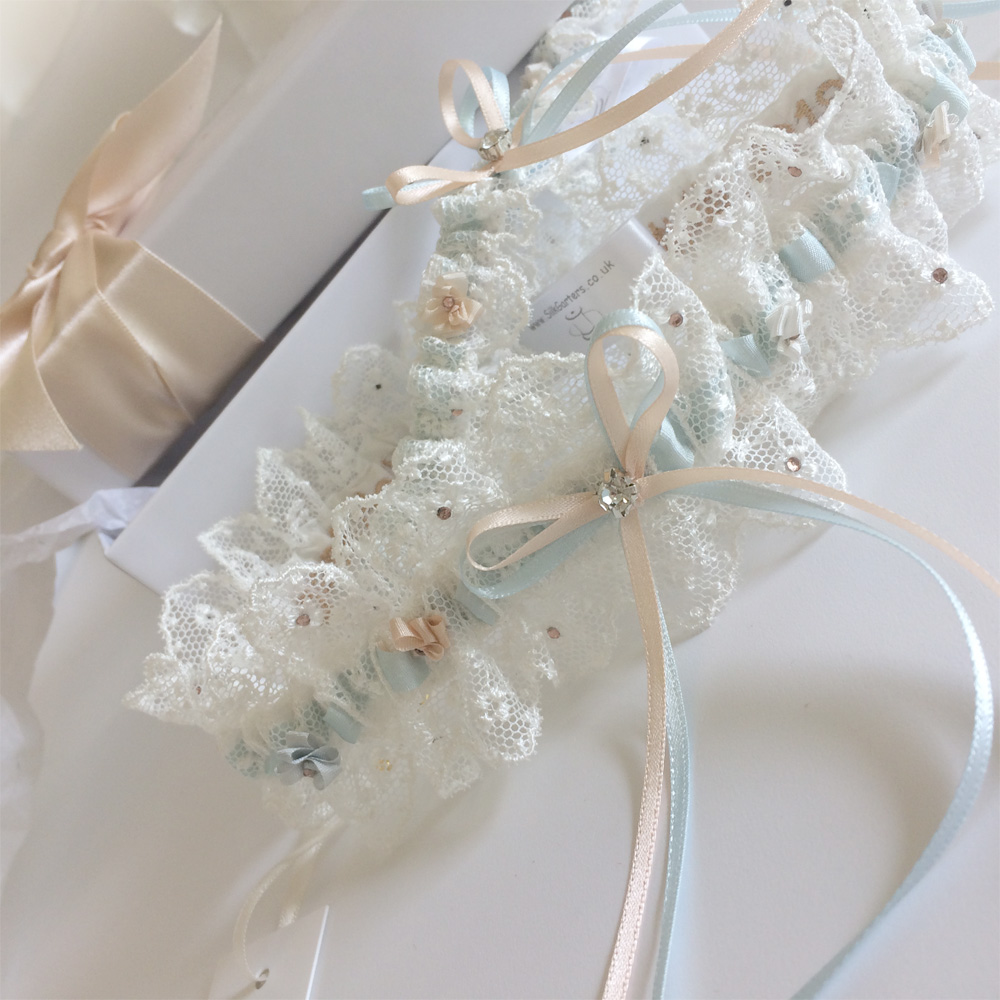 Then they were packed into the deep luxury 'Silk Garters' box, with it's satin bow and tissue…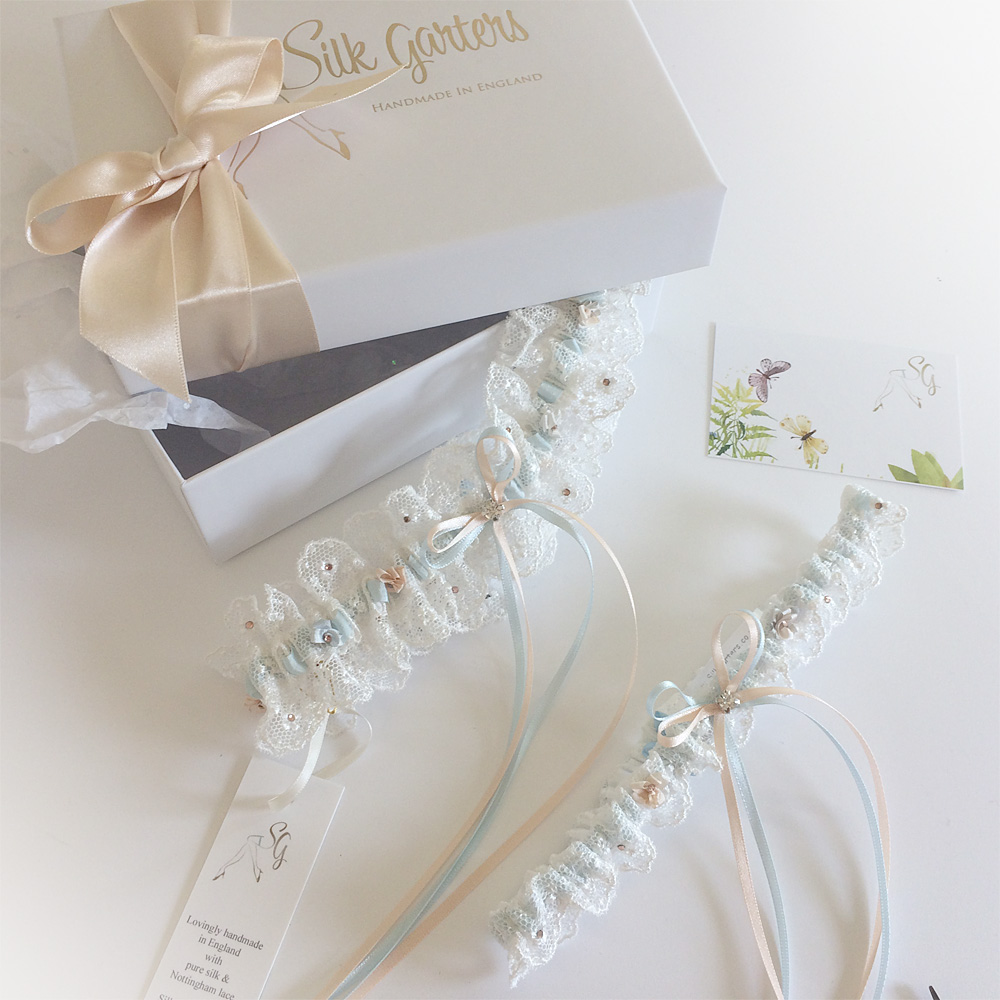 And posted to Kensington Palace…
Would you like this gorgeous vintage wedding garter set for your wedding? It's now available on the website, click on the picture below to be taken to the shop. I'd love to make a set for you!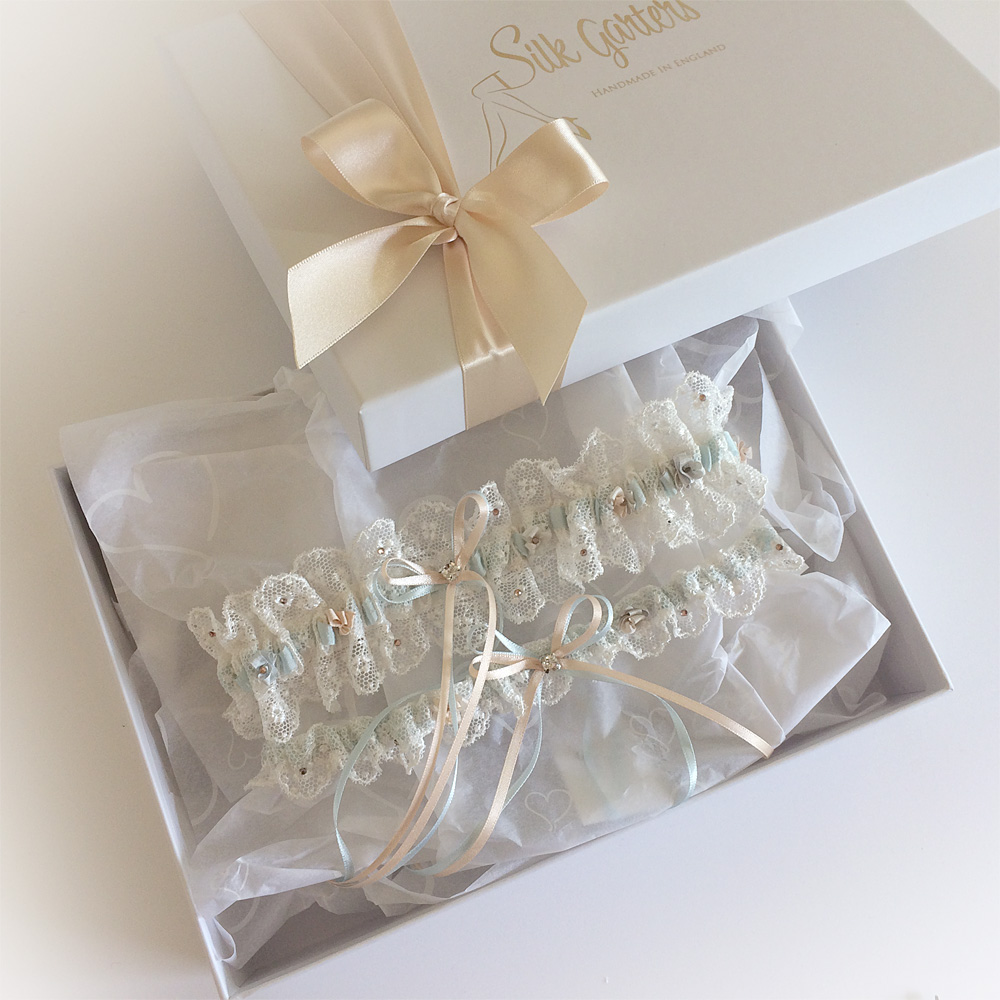 Would you like to comission a special wedding garter set for someone you love? Please contact me at Silk Garters 077 8080 1102
Catherine x