Kirsty was married on the 17th May in Las Vegas….
We just fancied Vegas as it was something that different and we don't really do traditional! We are Dalmatian mad and my partner will be wearing Dalmatian cufflinks so we thought a Dalmatian print garter would be great for photos.
The black and white Dalmatian print does look really striking!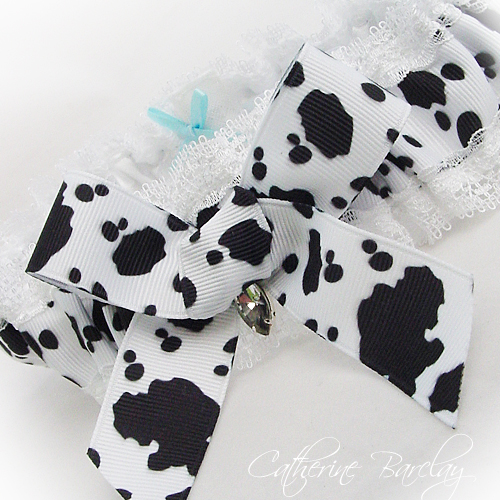 Kirsty contacted me by email and ask if we could make her a bespoke garter, she knew exactly what she was looking for…
It was custom made to order with a dalmatian print ribbon, lined with white satin, edged with our pretty Nottingham lace and completed with a Dalmatian bow and glass crystal. A tiny blue bow was stitched inside for the something blue…
Hi Catherine, Just a quick email to confirm that I have received the garter and I love it ! It is just what I was looking for. I will send you some photos after the wedding !! I am a member of a group on Facebook which is for dalmatian fans! I am sure that once I share my photos on there you will get more orders for this design!! :-)Many thanksKirsty x
Thanks Kirsty for sharing the photo of your fabulous day with us!