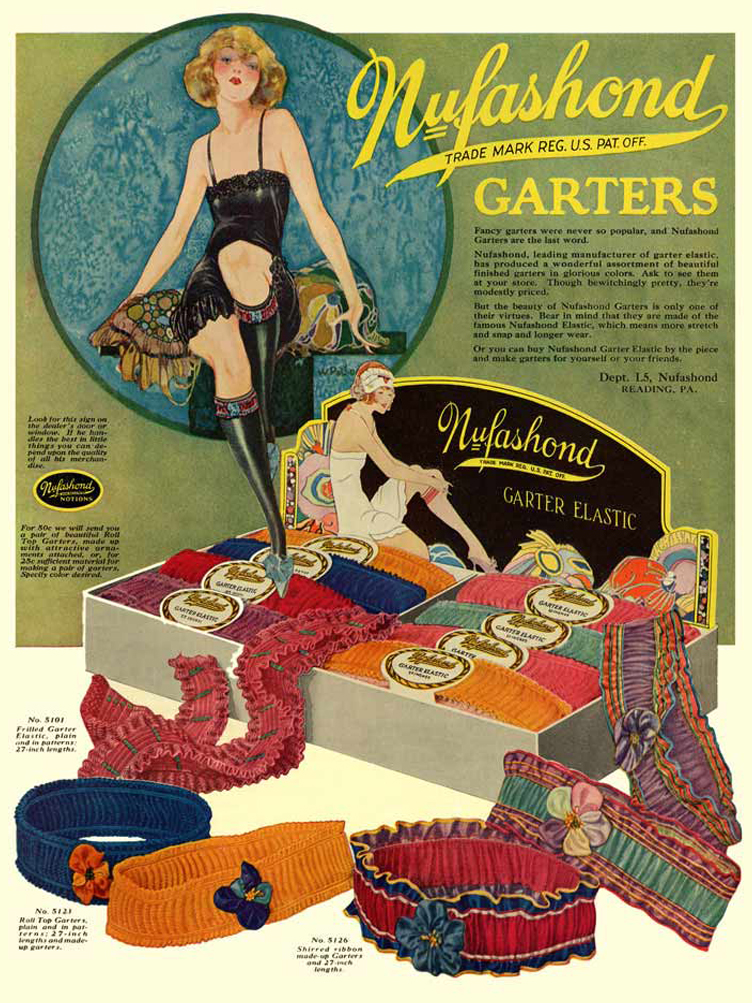 I just love this advertisement… The beautiful blond girl cheekily posing in her silky slip dress, showing off her colourful below the knee garters. Definately garters intended to be glimpsed as she's dancing the Charleston!
The garters she's wearing are No. 5126 displayed at the front of the poster. A striped dark red ribbon stitched with a thick white thread, edged with a french blue and gold. Inside they are red (elastic casing), mauve and gold. They're decorated with a matching French blue and gold flower.  I think this is channeled 1″ elastic inside a ribbon casing, that wouldn't be suitable for rolling down.
They had some fabulous ribbon in the 1920's much softer than the standard polyester that you find in department stores now and amazing combinations of ombre and stripes.
The Main Caption reads…
"Fancy garters were never so popular, and Newfashond garters are the last word.

Nufashoned leading manufacturer of garter elastic has produced a wonderful assortment of beautiful finished garters in glorious colours. Ask to see them at your store. Though bewitchingly pretty, they're modestly priced.

But the beauty of Nufashond garters is only one of their virtues. Bear in mind that they are made of the famous Nufashond Elastic, which means more stretch and snap and longer wear.

Or you can buy Nufashond Garter Elastic by the piece and make garters for yourself or your friends."
They advertised that they would send you a beautiful pair of roll top garters for 50c, I wonder if this is No.5123? If it is they were great value! They look like they just have a double row of chain stitched, sheering elastic stitched at the back, so they could be rolled down without being too bulky…
They also sold a 27″ length of the elastic material to make your own pair of garters for 25c, and customise them by adding your own 'ornaments'. This is all the lovely colours shown packaged up in the counter top box.
No.5101 the pink elastic spilling from the box 'frilled garter elastic, plain and pattered'. It has a frilly top and bottom edge and appears to have 5 rows of sheering elastic with green thread woven in at regular intervals…
Note, Image is Copyright, being used with permission. Paperwork held.