Choosing your garter size
---
All the help you need choosing your garter size
The Quick Answer...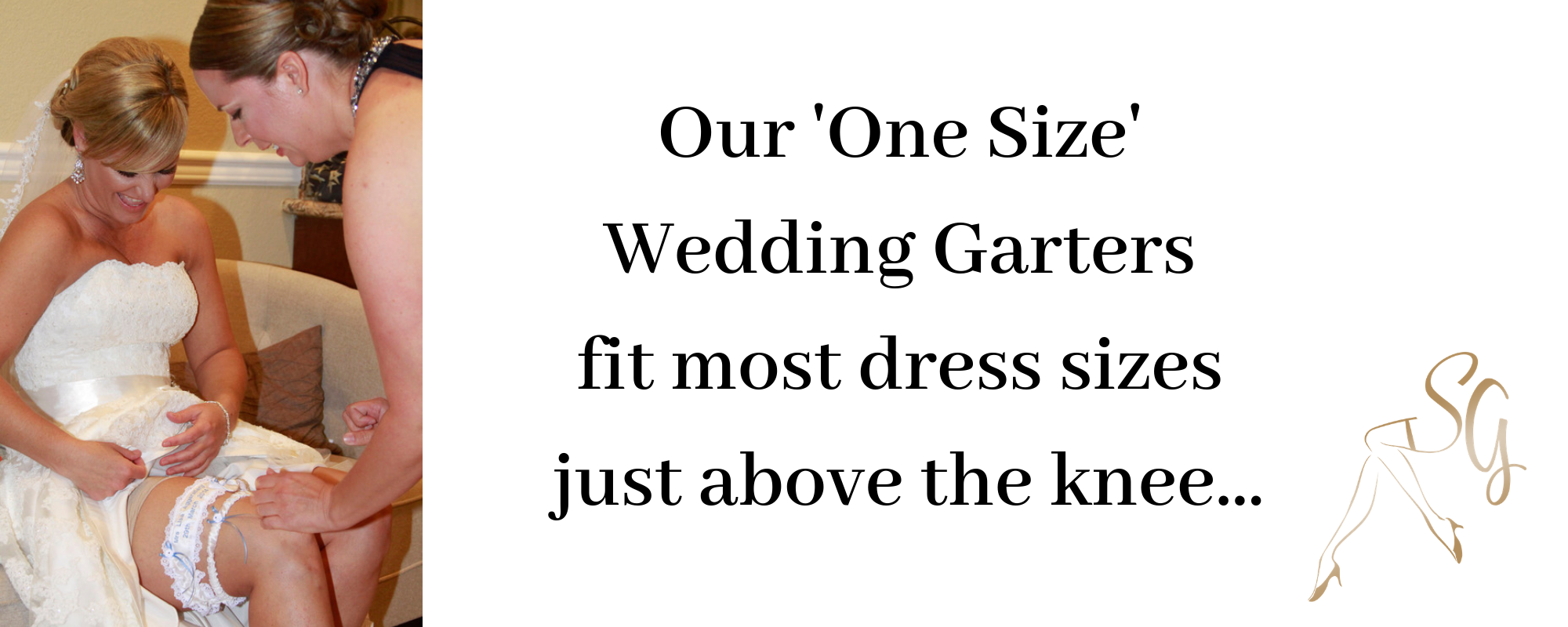 The 'one size' wedding garters will fit most brides just above the knee... 4" above the knee (or the width of your hand) is a good place to wear your garter. Your dress is usually fuller at this point to allow for movement and if you decide to show it in a photo, you're not displaying more than you intend to!
Choosing a garter as a gift?
If you're buying a personalised garter for a friend and want to keep the surprise, do what one MOB did...she took bust, waist, hips, skirt length and finally the garter measurement, the bride had no idea what her surprise was going to be ;-)
If you're NOT choosing a personalised garter, just make a good guess, don't worry if it's wrong, we'll swap it for the right one!
Measuring...
Measure around your leg where you want to wear the garter, then choose the option that corresponds. If you feel you're between sizes or would like a size not listed, just call me 077 8080 1102 or leave a message when you order.
Garter Sizes
Petite Garters

Any style can be made to order, but there are a few style choices
here
too.

This garter is tiny and will fit a bride with a leg measurement 12"-15" ( 30cm-37.5cm )

Good for if you're really tiny, or want to wear your garter just below the knee.
One Size Garters

This is our most popular size of wedding garter and will fit a bride with a leg measurement of 14"-22" ( 35cm-55cm)

Worn just above the knee by a bride with a 10 - 12 - 14 - 16 - 18 dress size
Or higher up the leg by a bride with a 10 - 12 - 14 dress size
Plus Size Garters

This is our second best selling size of wedding garter and will fit a bride with a leg measurement of 20"-26" ( 50cm-65cm)

Usually worn higher up the leg, by a bride with a 16 - 18 - 20 Dress Size
XL Plus Size Garters

This generously sized wedding garter will comfortably fit a bride with a leg measurement of 25"-34" ( 62.5cm-85cm)