Choosing your garter size
---
All the help you need choosing your garter size
The Quick Answer...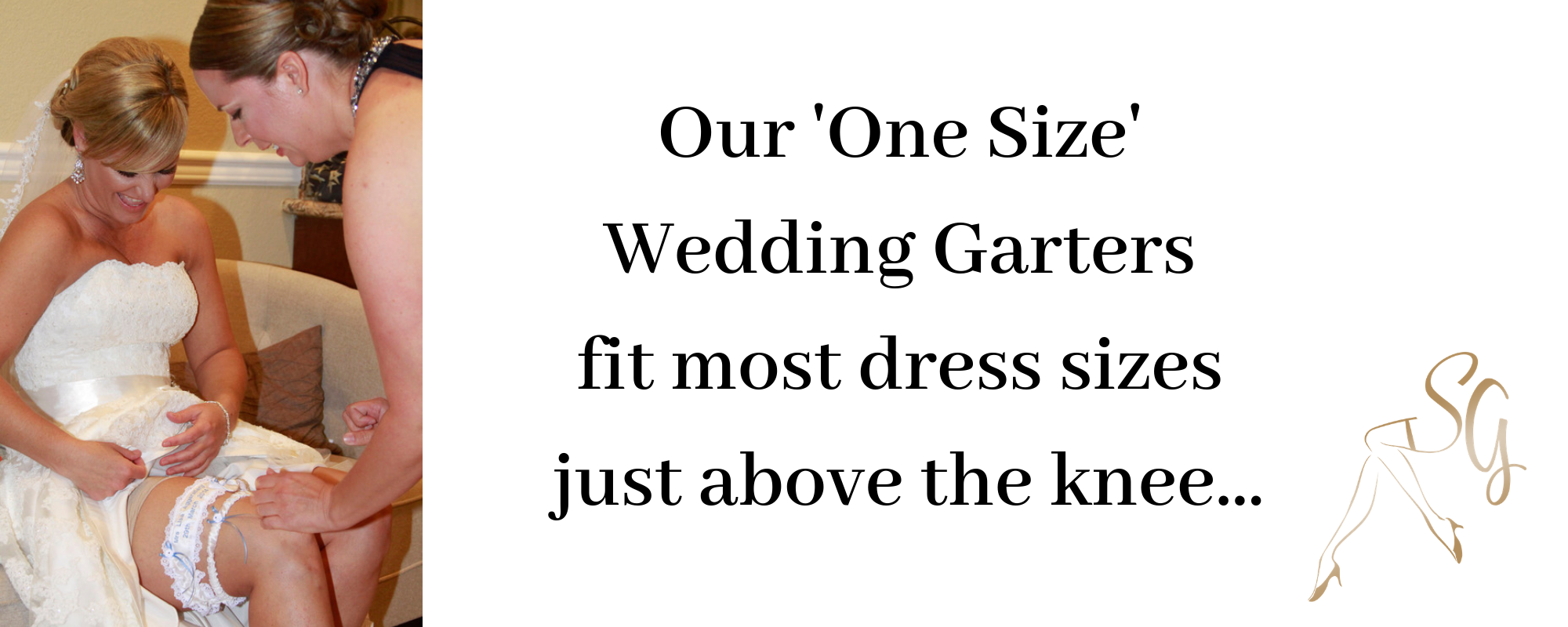 The 'one size' wedding garters will fit most brides just above the knee... 4" above the knee (or the width of your hand) is a good place to wear your garter. Your dress is usually fuller at this point to allow for movement and if you decide to show it in a photo, you're not displaying more than you intend to!
Want to wear your garter higher up your leg?
I'll guide you through making the right choice to suit your wedding dress, starting with garter style and then the size you'll need

First, what style of dress will you be wearing?
Ballgown = You can choose any style of garter, it will be hidden under the layers of your skirt.


Mermaid = If your dress is very fitted to just above the knee, choose a

flat garter

to wear just above your knee or any style in a

petite size garter

, to wear just below the knee.

Slim, beaded boho = This is a very drapey style and suits a

flat wedding garter

, just above or below the knee.


Knee length 50s = Any style, but make sure it doesn't have long ribbons that show beneath your hem.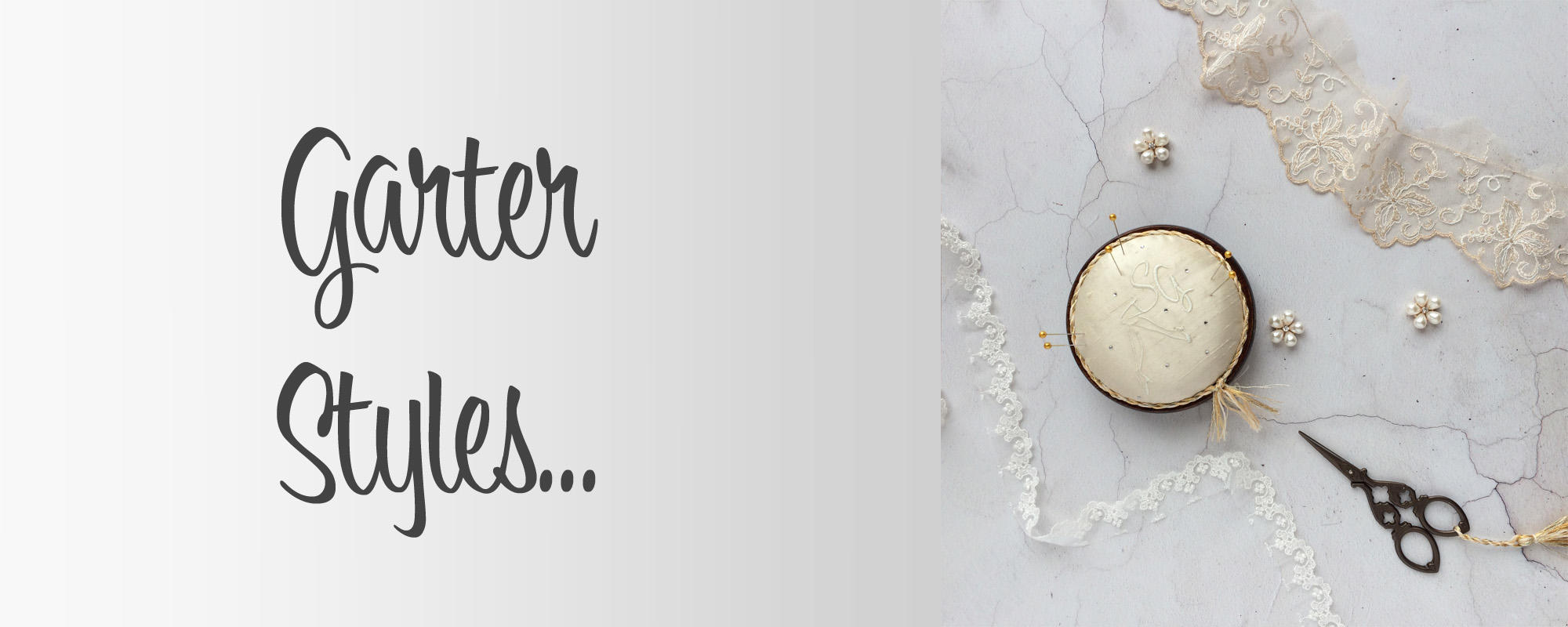 Styles of Garter...
At Silk Garters I have three different ways of making your garter. Your garter can be:
Elasticated all the way around with lots of gathers

Gathers just at the back with a flat panel at the front

A garter designed to sit fairly flat on the leg.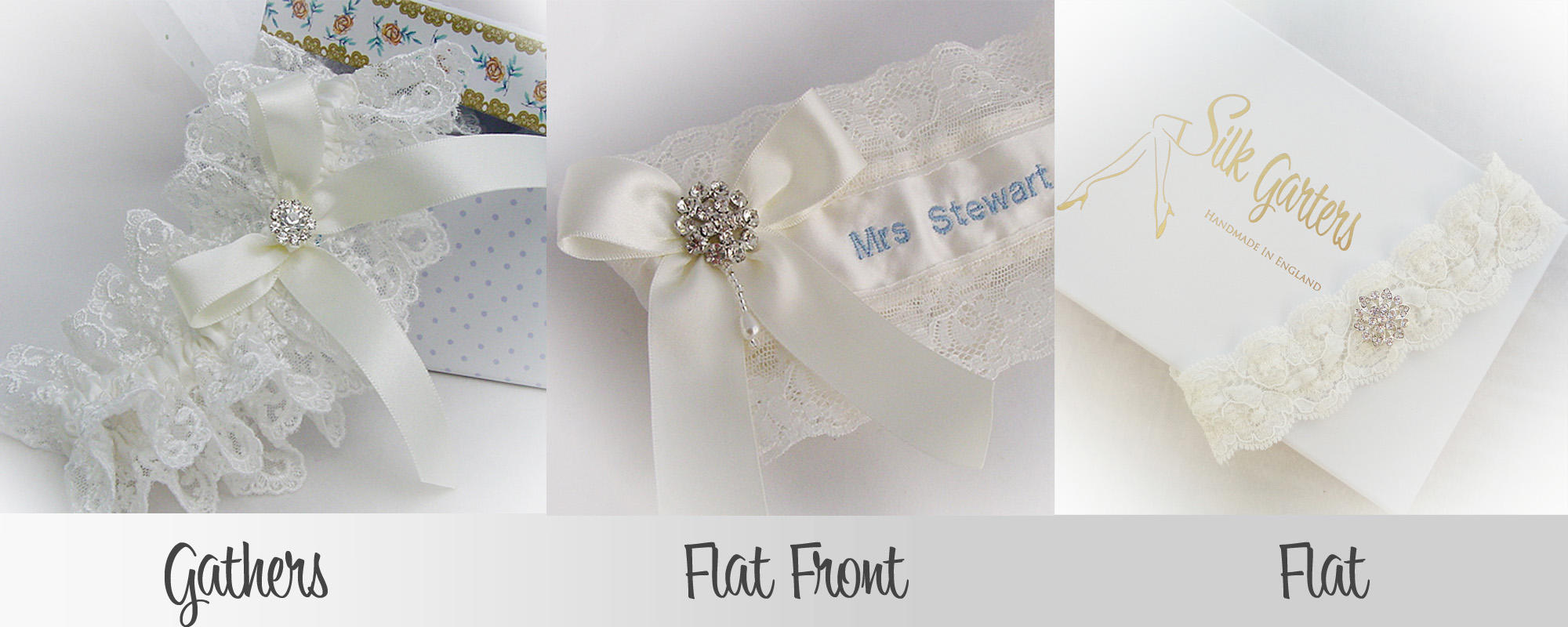 Garters elasticated all the way around with gathers...
This is our most popular style of garter with elastic encased with silk/satin and lace for comfort, pictured left is the
ivory silk ruffle
wedding garter, loved by the 'Love My Dress' wedding blog. This is the traditional way of making wedding garters
These garters can stretch to almost twice their size but are designed to be ruffled.

Garters with a flat front
This is how most of our personalised garters are made...
Although the garters that are gathered all the way around, can also have some of the gathers moved to the back, to give a flat appearance at the front. Designing it like this makes it more comfortable to wear than a flat panel with no stretch.

These garters usually stretch to a third more than their size and are designed to have ruffles at the back.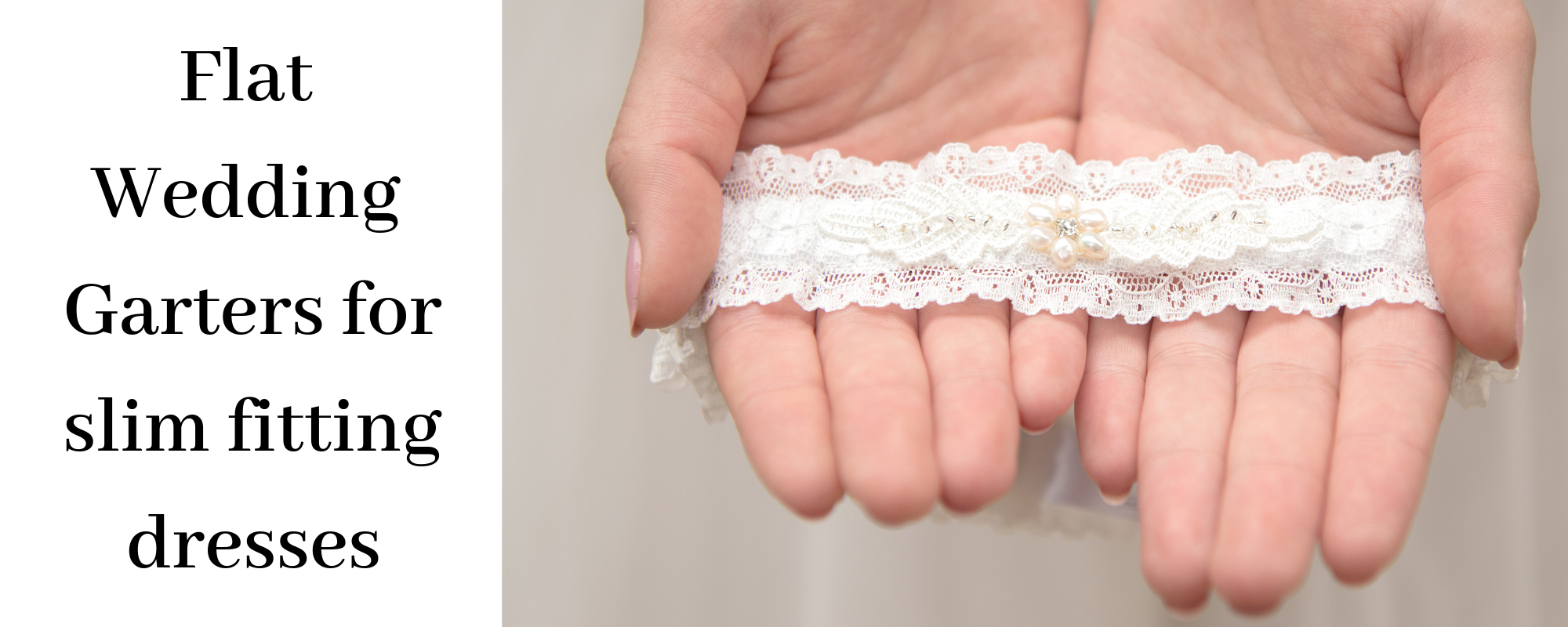 Flat Garters
These garters are designed particularly for the bride wearing a slim fitting dress. The fabric is just 2" (5cm) larger than your leg measurement, then elasticated for comfort. Depending on your leg measurement, it may have a couple of gathers right at the back.
Garter Sizes
Petite Garters

Any style can be made to order, but there are a few style choices
here
too.

This garter is tiny and will fit a bride with a leg measurement 12"-15" ( 30cm-37.5cm )

Good for if you're really tiny, or want to wear your garter just below the knee.
One Size Garters

This is our most popular size of wedding garter and will fit a bride with a leg measurement of 14"-22" ( 35cm-55cm)

Worn just above the knee by a bride with a 10 - 12 - 14 - 16 - 18 dress size
Or higher up the leg by a bride with a 10 - 12 - 14 dress size
Plus Size Garters

This is our second best selling size of wedding garter and will fit a bride with a leg measurement of 20"-26" ( 50cm-65cm)

Usually worn higher up the leg, by a bride with a 16 - 18 - 20 Dress Size
XL Plus Size Garters

This generously sized wedding garter will comfortably fit a bride with a leg measurement of 25"-34" ( 62.5cm-85cm)