Many a glorious summers day I've spent at Shuttleworth and the Swiss Garden! When my boys were little, we'd have picnics on the lawn of the Swiss Garden, with the resident peacocks coming close to investigate our food, my boys finding it all hilarious! In the summer months, old biplanes and spitfires fly over our house, on their way to the Shuttleworth monthly show at the Old Warden Bedfordshire… So I am thrilled to share this gorgeous styled secret garden bridal shoot at The Swiss Garden in Bedfordshire.
Images were captured by Perfect Timing Photography with the collaboration of a fabulous creative team.
The Swiss Cottage is perfect for an intimate wedding of 20 seated inside, with room for more standing on the lawns, watching through the picture windows as you take your vows.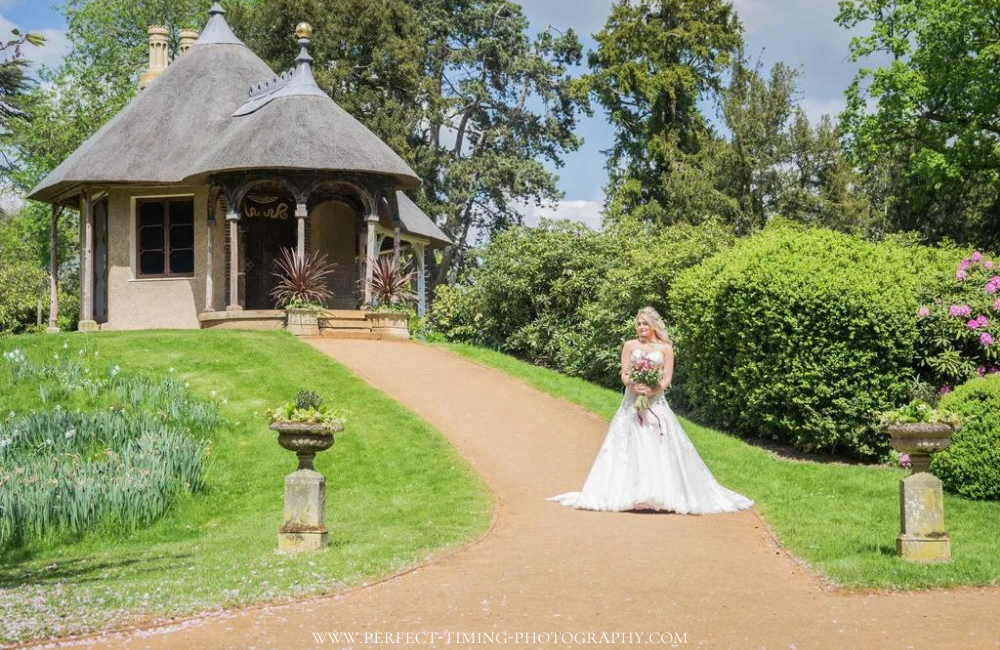 History
Originally created in the early 1800's, by the 3rd Baron of Old Warden Lord Ongley, to resemble the foothills of the Swiss Alps. The Swiss Garden at Shuttleworth a little-known wedding venue located just outside Biggleswade in Bedfordshire.
Lord Ongley's, family bought the estate in the 1690s but by the 1870s, the Shuttleworth family owned the estate and embellished the garden with Victorian touches – including elaborate flowerbeds and a rockery. They also began planting rare and unusual species of trees and shrubs.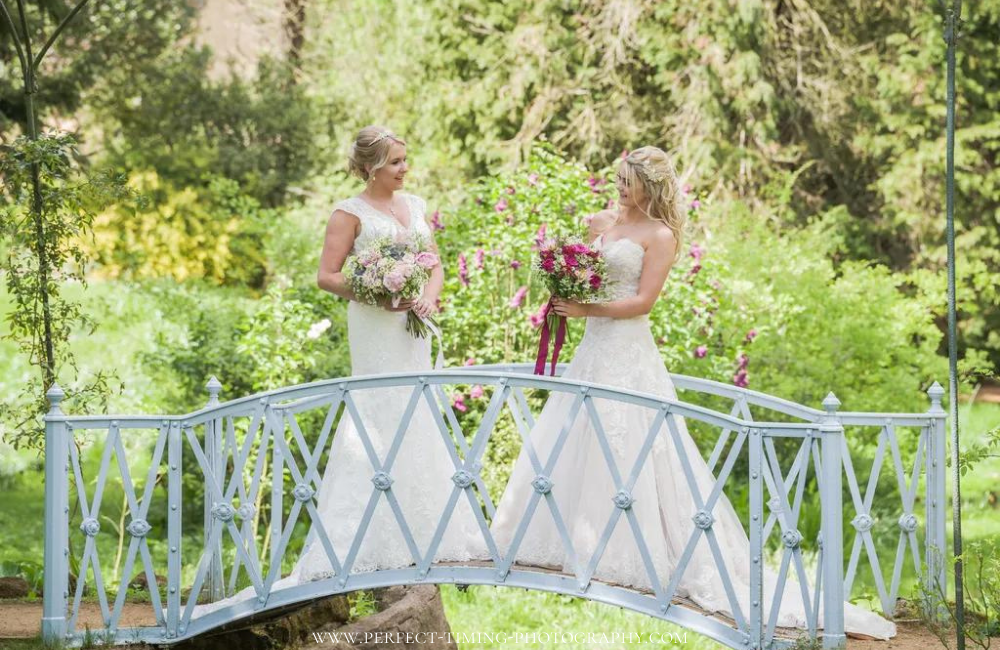 The Swiss Garden
Colin and Angela of Perfect Timing Photography, arranged this styled shoot at The Swiss Garden with two beautiful brides!
Every corner you turn is a delight! Wandering down elegant pathways, leading you to beautiful features, each one a gorgeous photo opportunity. You see Perfect Timing capturing these beautiful shots of the Swiss Cottage, Grotto, Fernery and Terrace listed buildings and bridges… You could be transported back in time in this tranquil garden.
The picturesque Swiss Cottage is located in the centre of the garden and has breath-taking views, for those looking for a magical yet intimate venue.
Alternatively, the Grotto with its impressive dome, & Fernery within the Swiss Garden is another location for your vows, that doesn't disappoint.
The original ironwork structure, with its beautifully crafted cylinder glass, was embellished by Joseph Shuttleworth in 1876 to include striking Pulhamite stone-lined tunnels and planting pockets filled with ferns.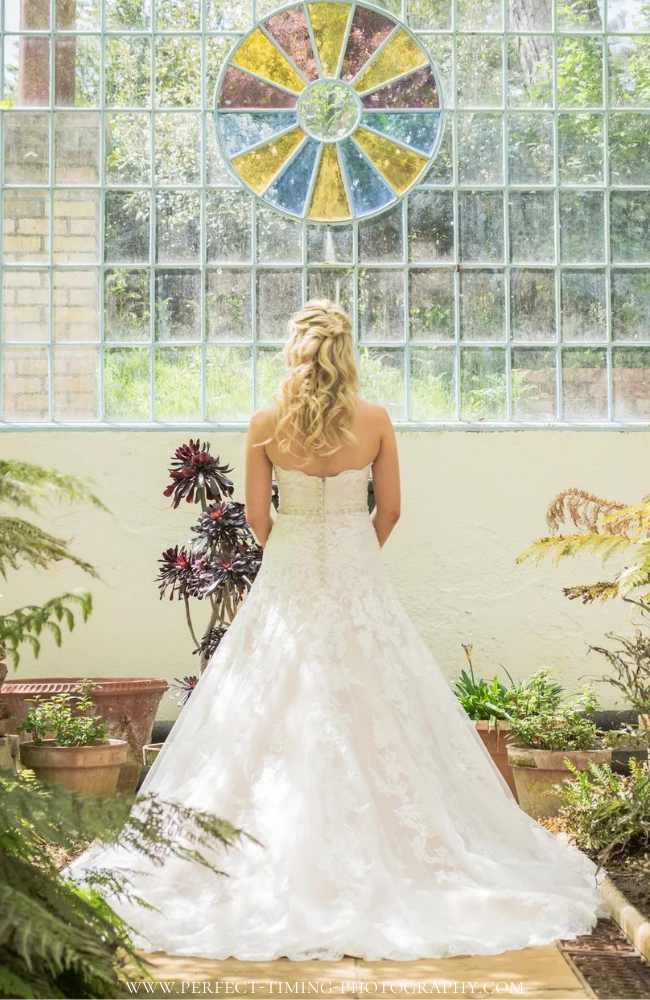 Recent restoration work includes new planting schemes, designed to delight, and the grotto offers a most unusual setting for private ceremonies.
Wedding ceremonies are held in the Grotto & Fernery from May to late September, and this building is licensed for wedding parties of 16 or less, including the bride and groom
The beautiful Brides wear stunning gowns by Venus Bridal from Bride and Joy with hair accessories by Linzi Jay and garters by Silk Garters.
Gorgeous Wedding Garters
I've loved having my garters photographed by perfect timing photography! This is the Giselle bridal garter Softest Nottingham lace, lined with pure silk, I've embellished with a hand-stitched, silk chiffon flower, surrounded by guipure lace leaves. Made to order in any size and with a choice of chiffon colours, just ask.
Below is the gorgeous Millie wedding garter Unique French lace, in champagne and lilac, it's edge I've stitched with tiny deed beads, dripping with toning crystals. I have enough lace for just two more garters!
Gorgeous florals are by Floral Art Design with Lily holding a striking dark pink handtied bouquet of blueberry roses, achillia, tannecetum, dahlia, monarda, wax flower and thlaspi and Rachel with a lovely cottage flower handtied style with peony, hydrangea, tannecetum, astilbe, thlaspi, spray roses and lilac.
Special touches such as the giant balloons were created by Creative Decorations.
For Lily the makeup  by Jasmine Armstrong was inspired by the deeper tones of pink in her flower bouquet, and the champagne tones in her dress giving inspiration to add the extra sparkle to her eyes .
Darker pinks were incorporated into the crease with a champagne shimmer on the inner corner then popping extra glitter for added glam. The look was finished with a dewy foundation, a subtle contour and a glossy lip.
For Rachel the Inspiration for this makeup came from her beautiful delicate dress and the colour selection from her bouquet of flowers.
Light pink pastel shadows on the inner crease of the eye, then using a brighter shimmer shade on the inner corner to make the eye pop, finishing with a dewy skin and fluffy eyebrows for a timeless, elegant look.  Hair styling was by Emma Kim Hairdressing.
Behind the scenes… This is me👋 bending to straighten Rachel's dress, while a peacock wonders by… They do enjoy seeing what's going on! Perfect if you're choosing a peacock wedding theme to 😂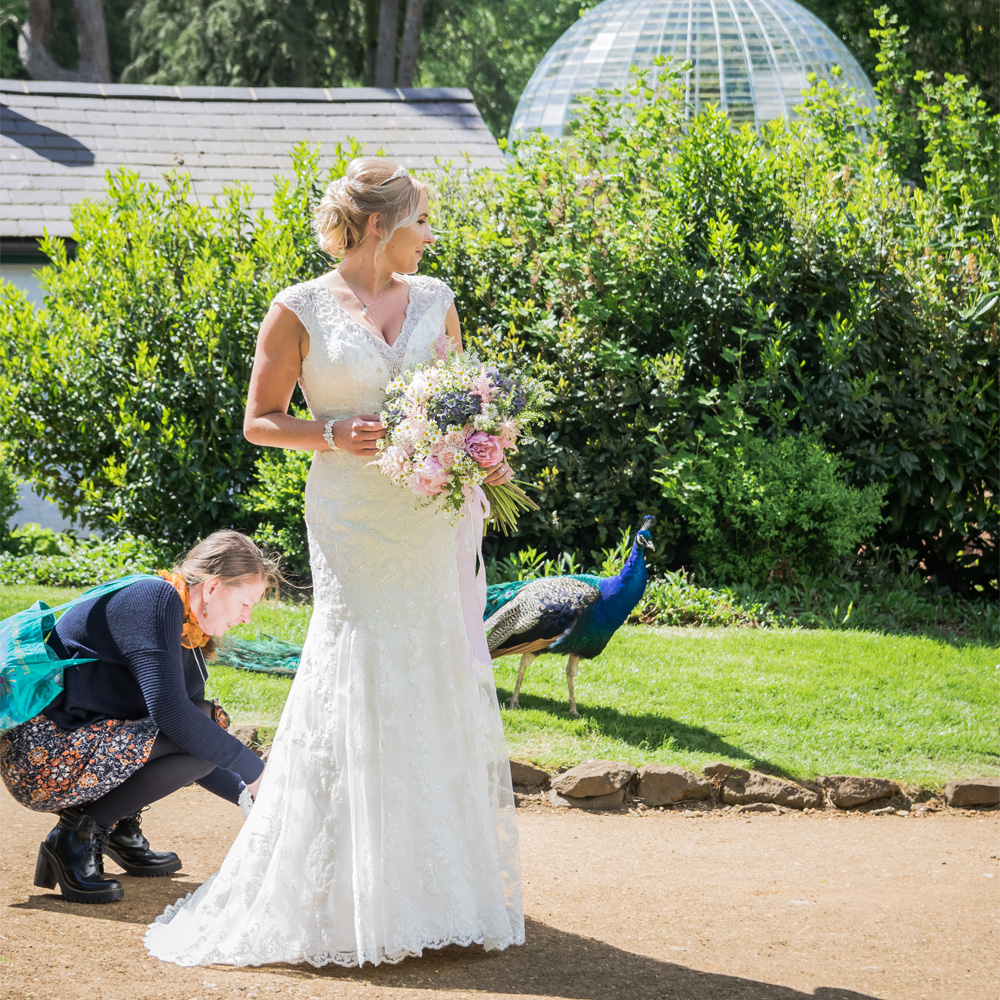 This was my first styled shoot, and was featured on the 'Plans and Presents' wedding blog, owned by the lovely Alison.